MotoGP Legend, Valentina Rossi has huge fan following around the globe. He is master craftsman when it comes to competing in the MotoGP circuit. At the age of 41 his love for bike keeps him on the racing track. We will see him Racing for Petronas Yamaha SRT for MotoGP Season 2021. Currently hunting for his 200th podium finish in MotoGP. A true champion with total 9 world titles to his name ( 7 MotoGP/500cc, 1, 125cc & 1 250cc class title) . Rossi has such a great fan following that his native place Tavullia has become a shrine for MotoGP fans.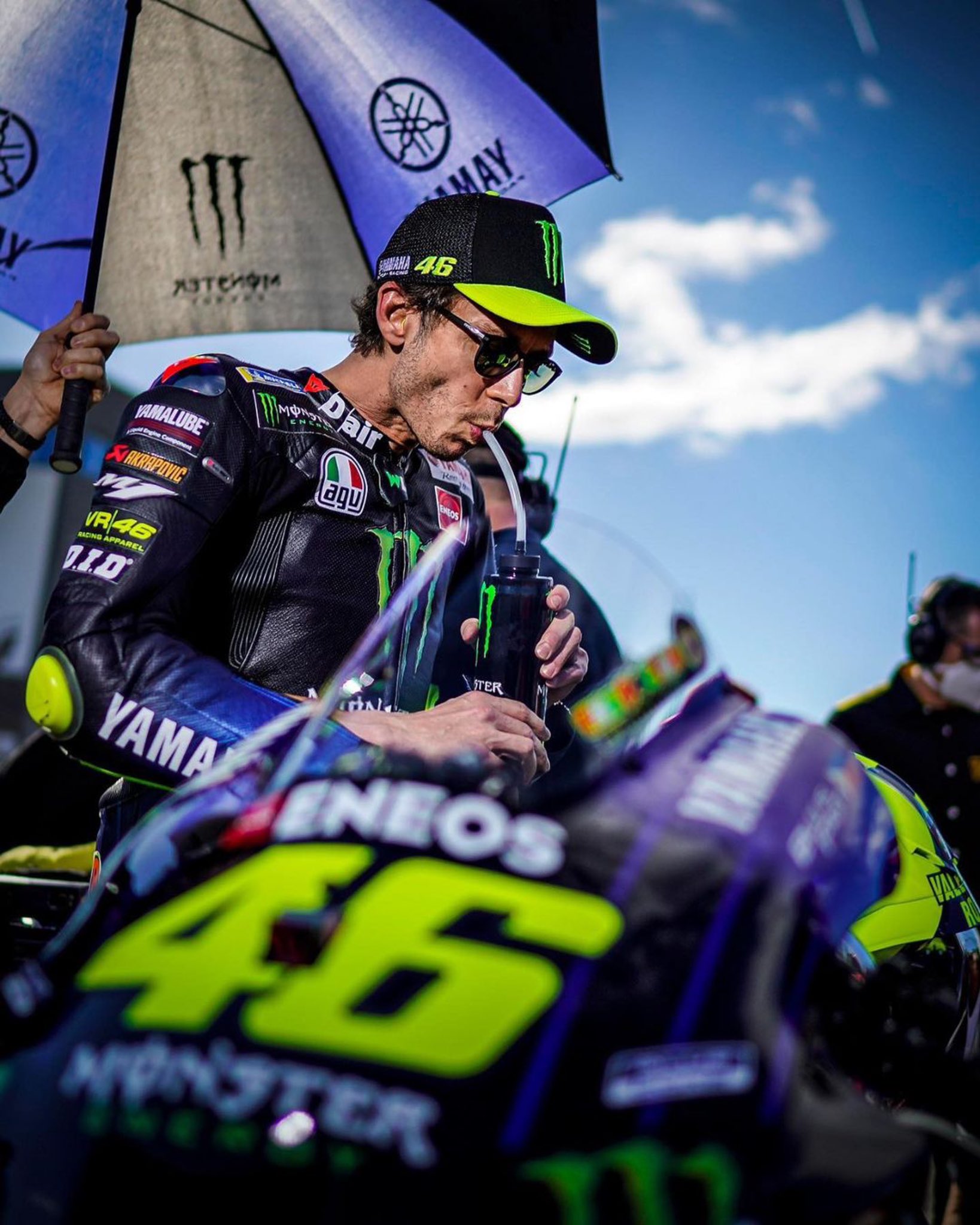 Valentino Rossi Bio & Early Life
Name: Valentino Rossi
Date of Birth: February 16, 1979
Nick Name: The Doctor & Vale Yellow
Place of Birth: Urbino, Italy
Nationality: Italian
Height : 181 cm
Father: Graziano Rossi
Mother: Stefania Rossi
Siblings: Clara Rossi, Luca Marini
Rossi the eldest son in the family he got his passion for racing from his father Graziano Rossi who himself was a Motorcycle Racer. Valentino Rossi took up Karting at the tender age of 5 and went on to win Regional Karting Championship in year 1990.
Valentino Rossi Love Life
Rossi one the most successful and one of the highest paid athletes currently unmarried. He is currently dating Italian Model Francesca Sofia Novello, they have been dating for quite a few years now. The couple have been together since 2017
Earlier Rossi dated Linda Morselli for 4 years before breaking up in 2016. Linda is model and TV presenter. The relationship became sour as Linda was seen with F1 star Fernando Alonso.
Other ladies that Valentino Rossi Dated are Arianna Matteuzzi from 2005 to 2007, Maddalena Corvagila in 2005, and Martina Stella in 2002.
Apart from the lovely ladies Rossi loves his bike very much. According to RedBull.com he dedicated a poem on a hand written letter his favorite bike Yamaha M1 when he moved to Ducati in 2010.
Recommended Read: MotoGP 2021 Full Schedule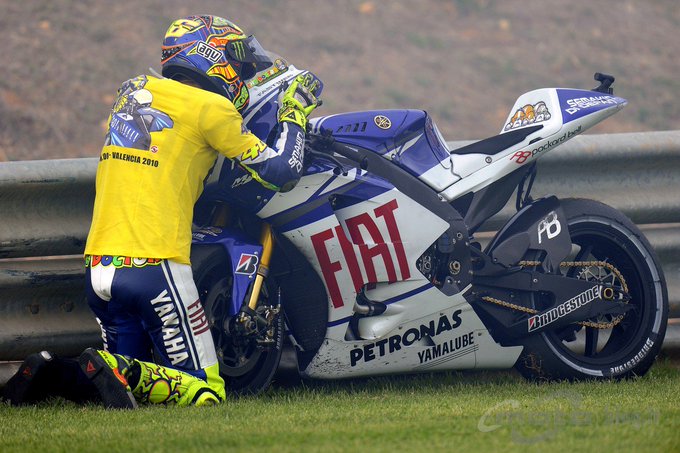 "Memories will remain that nobody can take away from us. Like at the Welkom GP in 2004 when we had our first kiss on the grass next to the track. You looked me right in the eye, sincerely, and sighed: 'I love you!'"
Valentino Rossi Career Stats
MotoGP/500cc Debut: 2000
Race Starts: 354
Race Wins: 89
Podiums: 199
World Championship: 7
250cc Class Debut: 1998
Race Starts: 30
Race Wins: 14
Podiums: 21
World Championship: 1
125cc Class Debut: 1996
Race Starts: 30
Race Wins: 12
Podiums: 15
World Championship: 1
As per the stats available at MotoGP.com
Valentino Rossi Teams Represented
The champ Valentino Rossi represented four teams in his career. For the large part of his career he remained with Yamaha. He made his debut with in 125cc class with Aprilia in 1996 and with the same team he made debut in 250cc class in 1998.
Valentino Rossi's first team in premier class was Honda then he switched to Yamaha and for a brief period he was with Ducati and came back to Yamaha again.
Aprilia Team 1996-1999
Rossi started his career with Aprilia and made his debut in year 1996. In four years time he participated in 125cc and 250cc class. He won 1 World Championship title in each class. He scored 26 race wins in total with 36 podium finishes.
Honda Team 2000-2003
Rossi made his premier class debut with Honda in year 2000. He won 3 World Championship title with Honda. He had a fantastic start to his career in MotoGP as he ranked 2nd in the debut year. And for the next three years he went on to win World Championship title.
Even after having a successful 4 years with Honda, The Doctor decided to part ways, as Honda gave all the credit to their bike rather than the skills of Valentino Rossi.
According to an article published in Red Bull.com Honda manager Suguru Kanazawa thundered, "If Rossi leaves we'll create an even better bike and destroy him." But that did not deter Rossi an inch as he went on to win another title with Yamaha in 2004.
Yamaha Team 2004-2010
After breaking up with Honda Rossi partnered with Yamaha. He stayed with from 2004 to 2010, during his first stint of 7 years with Yamaha he won 4 World Championship. The title wins came in year 2004, 2005, 2008 & 2009.
Ducati Team 2011-2012
For a brief period of 2 years Rossi also raced for home team Ducati, however, the partnership did not go well. During his stint with Ducati he finished with rank of 7th and 6th in respective before switching back to Yamaha.
Yamaha Team 2013-2020
Vale Yellow's second stint with Yamaha was not as successful as first. In the second stint he could not win a single World Championship Title. His best finish was a runner up which he achieved thrice in the year 2014, 2015 & 2016.
Rossi may be the oldest rider on the current grid but his passion and keenness to ride the bike is off like young rookie.
Valentino Rossi Famous Wins & Rivalries
During his long career Rossi has many memorable wins. However in his own ranking he picked 3 races as favorite. Welkom in South Africa 2004, Laguna 2008 the win came after a fierce battle with Casey Stoner and Barcelona 2009 win which he remembers for the the last corner battle with with Jorge Lorenzo.
According to Valentino Rossi, rivals like Max Biaggi, Casey Stoner, Sete Gibernau & Jorge Lornezo pushed him to become a better rider.
Rossi's Rivalry with Max Biaggi
Rossi's rivalry with Max Biaggi was both on and off the track. Biaggi once taunted Rossi in Suzuka restaurant "wash your mouth out before saying my name." There is a lot to their rivalry they middle finger was raised, they got involved in a fist fight.
Rossi had the last laugh in this rivalry as delivered a thumping below to Biaggi after switching to Yamaha in 2004. Welkom 2004 South Africa Rossi was able to beat Biaggi where many thought Biaggi has the advantage due to dominant Honda bike. But Rossi proved his point with sheer brilliance and skills and won the race.
Rossi's Rivalry with Sete Gibernau
Rossi's rivalry with Sete Gibernau started to take serious turn between 2004 to 2005. There are two famous incidence of their rivalry. The first incidence came in Qatar GP where Rossi was penalized for "cleaning" his grid position to aid in traction. Rossi believed that it was Gibernau who prompted the appeal against him. Gibernau denied the claims of Rossi, he also went on to win the race while Rossi crashed out.
The second famous incidence came in 2005 Spanish GP where a late move at final corner of last lap by Rossi saw both riders colliding. Which forced Gibernau to run wide and finished second while Rossi took the win.
Rossi's Rivalry with Casey Stoner
Casey Stoner the Australian rider came as one of the strongest rival of Valentino Rossi. He started giving Rossi tough competition after he moved to factory Ducati and went on win the title in 2007.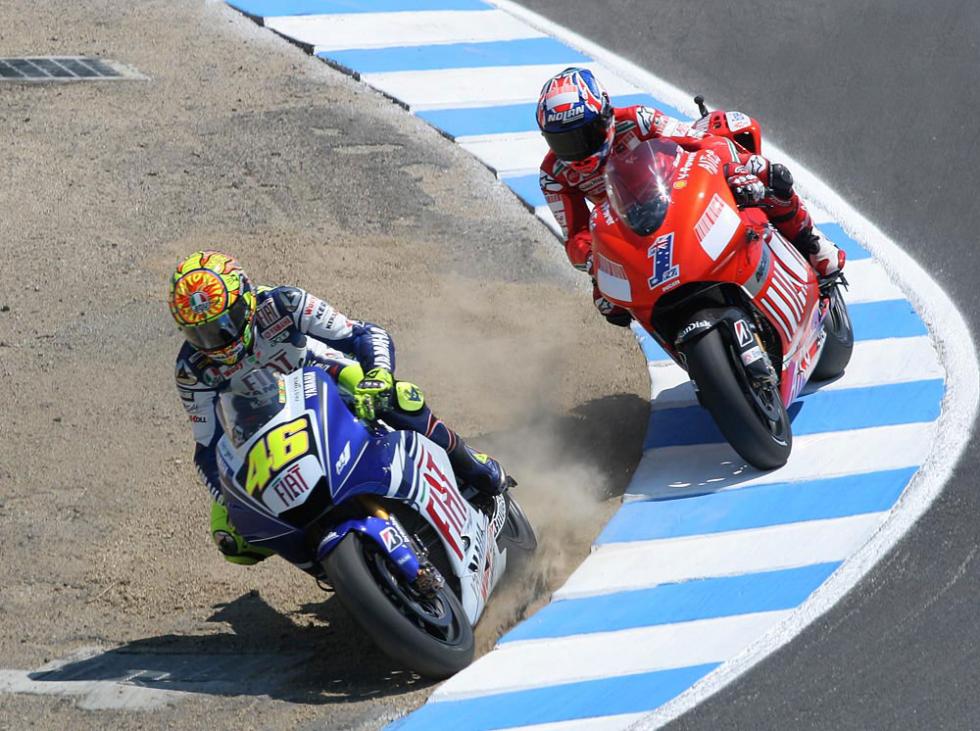 They had many battles on fields one of the most famous battle they had in year 2008 in US GP, where Rossi performed the famous Crocksrew pass on stoner to take the lead and finally win the race. The traded position many times during the race but it was Rossi who came out victorious.
Valentino Rossi's Rivalry With Jorge Lorenzo
Jorge Lorenzo partnered Rossi in 2008 when he joined Yahama. The Tension between the two started boiling when they started fighting for the world title in 2009.
Rossi was quick to secure the better performing Bridgestone tyre for himself which left Lorenzo with no choice but to race with slower Michelin tyres that did not go down well with Lornezo as Rossi took the championship.
Rossi winning in home race of Jorge Lorenzo at Catalunya Circuit was one of the memorable moments of their rivalry. Lorenzo was complete control in the final lap but Rossi surprised him at final corner by executing a pass which many though was impossible.
Valentino Rossi Net Worth
According to Forbes magazine Valentino Rossi stands at number 51 in the highest paid list. His current net worth is 22 million dollar. On his returning year to Yamaha in 2013 he became the highest paid athlete.
Salary/Winnings $12 M
Endorsements $10 M
Rossi's actual net worth is around $140 million.
Valentino Rossi Business
Valentino Rossi is a owner Sky Racing Team VR46. His team competes in Moto2 & Moto3 classes. Francesco Bagnaia the 2018 Moto champion is from his team Sky Racing.
He also owns VR46 RIDERS ACADEMY where he provide training and guidance to young Italian Riders. And he sells merchandise under VR46 apparels.
Rossi's Story Behind The Nick Name, "The Doctor"
Rossi adopted the name doctor for skills and craft in MotoGP. His dominance in the premier class has earned him this name. His father Graziano Rossi himself made a revelations about the name, "The Doctor because, I don't think there is a particular reason, but it's beautiful, and is important, The Doctor. And in Italy, The Doctor is a name you give to someone for respect, it's very important, The Doctor… important."
However, according to Rossi himself the name "The Doctor" because "Dcotor" is very common sir name for doctors in Italy.