MotoGP 2020 Season Restart Date & Schedule: When & Where MotoGP 2020 Season Will Restart And How Many Races Will There Be?
There is some really good news for the racing fans, after F1 announced their return MotoGP is back on the track. MotoGP 2020 season is all set to restart from July 19, 2020. There is plan to finish the season with 17 races. The plan is to conduct remaining season between July to December. So, far only 13 races have been confirmed, all these races will be the part of European leg. Remaining races which are set to take place outside Europe will depend upon how the COVID19 situation develop. If conditions remain favorable then MotoGP 2020 season will end in Malaysia.
*Now it has been confirmed that MotoGP 2020 season will be a 15 race affair. And the season finale will take place on November 22nd in Portugal. Protimao has been confirmed for the season finale.
COVID 19 pandemic which has claimed several life across the globe also resulted in the cancellation of several sporting events. MotoGP Season 2020 was also affected by the pandemic, there has been no race in the premier class so far. Now MotoGP 2020 season will restart on July 19 with action from Spain. It will be a double header in Jerez before the action moves to other parts of Europe. There 5 double headers in the schedule which include, Jerez, Spielberg, Misano, Aragon and Valenciana.
MotoGP 2020 Season Restart Date & Schedule
MotoGP 2020 season will now be 17 race affairs. Initially the MotoGP 2020 season had 20 races starting from Qatar GP and ending with Valencia GP. Dutch, German, Finnish, Australian, Japanese, British and Italian GPs had all been cancelled. COVID-19 which has forced changes in the schedule of various sporting event affected MotoGP 2020 season as well. Moto GP 2020 started as per schedule on 08 March, 2020, however, COVID-19 forced the cancellation of premier class. Though the Moto 2, Moto 3 & did take place.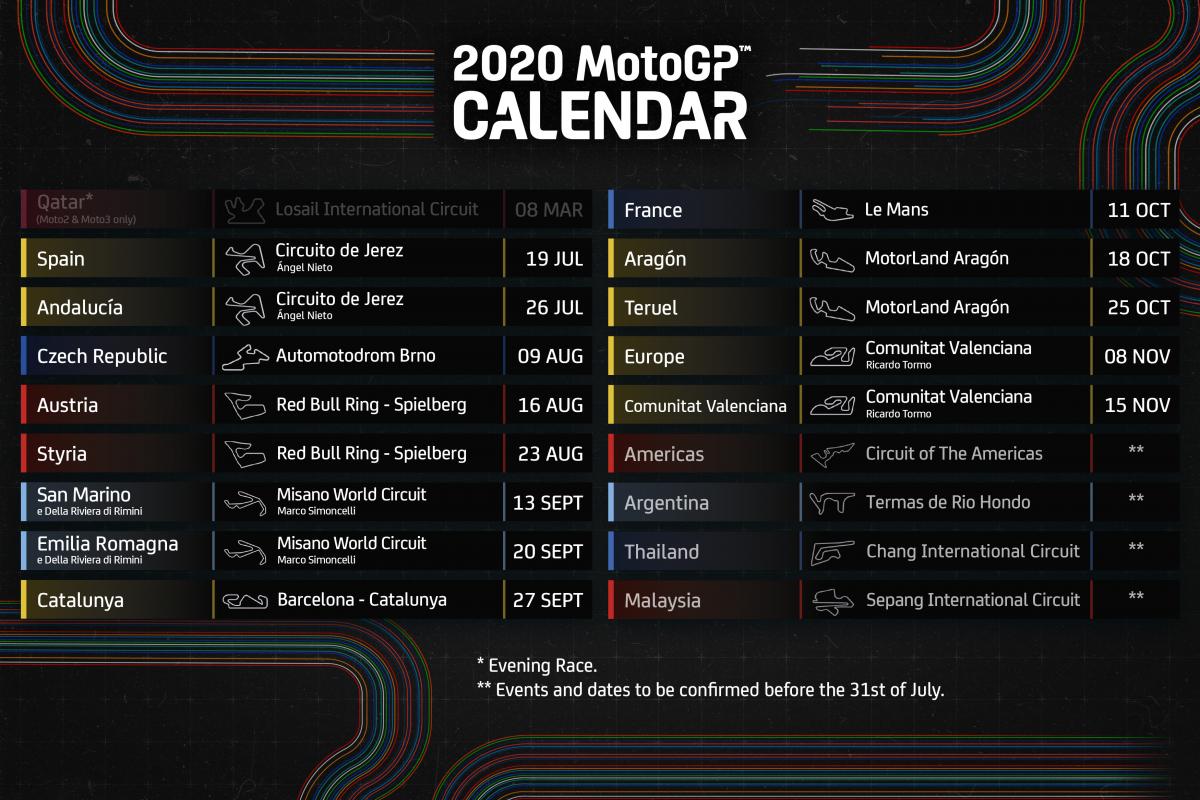 MotoGP 2020 Season Restart Possibility of Races Outside Europe
The date of  Americas GP, Argentina GP, Thailand GP & Malaysia GP yet to be announced, these races will be confirmed before 31st of July. The Drona CEO Ezpeleta said that they are still looking for the possibility of races outside Europe "The races outside Europe need to be confirmed before the end of July, then also our agreement with the manufacturers and with the teams is to finish the Championship no later than the 13th of December, that means we need to decide which of the races to do, if all of them are possible, and we will decide which races we will have outside Europe. This is something we will put in the calendar as a proposal and we will decide on it no later than the end of July.""
About the protocol and safety he added: "The protocol is the hardest one we have. We've presented it to everyone. If the situation improves later there could be some changes, but always in agreement with the authorities, but today it's the protocol we have presented to everyone – from the teams to the FIM, it's the protocol we will use from the beginning of the Championship." as quoted to MotoGP.com
</tr
All dates, events and the eventual attendance of spectators are subject to the evolution of the pandemic and the approval of the corresponding Governments and authorities