MotoGP 2020: Ducati Hoping for A Fit Dovizioso Before The Season Starts: The Premier Ducati Rider Recovering from A Collarbone Injury.
MotoGP 2020 season which is currently halted due to Covid 19 pandemic is scheduled to start on July 19, 2020.  So, far only 13 races have been confirmed, all these races will be the part of European leg. Remaining races which are set to take place outside Europe will depend upon how the COVID19 situation develop. One the two favorites for the title are already got themselves in interesting situation. Ducati found themselves in precarious situation as their ace rider Andrea Dovizioso met with an accident. Though he already underwent a successful collarbone surgery and started recuperating, Team Ductai will hope of having Dovizios fit and ready for the first premier race at Circuito de Jerez.
UPDATE #AD04: @andreadovizioso went under successful surgery to the left collarbone at Policlinico di Modena yesterday evening. He will start rehabilitation immidiately and take part in the 2020 @motogp season opener at @circuitodejerez on 19th July 2020 #GetWellSoonDovi pic.twitter.com/NkNr35mDnO

— Ducati Corse (@ducaticorse) June 29, 2020
Dovizioso Injury & Current Status:
There is no doubt that what Dovizioso's fitness means to Ducati chance. He has been their premier rider in-fact the only one who could seems to be having potential of challenging Marc Marquez. Since the MotoGP 2020 season is Covid 19 curtailed and there is hardly any time for recovery. There are back to back races in the updated MotoGP calendar for season 2020. It is imperative for Ducati to get a fully fit Dovizioso before the season start on July 19. Here is what Dovizioso said on is surgery.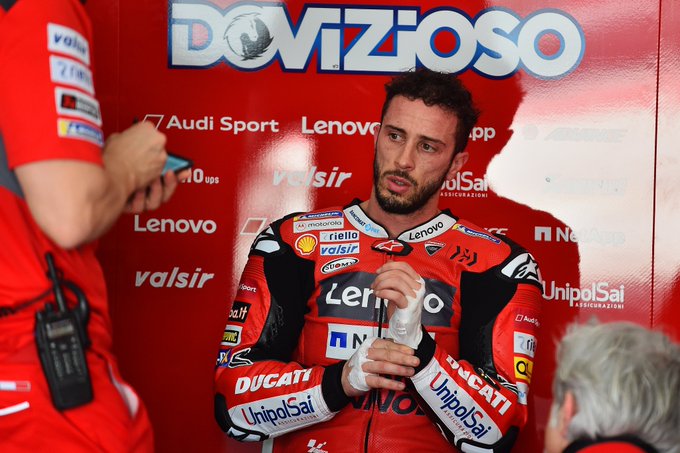 "The surgery went well, and I want to thank all the medical team that did the operation so quickly. I don't feel much pain, and that makes me very optimistic. I came home this morning, and during the afternoon, I will plan my rehabilitation. I am confident that in these weeks I will be able to recover and that I will be in full shape in time for the first 2020 GP in Jerez."
Dovi got injured while participating in a motocross event race Monte Coralli race track. The incident took place in Faenza province where he injured his left collarbone. He underwent a successful surgery at Policlinico di Modena.
Prof. Giuseppe Porcellini's Opinion On Dovi's Condtion:
Dovi is following consultation with Giuseppe Porcellini's of Policlinico di Modena, here is what he has to say about his condition.
"Andrea Dovizioso underwent surgery to correct a displaced fracture of the sternal margin of the clavicle. We proceeded with the internal fixation of a plate with six screws with anatomic reduction and, from a mechanical point of view, we are delighted with the outcome of the operation. Apart from me, the medical team was composed by Prof. Fabio Catani, who personally supervised the operation, Prof. Luigi Tarallo and Doctor Andrea Giorgini. I want to thank the Direction of the Policlinico di Modena that made the operating room available in three hours, and all the staff who made possible to perform the surgery quickly".