Liverpool Premier League Win Sends Fan In Frenzy Amid COVID 19: Liverpool Fans Celebrate Widely As The Team Ends 30 Years Wait
There is no stopping Liverpool Fans as the lay their hands on Premier League Trophy. It took 30 long years for them to take the coveted title. The moment Chelsea defeated Manchester City 2-1, ecstatic fans of Liverpool were dancing on the street. COVID 19 pandemic halted their march towards the trophy earlier, however, the moment action resumed they the took the trophy. Liverpool not ended the 30 years drought but they also registered the fastest title win with 7 matches to spare. There is no wonder why Liverpool Premier League win sent fans in frenzy.
🏆🔴 PREMIER LEAGUE CHAMPIONS 🔴🏆 pic.twitter.com/nNO5YMNaDv

— Premier League (@premierleague) June 25, 2020
What Liverpool Manager Jurgen Klopp Said
Jurgen Klopp joined Liverpool as a manager in year 2015, he wanted his team to create its own history. Finally, the team has delivered as they made history and unloaded the heavy burden of not winning the title in past 30 years. Not only that Liverpool became the ninth club to beat all teams in the top flight a rare feat which the great Liverpool teams of 1970 & 1980 couldn't achieve.
"The history is no burden anymore," he said. "The history is now our wonderful background, it's the basis for what we are doing."
"I'm really, really happy for them because they were legends before that in my mind but now they are real legends and that's nice."

An exclusive not to be missed with the boss, the day after we became Premier League champions 🙌

— Liverpool FC (Premier League Champions 🏆) (@LFC) June 26, 2020
"When I came in we had to say, don't compare us anymore with the fantastic people who played for this club and won everything in the past. We needed to get the opportunity from our supporters to find our own way."
"This was only possible because nobody lost patience with us in any moment."
"Football management is a nice job but a difficult one as well, we cannot really ask for time. We have to deliver immediately. People have to see the steps we make; [Liverpool fans] saw them because they wanted to see them. This story was possible then."
This is not the final destination. It's a moment like last year's Champions League final. From that moment you carry on, and that's what we'll do now.- As quoted to Sky Sports news.
Moments Euphoria As Liverpool Fans Defies COVID 19 Scare
Liverpool fans came out on street to celebrate widely, fans were seen dancing on the roads and roaming around to celebrate the win. Liverpool won the coveted title even without kicking the ball, the moment Chelsea crashed Manchester City history was created for Liverpool. In the moment of Euphoria Liverpool fans even defied Covid 19 scare. Social distancing no where to be seen, it was cheering fans all around the city.
As the final whistle blew fans quickly gathered to celebrate the win of the favorite club. What started with a little celebration, soon got converted into a festival. The Covid 19 pandemic which has scared the whole world, could not keep fans from expressing their feeling for them the joy of wining was so big that they forgot the corona scare.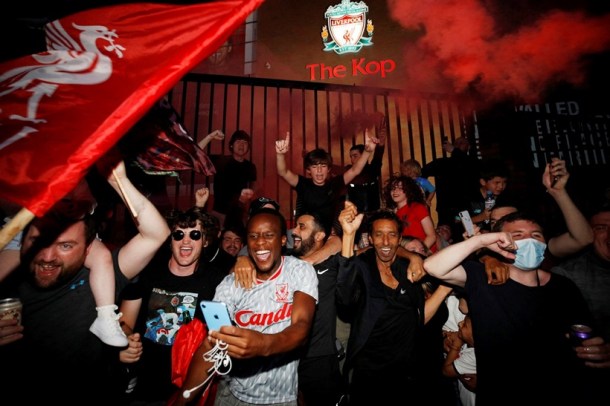 Up Coming Liverpool Games:
Thurs July 2: Man City vs Liverpool – Kick-off: 8.15pm; live on Sky Sports
Sun July 5: Liverpool vs Aston Villa – Kick-off: 4.30pm; live on Sky Sports
Weds July 8: Brighton vs Liverpool – Kick-off: 8.15pm; live on Sky Sports
Sat July 11: Liverpool vs Burnley – Kick-off: 3pm