Hungarian GP 2018 Live Stream Final Race & Qualifying Race Result: When It Rain Bank It On Hamilton, The Briton Excels In Wet Condition to Take Pole In Hungarian GP.
Lewis Hamilton once again showed his masterclass in wet conditions as took pole in Hungry with an exhilarating performance. It was a double delight for Mercedes on a track which is not supposed to favour them as Valterri Bottas grabbed the second spot. Mercedes will be having both their cars ahead on the grid on Sunday. The Ferrari took the 3rd and 4th position, however, this time around it was Kimi Raikkonen who proved to be faster than teammate Sebastian Vettel. Daniel Ricciardo of Red Bull couldn't even make it to the Q3 due to tricky conditions, moreover, Verstappen who made it to the Q3 fell behind Renault & Torro Rosso and took 7th place. The final race is on tomorrow all teams would look to maximise their points as it is the last race before the summer break. Sportsfeista brings you complete details of Hungarian GP 2018 Live Stream Final Race & Qualifying Race Result.
Lewis Hamilton seals his fifth pole of 2018 and his sixth overall at the Hungaroring #HungarianGP 🇭🇺 #F1 pic.twitter.com/TkZ522i6z8

— Formula 1 (@F1) July 28, 2018
Hungarian GP 2018 Schedule for Sunday, July 29, 2018
Race Sun 15:10 – 17:10
All timings are given in local Hungarian time which GMT+2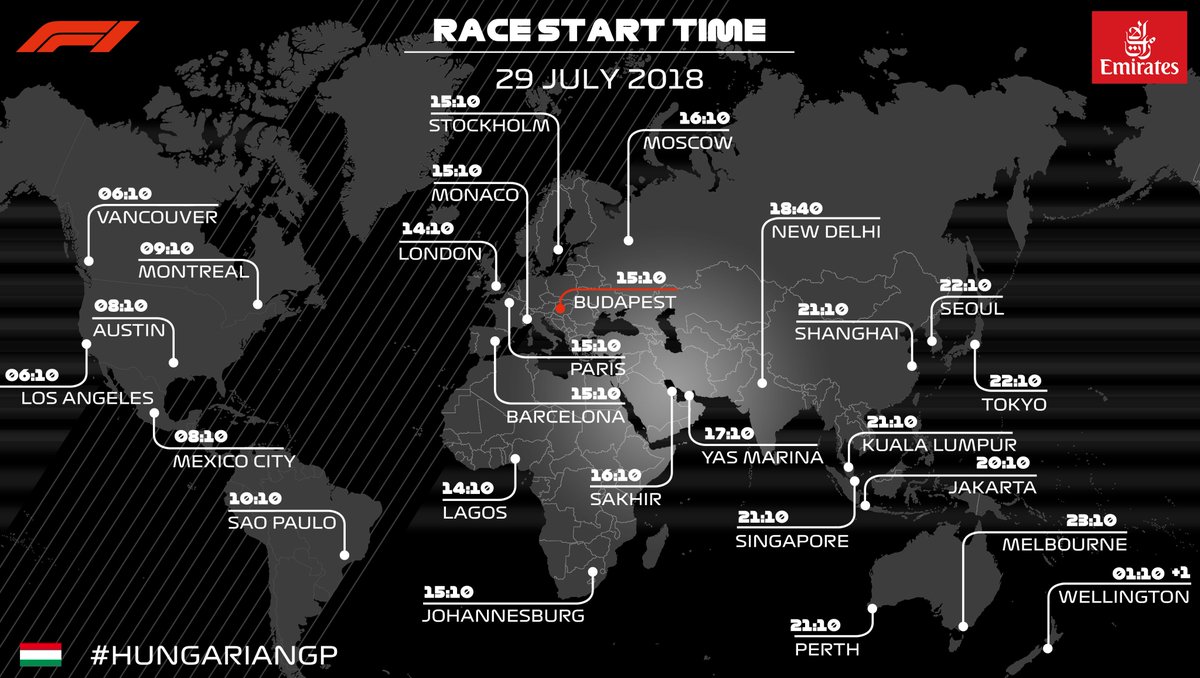 PC: F1
Hungarian GP 20118 Final Race Timings Across the Globe
 In India, it will be at 18:40
Moscow fan can see the telecast of German GP at 16:10
In the UK the race will be live at 14:10
Malaysian Fans will get to see the race at 21:10
The Indonesians will get to see German GP at 20:10
In EU the race will start at 15:10
For fans in Singapore race can be watched at 21:00
In Austin, German GP will telecast 08:10
Fans in LA can see German GP at 06:10
In South Africa race will telecast at 15:10 hours
Hungarian GP 20118 Qualifying Race Results
The qualifying race at Hungaroring was quite dramatic as it was done in wet conditions. And who drivers better than Lewis Hamilton when the conditions are wet. On Saturday he showed his masterclass once again and took the fifth pole of the season 2018, it was also his 6th pole overall in Hungrian GP.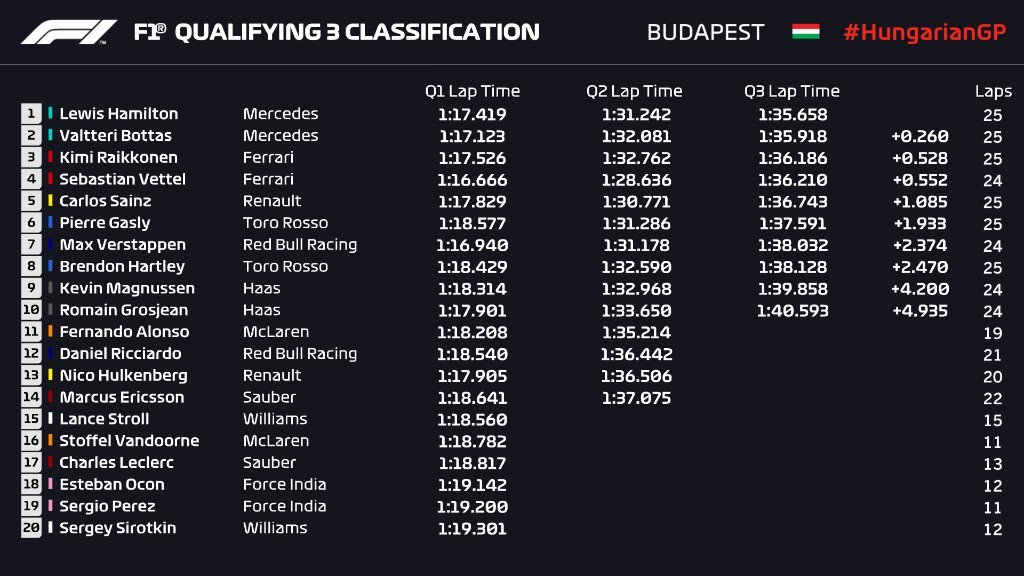 PC: F1
For Ferrari & Red Bull the things completely turnaround as soon as the rain arrived. Red Bull & Ferrari have been dominating the practice races at Hungaroring both on Friday & Saturday but they failed to deliver in wet conditions. Ferrari grabbed the third and fourth spot, however, for Red Bull Daniel Ricciardo unable to enter Q3 and Max Verstappen ended up grabbing 7th spot behind Sainz & Gasly.
Here is the response of Alonso just to show you how tricky it was
📻: "Fernando, do you want new inters or wets?"

ALO: "I think we should go to the garage… I dunno mate. Put whatever tyre you want. Even if you put a rocket ship, we will stay P11"#HungarianGP 🇭🇺 #F1 pic.twitter.com/acNbqsRyc3

— Formula 1 (@F1) July 28, 2018
Hungarian GP 2018 Drivers Quote Post Qualifying
HAMILTON: "We couldn't have expected this… The Ferraris were quicker all weekend, but the heavens opened and it was fair game!"
BOTTAS: "It's a one-two for the team. I'm looking forward to tomorrow's race"
RAIKKONEN: "There was definitely a chance in these conditions to be on pole, but tomorrow is another day"