Bahrain Grand Prix Vettel Takes Lead:
Formula 1 Racing was it very best as on Sunday, the mercury rose high not just because of the blazing sun but because of the scintillating performance by Sebastian Vettel. The former Formula 1 Racing champ clinched his 44th victory to give his team a clear lead.
Both Mercedes and Ferrari were neck to neck so far. These two evenly matched team headed to Bahrain with a clear objective of taking lead. It was Vettel's day as he piped Hamilton to take lead.

Formula 1 Racing: Victory Quotes of Vettel:
Sebastian Vette said in his interview "Yeah, really a great day. I don't know what today. The last half of the in-lap when all the fireworks were there and the track was lit up, it was. I just love what I do. I didn't find any words. It was a really great team effort today. Right after the start, I could feel that 'yeah, we're quick, we can have a word'. So really tried to put Valtteri under pressure. He didn't do any mistakes. It was difficult down the straights to get near him. But then we obviously went for the undercut, early pit stop, worked fantastic, very good job. But when the safety came initially I thought 'not again!'"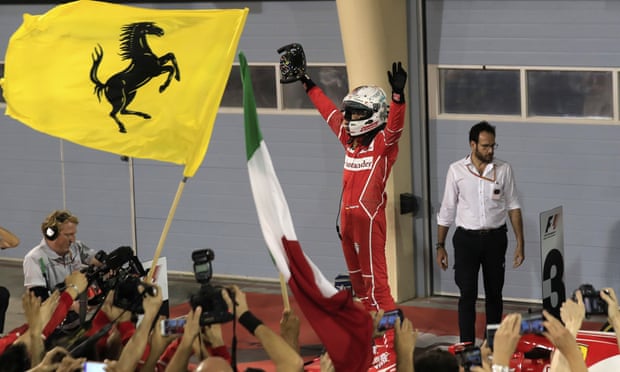 PC: The Guardian
Further, when the interviewer asked Sebastian regarding his win over Lewis Hamilton he said "I think I was lucky because the others were just close to the pit lane so they couldn't really benefit let's say. I don't know. I was a bit surprised when I came out ahead of all of them because I thought with the safety car we might have lost the advantage. After that it was good. The car was really amazing to drive. I had a good feeling yesterday, so for many laps, it really worked well. It was just a pleasure. I could control the pace in the end. Lewis was obviously a bit of a threat again towards the end, with the traffic you never know. But a very controlled race, the car, as I said, was a dream today. Happy Easter and thank you very much."
Lewis Hamilton Apologies for the Penalty:
Lewis Hamilton has offered an apology to his team Mercedes after he incurred 5-second penalty during Bahrain Grand Prix. The penalty proved to be vital the margin of victory was between Hamilton & Vettel was 6.6 second.
Hamilton said of his error: "Yeah, completely my fault with the safety car. You are supposed to have a five-second gap and I think I had a four-second gap. Just a misjudgement from myself. Apologies to the team but I tried the best I could to recover it and we still got good points for today.
Force India Continues to Impress:
Force India once again proved that they are really working hard on their qualifying. Sergio Perez has an amazing drive from P18 to P7. He is really doing his best so that he can win the upcoming races. He is also gaining good positions. The fellow team mate Esteban Ocon ended the race at 10th position.
PC: Force India
Here is What Prez Has to Say About the Race at Baharan Grand Prix
"I'm very proud of my team today. To finish seventh after starting from P18 is an amazing recovery and we can be very happy tonight. It's also our thirteenth consecutive race in the points, which is an incredible achievement. The first lap was very important for my race because I made up five places and was up in P13 by the end of lap one. I had great tyre life in the first stint; we stayed out as long as we could and the safety car played into our hands just when I needed to make a pit stop. So I think we made the most of every opportunity and the whole team – the engineers and the mechanics – played their part in executing a perfect race. We showed, once again, that we never give up on Sundays and we can come back strong after a difficult qualifying. We know there are still areas where we can improve and that there is more speed to come from this car, but for now, it feels good to have both cars in the points for the third race this season."