Formula 1 Monaco GP 2018 Qualifying Race, Schedule, What TV Channel? Online Stream , Qualifying Race Timings & Practice Race Results.
After the exciting practice race on Thursday, all eyes will now be on qualifying race. After the one day rest drivers are all set score best timings for their position on grid on Sunday. It was Redbull racing which went unmatched in practice on Thursday. Daniel Ricciardo not only smashed the track record he also topped both FP1 & FP2. It will interesting if they keep out pacing, Ferrari and Mercedes or it will be again between Mercedes & Ferrari.
Click Here for Monaco GP 2018 Complete Schedule
Daniel Ricciardo already mentioned it will not be that easy in Qualifying as Mercedes & Ferrari will up their engine power in Qualifying Race. However, they have made things interesting by out pacing the two premier teams of Formula 1. Hamilton & Vettel who are fighting for the championship have to bring their A game if they have to secure pole position. It was the Iceman from Ferrari, Kimi Raikkonen who got pole position last year here.
Watch Daniel Ricciardo's Record Smashing Hot Lap:
We have a new track record at Monaco@danielricciardo has become the first driver to record a lap in the 1m 11s around these iconic streets

And just look at that speed 👀#MonacoGP #FridayFeeling pic.twitter.com/dol8TXwkAw

— Formula 1 (@F1) May 25, 2018
 Lets Take A look At Top 10 Drives Ahead Of Monaco GP 2018
Here the Top 10 Drivers Ahead of Monaco GP 2018
Pos                    F1 Driver                                        Points
1                        Lewis Hamilton                                95
2                       Sebastian Vettel                                78
3                       Valtteri Bottas                                   58
4                       Kimi Raikkonen                                48
5                       Daniel Ricciardo                               47
6                      Max Verstappen                                33
7                      Fernando Alonso                               32
8                     Nico Hulkenberg                                22
9                     Kevin Magunussen                            19
10                   Carlos Sainz                                         19
Formula 1 Monaco GP 2018 Schedule for Saturday May 26, 2018:
Third Practice Race            12:00 to 13:00 local       11:00 to 12:00 UK          15:30 to 16:30 IST
Qualifying Race                   15:00 to 16:00 local       14:00 to 15:00 UK        18:30 to 19:30 IST
Formula 1 Monaco GP 2018  Qualifying Race Global Timings
For the F1 Fans worldwide here are the global timings of Monaco GP 2018 Qualifying Race.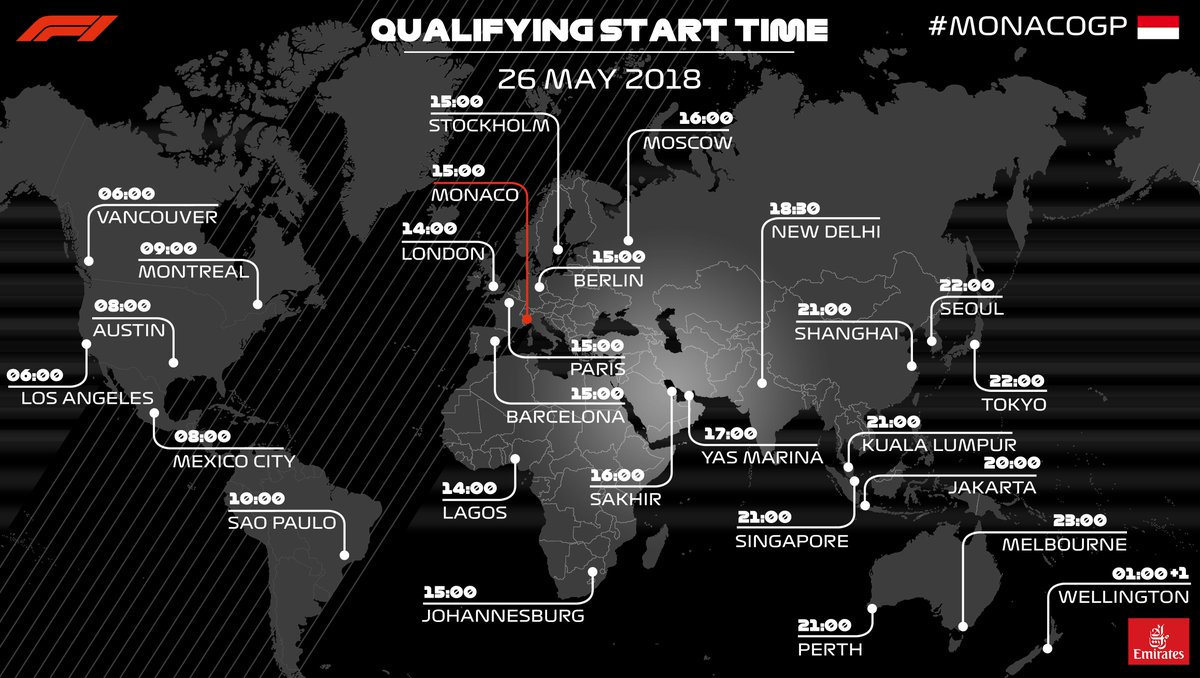 PC: Formula 1
Fans In India will get to see Qualifying Race at 18:30
Malaysian Fans will get to see the battle for pole at 21:00
In USA Qualifying race will telecast on 08:00 CST & 06:00 PST
Canadian Fans will get to see the Qualifying Race at 09:00 EDT
Fans in Mexico City will get to see Qualifying Race at 08:00
In Spain the Qualifying race will telecast at 15:00
The Fans in UK will get to see the battle for pole at 14:00
German Fans will get to see the race at 15:00
The race will relay in Moscow at 16:00
Where I can see Monaco GP 2018 Qualifying Race Online?
F1 Monaco GP 2018 Qualifying Race Live Stream Information:
Monaco GP 2018 Live Stream will be available at F1 TV, Formula One App, Tenplay, Fox Sports Australia, TSN GO, RDS GO, RLT, Supersports, beINsports connect, Watch ESPN, Univision Now, ALL 4, BBC Iplayer Radio, Sky Sports, Hotstar app.
Where I can see Monaco GP 2018 Qualifying Race Live Telecast
F1 Monaco GP 2018 Live Telecast :
The live telecast of Monaco GP Prix 2018 in Canada is on TSN. Star Sports Select/HD will broadcast the race in India. US F1 viewers will need to tune into ABC & ESPN to catch the final race. Sky Sports and Channel 4 will telecast the final race in the United Kingdom. beIN Sports Arabia will telecast the race in the Middle East & North Africa. Australian viewers will be able to watch the race on Network Ten & Fox Sports. Sky Sports will broadcast the race in Ireland, Italy, and Newzealand. French Formula 1 fans will be able to catch the race on Canal+. Fox Sports will telecast the coverage in Asia. In Germany, the race will be on RTL & n-TV
Formula 1 Monaco GP 2018 FP2 Highlights
Red Bull Racing were streets ahead on the streets of Monaco in second practice 🇲🇨

Watch all the best bits from FP2 ⬇️#MonacoGP #F1 pic.twitter.com/shUq3tywKh

— Formula 1 (@F1) May 24, 2018
 Formula 1 Monaco GP 2018 FP2 Results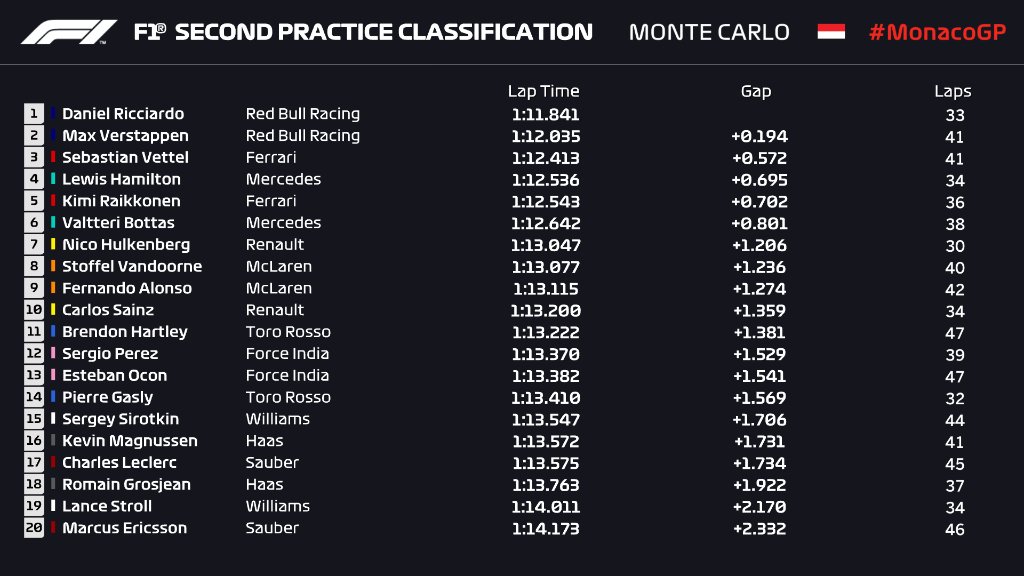 PC: F1
Formula 1 Monaco GP 2018 FP 1 Highlights
👀 90 mins of FP1 in 90 seconds… #MonacoGP 🇲🇨 #F1 pic.twitter.com/vSqpPBGUjd

— Formula 1 (@F1) May 24, 2018
Formula 1 Monaco GP 2018 FP 1 Results
🏁TOP TEN (END OF FP1) 🏁

RIC 📸
VER
HAM
VET
RAI
SAI
BOT
PER
GRO
SIR#F1 🇲🇨 #MonacoGP pic.twitter.com/vzsqN2sj1s

— Formula 1 (@F1) May 24, 2018