Formula 1 Hungarian GP 2019, Schedule, How to Watch & Live Stream: Teams & Drivers Would Like to Make A Strong Finish In Hungry

After the dramatic German GP F1 Action will now move to Hungry for the final race before the summer break. The wet race in Germany saw a lot of drama Max Verstappen took the win and Sebestian Vettel redeemed himself from back of the grid to a podium finish. And the dominant Mercedes found themselves in trouble as Lewis Hamilton who started from pole finished 9th and Valtteri Bottas could not finish the race. Now the drivers will to Hungary aiming for a strong finish of first half of F1 championship. Sportsfeista will provide with complete details of Formula 1 Hungarian GP 2019, Schedule, How to Watch & Live Stream.
Mercedes has seen some rare failure this season, however, whenever they are failing, it Max Verstappen who is encashing the opportunity and Germany was no difference. The Red Bull's premier driver pulled up the exceptional win after starting second from the grid. His German GP win is more important considering the fact that he was up against Lewis Hamilton who has mastered the art of winning wet races. In Germany, Max Verstappen put an end to Lewis wet race winning streak of 8 races. Daniil Kvyat of Toro Rosso scored a maiden podium for this year it was podium finish in a long while for Toro Rosso. Surprises didn't end here Robert Kubica was also able to open his account as he scored his first point by finishing 1oth.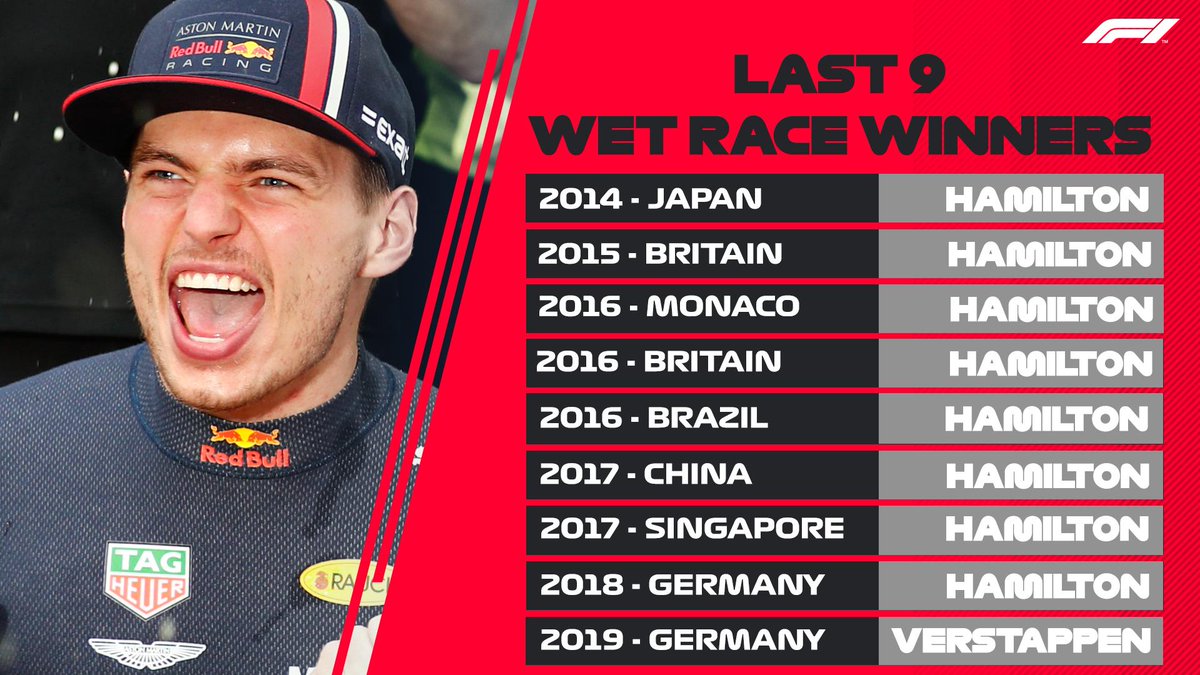 PC: F1
Hungarian GP 2019 Weather Forecast
Weather played a crucial role in deciding the outcome of the German GP now let's check what weather Gods has in store for the last race of the first half of 2019 season. As per the weather prediction on Sunday, August 04, 2019, it will remain partly cloudy with almost 50% chance of rain. The good news for Mercedes is that it will not be very hot in Hungary so, they should not have the colling issue.
F1 Hungarian GP 2019 Race Telecast Information:
Formula 1 Hungarian GP 2019 Live telecast information is here. F1 fans in India will get see thrilling action live at Star Sports Network, Fox Sports Asia in Asia. Australian fans will get to see the race live at Fox Sports Australia and Network Ten. For Canadian fans F1 action will be brought live by RDS & TSN, US fans will get to see it ABC, ESPN & Univision. For the fans in the UKSky Sports, Channel 4 and will bring the live coverage.
In the Middle East & North Africa, the telecast will be on beIN sports. Live telecast will be available on Fuji TV & DAZ, in Russia Match TV & Match Arena, Sky Sports in New Zealand, Netherlands Ziggo Sport Total, Ziggo Sport Go, Ziggo Sport, in Poland Eleven Sports. In Italy Sky Sports F1, TV 18 & RAI, Spain Movistar F1, In France Canal+, Canal+ Sport, TF1, TMC, fans in Germany will enjoy the live telecast of F1 on n-tv& RTL
F1 Hungarian GP 2019 Live Stream Information:
Formula Hungarian GP 2019 will live stream at F1 TV worldwide, Hotstar in India, In Asia it will be Fox+. In the UK the live streaming will be available at All 4 & Sky Sports. In United Stated the live streaming will be available at Watch ESPN & Univision Now. For fans in the Middle East, the live stream will be on beIN Sports Connect. Australian fans will watch the live stream on Fox Sports Australia and Tenplay. Germany TV Now, China Tencent Sports, Canada TSN App, RDS App, Japan & DAZN.
Hungarian GP 2019 Schedule August 2, 2019 – August 04, 2019
Hungarian GP 2018 Schedule for Friday, August 2nd, 2019
Practice 1 Fri 11:00 – 12:30
Practice 2 Fri 15:00 – 16:30
Hungarian GP 2019 Schedule for Saturday, August 3rd, 2019
Practice 3 Sat 12:00 – 13:00
Qualifying Sat 15:00 – 16:00
Hungarian GP 2019 Schedule for Sunday, August 4, 2019
Race Sun 15:10 – 17:10
All timings are given in local Hungarian time which GMT+2
PC: F1
Hungarian GP 20119 Final Race Timings Across the Globe
 In India, it will be at 18:40
Moscow fan can see the telecast of the Hungarian GP at 16:10
In the UK the race will be live at 14:10
Malaysian fans will get to see the race at 21:10
The Indonesians will get to see the Hungarian GP at 20:10
In the EU the race will start at 15:10
For fans in Singapore race can be watched at 21:00
In Austin, the Hungarian GP will telecast 08:10
Fans in LA can see Hungarian GP at 06:10
In South Africa race will telecast at 15:10 hours
Constructor Standing before Hangrain GP 2019
Mercedes are clearly ahead of their rival Ferrari owing to their dominant performance this season. Mercedes has a clear lead of 148 points over Ferrari. In the midfield battle, McLaren has shown some impressive performance with 70 points they are ahead by 28 points from the nearest rival.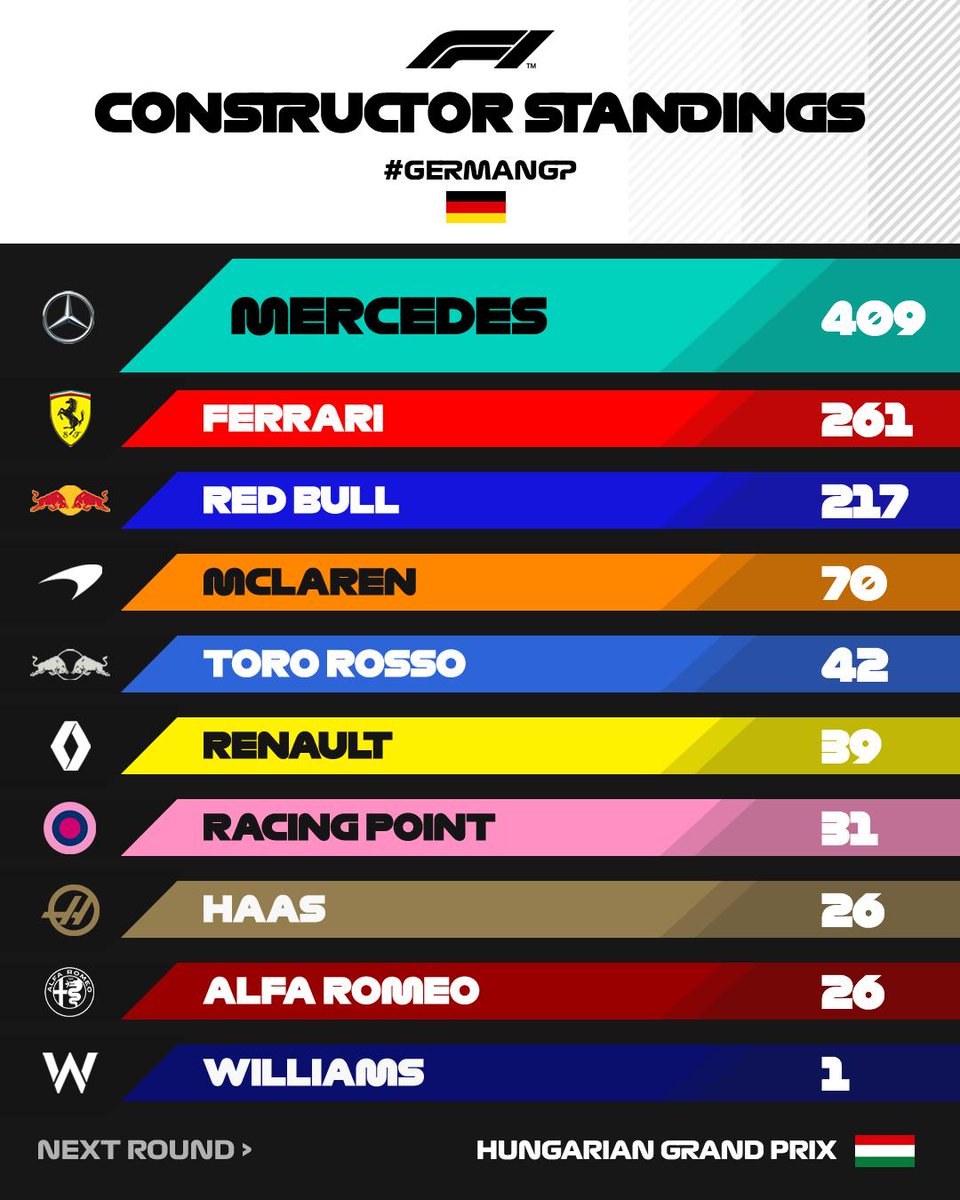 PC: F1
Some facts About Hungarian GP
Zsolt Baumgartner is the only Hungarian who has competed in Formula 1 Hungarian Grand Prix for Jordan in 2003 and for Minardi in 2004.
When was the first Grand Prix held and Hungaroring Circuit?
The first Grand Prix was held in the year 1986.
How many laps are there in Hungarian Circuit?
There are 70 laps.
What is the length of the Circuit?
It is 4.381 KM.
What is the race distance?
It is 306.63KM
What is the lap record and who made it?
Lap record is 1:19.071. Michael Schumacher in 2004.
Who won the last Hungarian GP?
Defending champion Lewis Hamilton won the last race.
Also Watch Czech MotoGP 2019 Live Stream