Formula 1 Hungarian GP 2018 Live Stream, Schedule, TV Channel and Hungarian GP 2018 Live Telecast Info. The Last Race Before Summer Break Is on 29th Of July, Drivers Would Like to End Phase-1 On A High
After thrilling German GP where Lewis Hamilton took everyone with surprise, F1 drivers are ready for action. The last race before the summer break will take place in Hungary from July 27 to July 29, 2018. Defending champion Lewis Hamilton is in the lead after his superb effort in German GP where he rose against all odds to win German GP from position 14 on the grid. Now he 17 points ahead of challenger Vettel, he would definitely like to consolidate his lead here. 2017, winner Vettel would like to repeat his performance where Ferrari was able to do 1,2 as Kimi took the second spot ahead to Valtteri Bottas. Sportsfiesta will bring complete details of  Formula 1 Hungarian GP 2018 Live Stream, Schedule, TV Channel and Hungarian GP 2018 Live Telecast Info.
Here are the  Top 10 position on the grid for Sunday.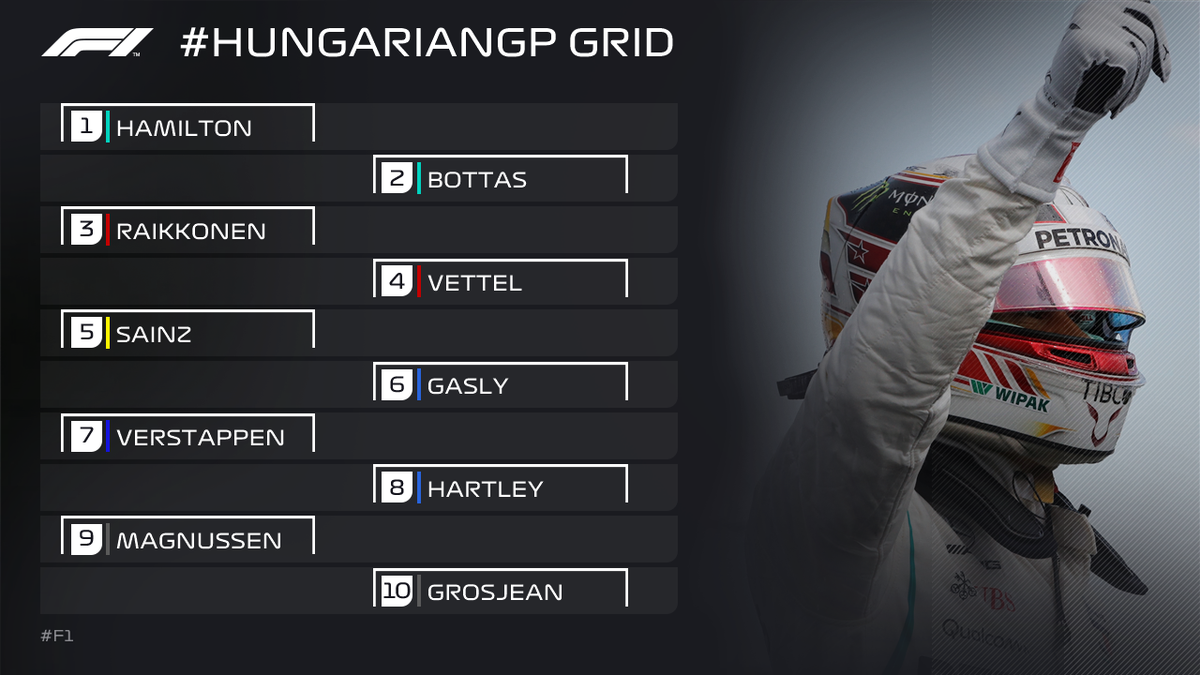 PC: F1
Lewis Hamilton's Best Moment in German GP 2018
Making sense of the madness at Hockenheim 😵

And working out just how @LewisHamilton ended top of the pile #GermanGP 🇩🇪 #F1 pic.twitter.com/1aFnWjmofE

— Formula 1 (@F1) July 24, 2018
Hungarian GP 2018 Schedule July 27, 2018 – July 29, 2018
Hungarian GP 2018 Schedule for Friday, July 27, 2018
Practice 1 Fri 11:00 – 12:30
Practice 2 Fri 15:00 – 16:30
Hungarian GP 2018 Schedule for Saturday, July 28, 2018
Practice 3 Sat 12:00 – 13:00
Qualifying Sat 15:00 – 16:00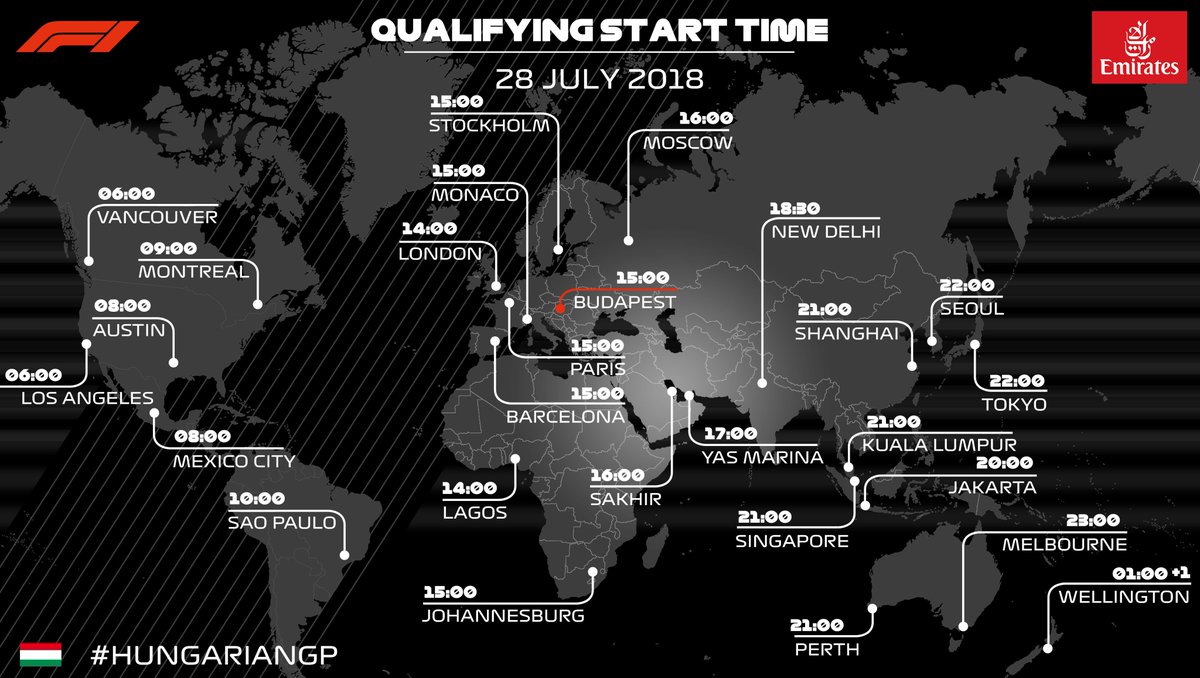 PC: F1
Hungarian GP 2018 Schedule for Sunday, July 29, 2018
Race Sun 15:10 – 17:10
All timings are given in local Hungarian time which GMT+2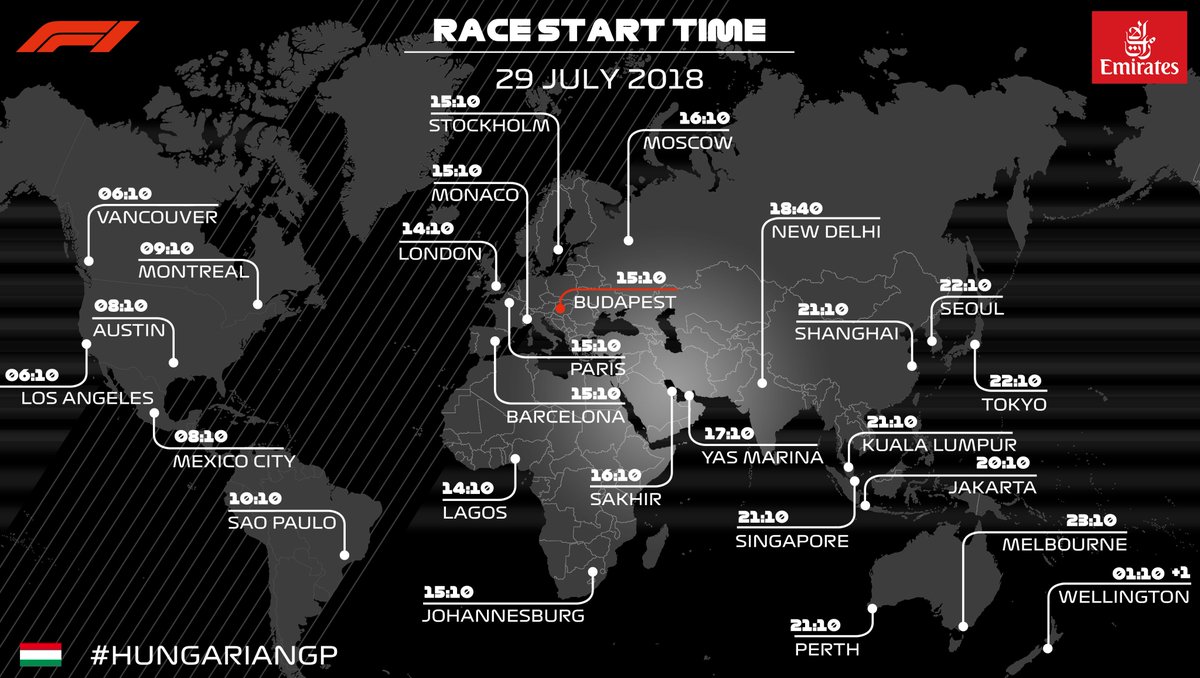 PC: F1
Hungarian GP 20118 Final Race Timings Across the Globe
 In India, it will be at 18:40
Moscow fan can see the telecast of German GP at 16:10
In the UK the race will be live at 14:10
Malaysian Fans will get to see the race at 21:10
The Indonesians will get to see German GP at 20:10
In EU the race will start at 15:10
For fans in Singapore race can be watched at 21:00
In Austin, German GP will telecast 08:10
Fans in LA can see German GP at 06:10
In South Africa race will telecast at 15:10 hours
Hungarian GP 2018 Tyre Choice Made By Drivers for The Last Race Before Summer Break
The official tyre supplied Perilli brought Medium white, Soft -Yellow & Ultrasoft-purple for the Hungarian GP. Considering the temperature issue here, Ultrasoft tyres will not be able to last long, however, ultrasoft are the tyre of choice and majority of the drivers are going with extra pairs of ultrasoft tyres. Teams have brought both new and used tyre in Hungarian GP. Here are the details of tyre choices made by different drivers.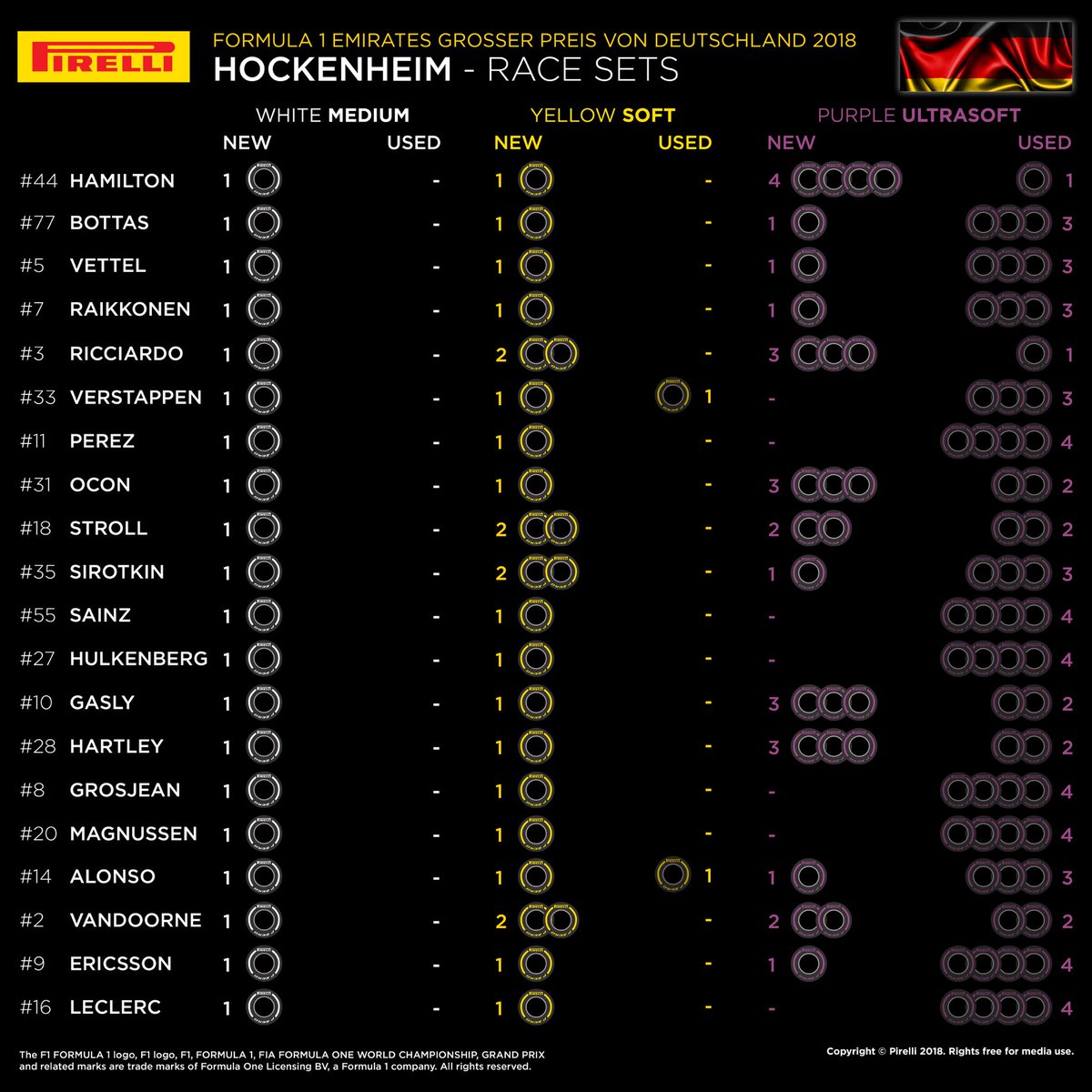 PC: Pirelli
Some facts About Hungarian GP
Zsolt Baumgartner is the only Hungarian who has competed in Formula 1 Hungarian Grand Prix for Jordan in 2003 and for Minardi in 2004.
How many laps are there in Hungarian Circuit?
There are 70 laps.
What is the length of the Circuit?
It is 4.381 KM.
What is the race distance?
It is 306.63KM
What is the lap record and who made it?
Lap record is 1:19.071. Michael Schumacher in 2004.
Drivers' Quotes About Hungarian GP
Romain Grosjean
"I think the biggest difference was the resurfacing of the Hungaroring. It used to be very bumpy, and now it's pretty flat, which is a bit of a shame. It's not a high-speed circuit, but saying that, sector two is quite cool – going up the hill and coming back down to the last two corners. It's not as slow as it used to be.
Kevin Magnussen
"We'll see when we get there. Our car should be competitive. It is at most places now. Of course, there's going to be tracks where it's a bit less competitive for us than others, but we just need to maximize everything.
Max Verstappen
"The Hungaroring is very difficult to master. It begins with very hard braking into Turn 1 before an off-camber Turn 2 which tries to push you off from the inside. It is an important circuit to be precise in order to be online for the next corner. Turn 4 is almost blind so you need to be cautious and build up throughout the weekend.
Daniel Ricciardo
"I like the Hungarian GP. Everyone always says it's Monaco without walls, but it's not, it's Hungary! It's fast, it's normally really hot and even though it's a tight track there's still quite a lot of overtaking and always a bit going on. The middle sector is one of the best of the whole year, it's pretty fast with really quick changes in direction. The track used to be pretty bumpy but it's improved a lot recently.
Fernando Alonso
"The Hungaroring is a great track and an enjoyable place to finish the first half of the season before the summer break. I expect a lot of fun there, as it's always a nice event. I love the fans in Budapest because they're very passionate about the race. They're at the airport, the hotel, the circuit, even on the highway going to the track with their flags, so it's always a nice weekend to experience and enjoy.
As quoted to Formula1.com
Constructor's Standings Before Hungarian GP 2018
German GP was a double delight for Mercedes not only their ace driver was able to win the race but due to the 1-2 finish, they are back at top of constructors' championship. Mercedes now has a lead of 8 points over their rival Ferrari.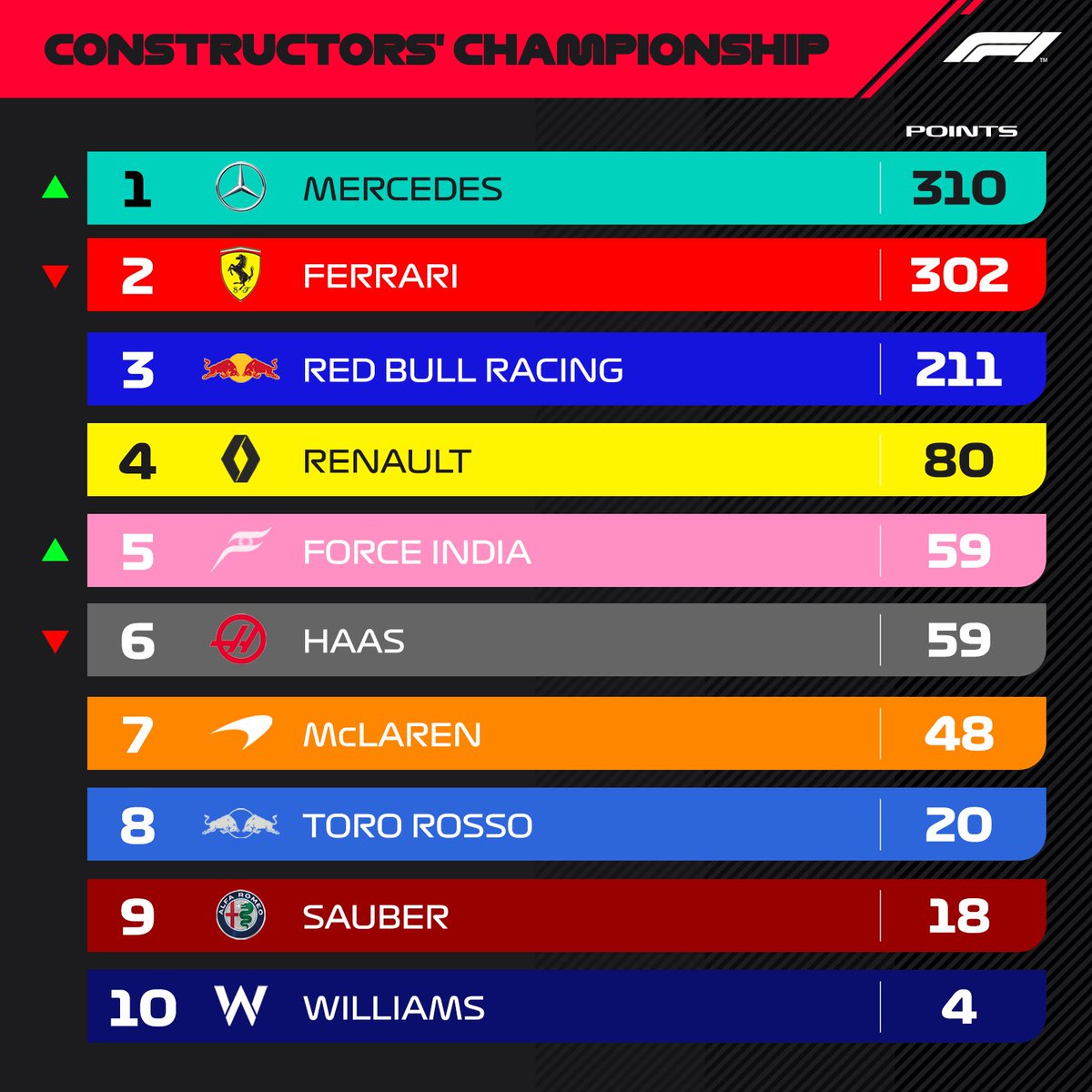 PC: F1
Drivers Standings Before Hungarian GP 2018
With his masterclass driving and never say die attitude, Lewis Hamilton is back on the top of the drivers' championship. He now holds a lead of 17 points over Sebastian Vettel and 57 points lead over Kimi Raikkonen of Ferrari. Valtteri Bottas of Mercedes holds 4th position with 122 points.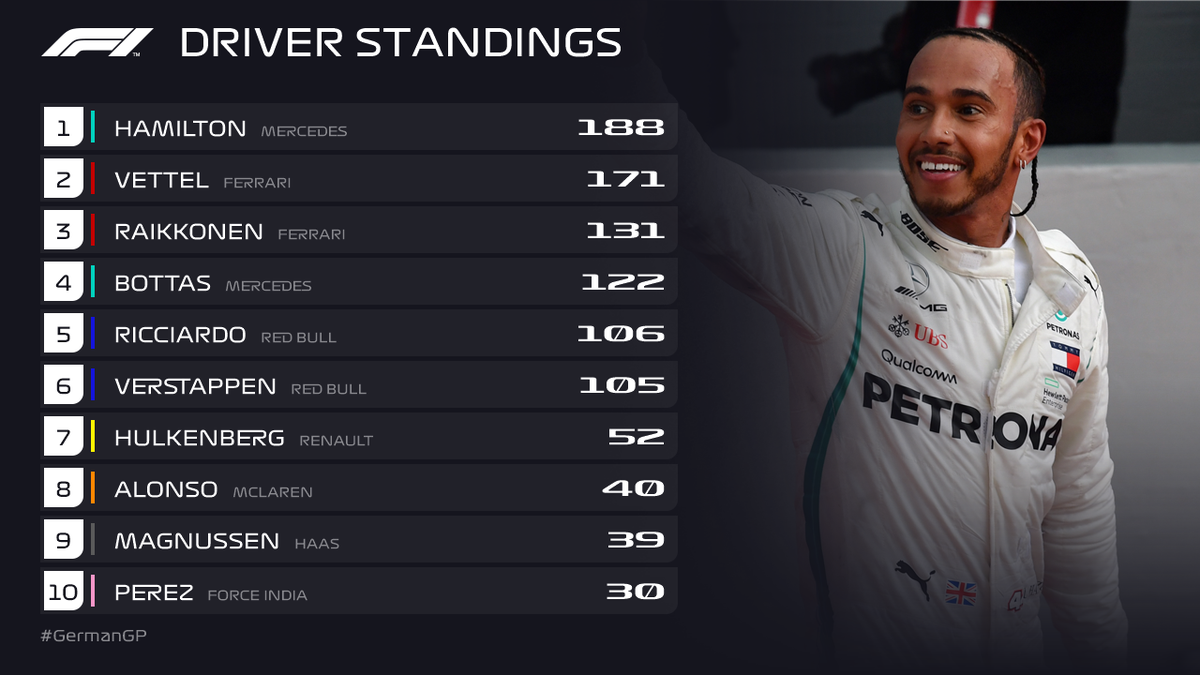 PC: F1
Don't miss the action of last F1 race before summer break.