Formula 1 Hungarian GP 2017 Qualifying Race Live Stream July 29, 2017, & Practice Race Results: Daniel Riccardo Sets The Pace for The Race As Battle for Pole Begins
Redbull was the quickest car on Friday as Daniel Riccardo won both practice races on July 28, 2017. Redbull Team has undergone some upgrades and they will pose some serious challenge on Saturday in the battle of a pole. If Lewis Hamilton takes the pole in Hungary, he will equal all time great Michael Schumacher for 68 poles. We bring you Hungarian GP 2017 Qualifying Race Live Stream, schedule information.
Click Here for Hungarian GP 2017 Live Stream, and complete schedule
Hungarian GP 2017 Qualifying Race Live Stream:
Live streaming of  Hungarian GP 2017 is available at Hotstar, Tenplay, Skysports, Foxsports, NBCsports. The live telecast rights of Hungarian Grand Prix in Canada are with TSN and RDS sports In India with Stars Sports Network, in UK Skysports EU Skysports & Channel4 for USA NBC Sports, in Australia Foxsports, In Azerbaijan, Idman TV and Setanta Sports will broadcast the race and In Austria Sky Sports and ORF eins.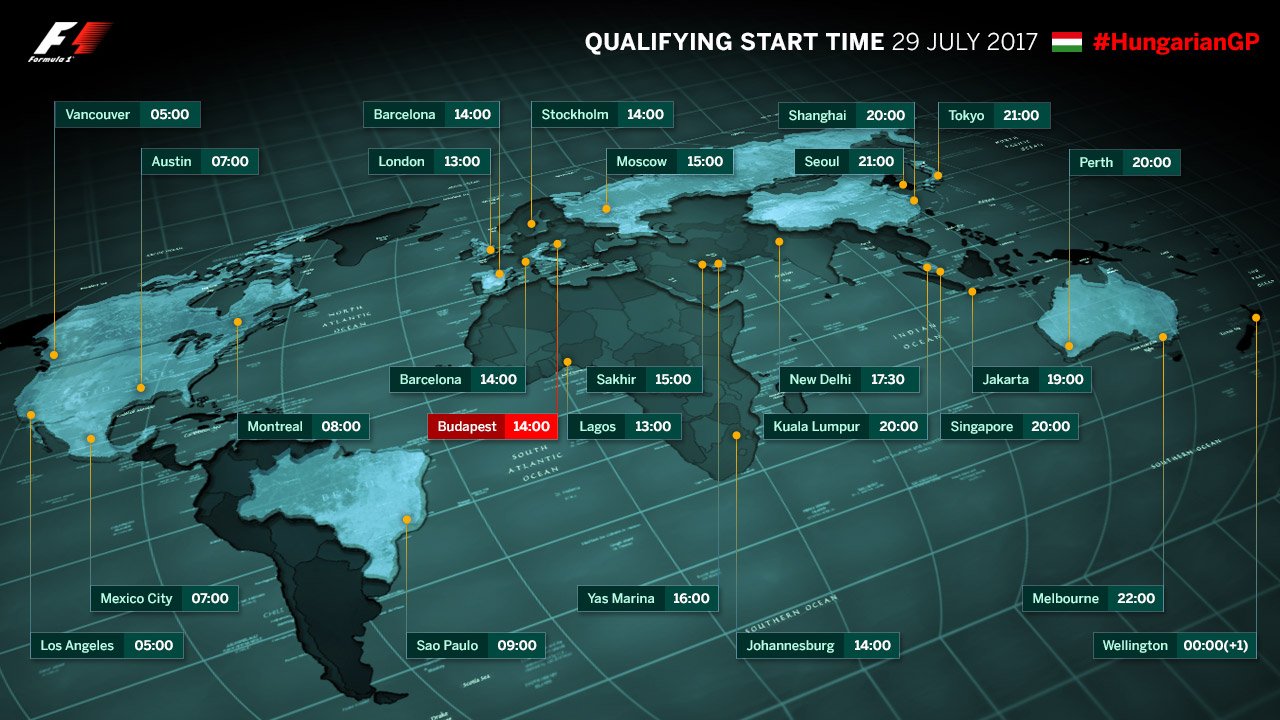 PC: Formula1
Hungarian GP 2017 Schedule for  Saturday, July 29, 2017
Practice 3 SAT 11:00 – 12:00
Qualifying SAT 14:00 – 15:00
All timings are given in local Hungarian time which is GMT+2
Hungarian GP 2017 Practice Race 2 Results & Highlights:
Daniel Ricciardo was on high as completed the double of the practice race. He swept both and practice race 1 and 2 to finish on the top. Redbull has already sent the message across that they are ready to roar in Hungarian GP 2017.
Heere is the classification after the end of FP 2
Hungarian GP 2017 Practice Race 1 Results and Highlights:
Daniel Ricciardo was on top with 1:18.486 by completing 31 laps. Ferrari's Raikkonen was second place with 1:18.720. Mercedes' Lewis Hamilton was in third place with 1:18.858. Red Bull's Verstappen was in fourth place with 1:19.162. Mercedes' Bottas was in fifth place with 1:19.248. Ferrari's Vettel left behind and he was in sixth place with 1:19.563. A great improvement by McLaren's Alonso was in seventh place with 1:19.987.
Some controversies have occurred as the rival teams have raised concerns regarding the front wing of Red Bull. The wing was flapping down with high speed which is illegal.
Daniel Riccardo has been in good form, he has bee consistent as well. With the new upgrade, he seems to be driving faster. Redbull might spring a surprise in Hungarian Grand Prix. F1 will get to see battle of 3 rather than the battle of 2.