Formula 1 German GP 2018 Live Stream Final Race & Qualifying Race Results
Formula 1 German GP 2018 Live Stream Final Race & Qualifying Race Results: Early Setback For Mercedes As Hamilton Out of The Qualifying Due to Car Issue & Sebastian Vettel Takes The Pole Position In Home Race
It was perfect Saturday for Sebastian Vettel as he drove to yet another pole position, it was his 55th pole position of the career. However, things did not go well with his rival Lewis Hamilton, as he had to retire in Q2 after the car gave up. Where Vettel will start from the pole position, Lewis will have to start from the 14th position on the grid on Sunday's Final Race. He will be joined by Red Bull's Daniel Ricciardo who will start the race from 15th position, as he took the penalties for power unit change. The only good thing for Mercedes that Valtteri Bottas was able to secure second place on the grid for Sunday's race. Sportsfeista brings you complete details for German GP 2018 Live Stream Final Race & Qualifying Race Results.
For Ferrari things are going well, Seb got the pole and Kimi was able to book the third spot, Max Verstappen who showed some good pace on Friday was able to pick the fourth spot for the final race of German GP.
German GP 20118 Final Race Timings Across the Globe
 In India, it will be at 18:40
Moscow fan can see the telecast of German GP at 16:10
In the UK the race will be live at 14:10
Malaysian Fans will get to see the race at 21:10
The Indonesians will get to see German GP at 20:10
In EU the race will start at 15:10
For fans in Singapore race can be watched at 21:00
In Austin, German GP will telecast 08:10
Fans in LA can see German GP at 06:10
In South Africa race will telecast at 15:00 hours
F1 German GP 2018 Qualifying Race Results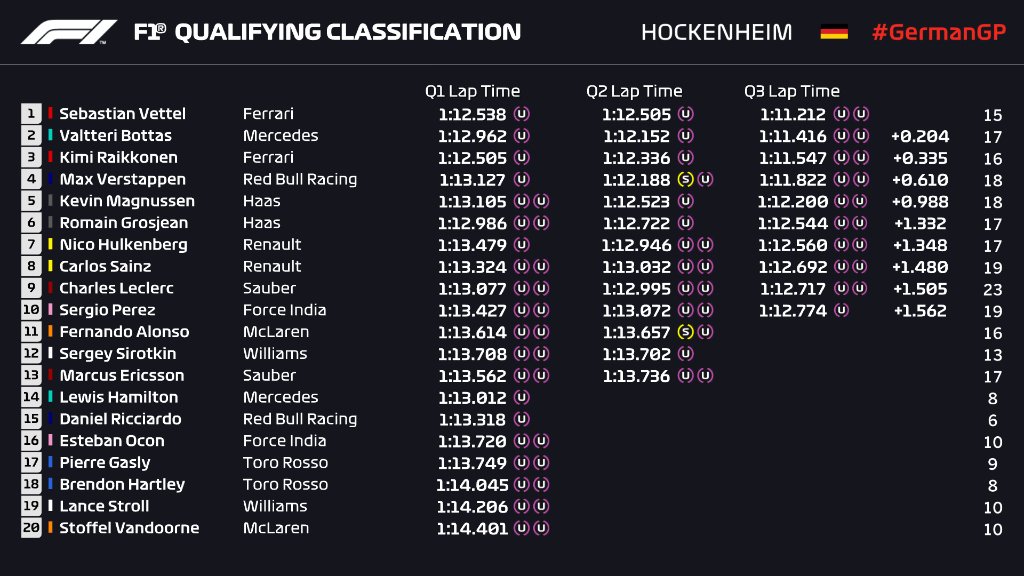 PC: F1
It was a moment to cherish from Sebastian Vettel as he took the pole position in front of home crowd, on the other hand, it was heartbreak for Lewis Hamilton as he went out of the qualifying due a hydraulic issue in his car. He will start the race on Sunday from 14th position, his teammate Valtteri Bottas though was able to take the 2nd position. Kimi Raikkonen and Verstappen filled up the 3rd& fourth spot. However, the impressive show came from the Hass team as they took the 5th and 6th position, Kevin took 5th and Romain was in 6th position. McLaren struggled again and couldn't make it for the Q3, Alonso will start the Sunday's Race from 11th position on the grid.
Drivers Quote Post Qualifying In German GP
By continuing to use the site, you agree to the use of cookies. more information
The cookie settings on this website are set to "allow cookies" to give you the best browsing experience possible. If you continue to use this website without changing your cookie settings or you click "Accept" below then you are consenting to this.