Formula 1 British GP 2020 Live Stream, Schedule & Live Telecast Information of Formula 1 Pirelli British Grand Prix 2020. Hamilton On His Home Ground With Dominant Mercedes
Formula 1 2020 season started with back to back 3 races, now after a break of a week the action will resume at Sliverstone. British Grand Prix will take place between 31st July to 1st August. The last race in Hungary was dominated by defending champion Lewis Hamilton. He was so dominant that he ended up finishing with a hat trick, he secured pole position, scored a fastest lap and won the race. He lapped both Ferrari cars during the course of his win. Hamilton is a local boy when it comes to British GP, and he is the most successful driver at Sliverstone as well.  It will be interesting to see if Red Bull will be able to challenge Mercedes and what improvements Ferrari will be able to bring in their struggling cars. Sportsfeista brings you complete details of Formula 1 British GP 2020 Live Stream, Schedule & Live Telecast Information of Formula 1 Pirelli British Grand Prix 2020.
Just five points between them at the top of the driver standings

Hamilton and Bottas head to Silverstone this week for Round 4

And they had a humdinger of a battle there in 2019 ⚔️#BritishGP 🇬🇧 #F1 pic.twitter.com/sAK46QaYR6

— Formula 1 (@F1) July 27, 2020
The first three races have been dominated by Mercedes, so far neither Red Bull or Ferrari was able to pose any threat to Mercedes. Ferrari in fact struggled a lot in their first 3 races now Ferrari has brought organizational changes to improve their performance. The midfield battle has been interesting this season as McLaren & Racing Points have put in some impressive performances and in Hungarian GP Renault also shown some sign of improvements. If Ferrari can improve their pace which will be near to impossible then British GP can become really interesting. But keep your eyes on home boy Lewis Hamilton on his favorite track.
Your Might Also Like: F1 2020 Updated Calendar With 3 New Races
Formula 1 British GP 2020 Live Stream Information:
The 2020 season will live stream at F1 TV worldwide, Hotstar in India, In Asia it will be Fox+. In UK the live streaming will be available at All 4 & Sky Sports. In United Stated the live streaming will be available at Watch ESPN & Univision Now. For fans in Middle East the live stream will be on be IN Sports Connect. Australian fans will watch live stream on Fox Sports Australia and Tenplay. Germany TV Now, China Tencent Sports, Canada TSN App, RDS App, Japan & DAZN.
Formula 1 British GP 2020 Live Telecast Information:
Formula 1 2020 Live telecast information is here. F1 fans in India will get see thrilling action live at Star Sports Network, in Asia it will be at Fox Sports Asia, Australian fans will get to see the race live at Fox Sports Australia and Network Ten. For Canadian fans F1 action will be brought live by RDS & TSN, US fans will get to see it ABC, ESPN & Univision. For the fans in the UKSky Sports, Channel 4 and will bring the live coverage. In Middle East & North Africa the telecast will be on beIN sports. Live telecast will be available on Fuji TV & DAZN, in Russia Match TV & Match Arena, Sky Sports in New Zealand, Netherlands Ziggo Sport Totaal, Ziggo Sport Go, Ziggo Sport, in Poland Eleven Sports. In Italy Sky Sport F1, TV 18 & RAI, Spain Movistar F1, In France Canal+, Canal+ Sport, TF1, TMC, fans in Germany will enjoy live telecast of F1 on n-tv& RTL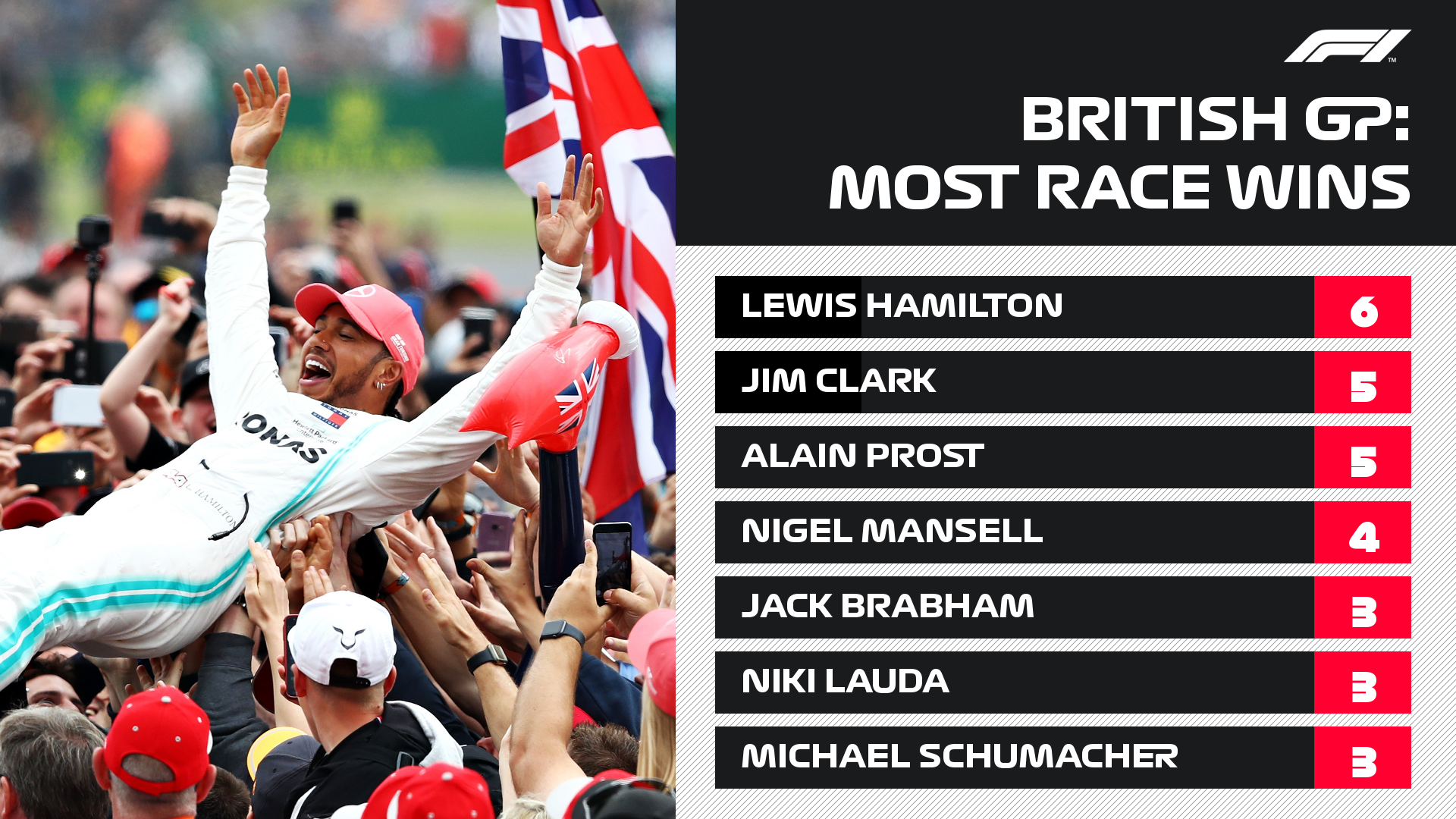 British GP 2020 Race Schedule:
Fri 31st Jul – Sun 02 August 2020
Friday, July 31, 2020
Practice 1            FRI          11:00 – 12:30
Practice 2            FRI           15:00 – 16:30
Saturday, August 1, 2020
Practice 3            SAT           11:00 – 12:00
Qualifying           SAT           14:00 – 15:00
Sunday, July 14, 2020
Race                    SUN            14:10 – 16:10
All timings are given in Local Silverstone BST  time which is GMT+1.
British GP 2019 Main Race Time Across the Globe.
For Indian Fans, British GP 2020 Final Race Will Telecast At 18:40 to 20:40
The United States & Canada Fans, British GP 2020 Final Race Will Telecast At 9:10 to 11:10 EDT
For the Fans In UK, British GP 2020 Final Race Will Telecast At 14:10 to 16:10
Malaysian Fans Will Get to See Final Race At 21:10 to 22:10
In Germany Race Will Telecast At 15:10 to 17:10
British GP 2020 Silverstone Circuit
First Grand Prix was held in 1950
Silverstone has hosted 52 Grand Prix
It is third in the list of hosting Grand Prix with Monza at number 1
Length of the circuit is 5.891 km
There will be 52 laps in British GP
Drivers will cover a distance of 306.198 km
Lewis Hamilton is the most successful driver here with 6 wins, as went past Jim Clark and Alan Prost who had 5 wins each.
The lap record on Silverstone is held by Lewis Hamilton, he clocked 1:27.369 in 2019
The British track is challenging as it is the former World War II aerodrome. This track fast so it requires quickness bravery and fitness.
Drivers' Standings Before British GP 2020
Lewis Hamilton claimed the first sport and now has a lead of 5 points over Vattteri Bottas. Bottas is currently 15 points ahead of Max Verstappen who is at position 3 with 33 points.
| POS | DRIVER | NATIONALITY | CAR | PTS |
| --- | --- | --- | --- | --- |
| 1 | | GBR | MERCEDES | 63 |
| 2 | | FIN | MERCEDES | 58 |
| 3 | | NED | RED BULL RACING HONDA | 33 |
| 4 | | GBR | MCLAREN RENAULT | 26 |
| 5 | | THA | RED BULL RACING HONDA | 22 |
| 6 | | MEX | RACING POINT BWT MERCEDES | 22 |
| 7 | | MON | FERRARI | 18 |
| 8 | | CAN | RACING POINT BWT MERCEDES | 18 |
| 9 | | ESP | MCLAREN RENAULT | 14 |
| 10 | | GER | FERRARI | 9 |
| 11 | | AUS | RENAULT | 8 |
| 12 | | FRA | ALPHATAURI HONDA | 6 |
| 13 | | FRA | RENAULT | 4 |
| 14 | | DEN | HAAS FERRARI | 2 |
| 15 | | ITA | ALFA ROMEO RACING FERRARI | 2 |
| 16 | | RUS | ALPHATAURI HONDA | 1 |
| 17 | | FIN | ALFA ROMEO RACING FERRARI | 0 |
| 18 | | CAN | WILLIAMS MERCEDES | 0 |
| 19 | | FRA | HAAS FERRARI | 0 |
| 20 | | GBR | WILLIAMS MERCEDES | 0 |