Formula 1 British GP 2017 Results & Highlights: Lewis Hamilton Roars At Silverstone, Scores 4th Consecutive And Fifth Win In British GP. Two  Finnman followed Lewis for Podium, Bottas Finished 2nd Raikkonen on 3rd.
British GP 2017 Results are out now. Lewis Hamilton once again proved that he is the king of Silverstone as registered 4th consecutive win at British Grand Prix. It was his 5 win at British GP Lewis equaled the great Jim Clark and Alan Prost. He also closed the gap in the championship table, he is now just one point behind rival Vettel. Lewis has 176 points now and Vettel is at 177 points, the championship has really come alive.
British GP did not end without drama, as both Raikkonen and Vettel had to lose their place due to tyre issue in the Final lap. Raikkonen was going strong in the second position and Vettel who just got out paced by Bottas was in 4th place when his tyre gave up.
British GP 2017 Results:
Lewis Hamilton's romance with his home ground continues. On Sunday, he exhibited excellent control and precision along with sheer pace to win his Fifth British GP. His team mate Bottas did exceptionally well to finish 2nd after starting the race from 9th position. It was heartbreak for Kimi as he lost his second spot due to tyre issue in the very closing moments of race.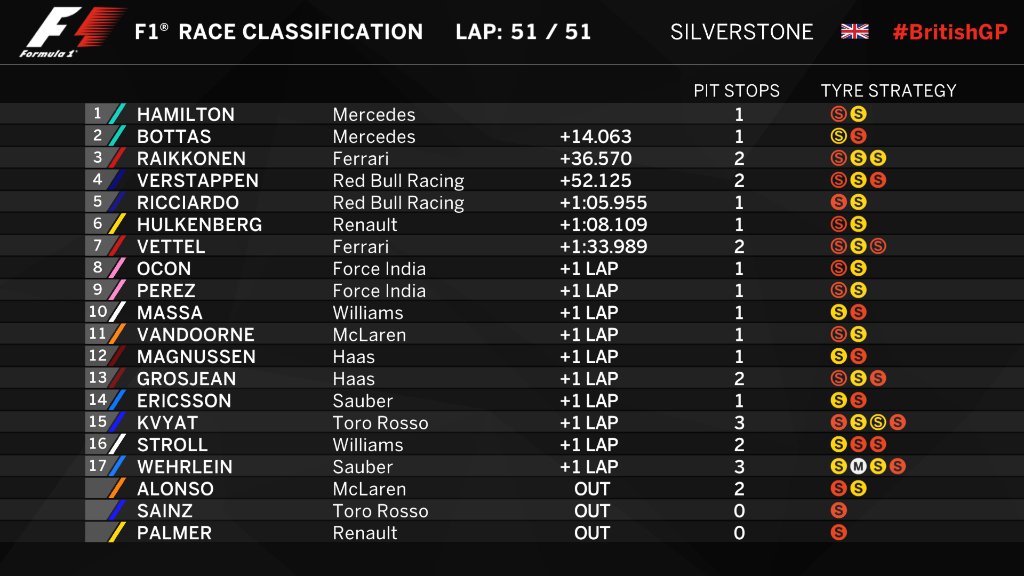 PC: Formula 1
The Drama and High Points In British GP 2017
The drama started early in British GP 2017 as Sainz and Palmer collided and were taken out of the race.
Alonso had to retire from yet another race.
Max Verstappen' quick start from the block pushed Vettel behind early in the race.
Interesting contest was seen between Vettel and Max Verstappen.
Verstappen successfully fended off Vettel's overtaking attempt.
But fraction slow pit stop made Verstappen lose his spot to Vettel.
A committed effort by Valtteri Bottas helped him to beat Vettel for the third spot.
After that, he got a bit lucky break as Kimi's tryes gave up helping him to gain the second spot.
Bottas who took 5 grid penalty rose from position 9 to position 2.
Sebastian Vettel also ran into tyre problems in the final lap and slipped to 7th place.
It was yet another 1-2 finish by Mercedes, they are comfortably ahead of Ferrari now in constructors championship
Lewis Hamilton in his 4th win of the season scored the fastest lap as well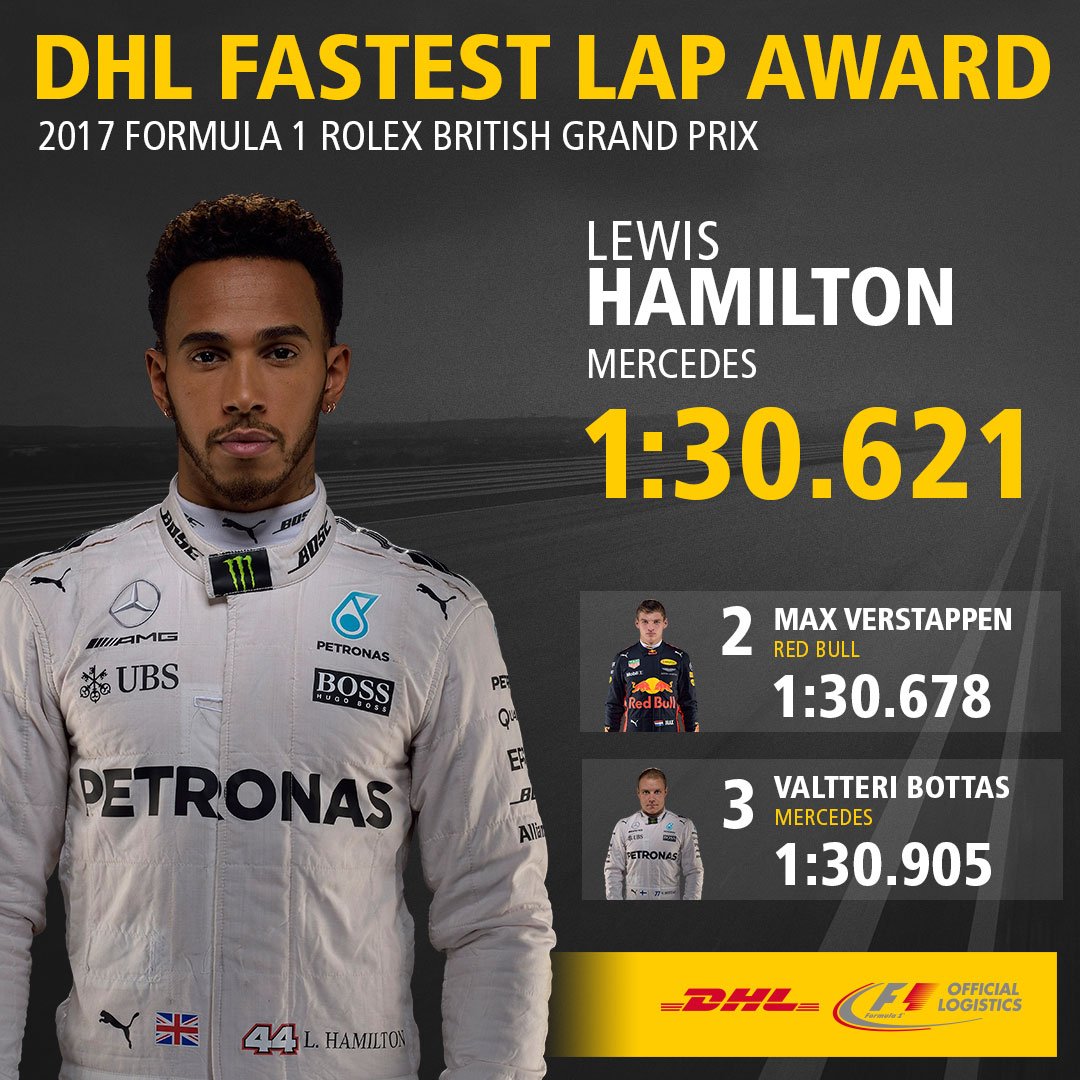 PC: F1
Post Race, British GP 2017 Drivers' Comments:
Hamilton: "That was a feeling I can't describe. I'm so proud that I could do this for these fans"
Bottas: "Really happy for today – definitely not easy from P9. Just kept my head down. We got lucky with Kimi puncture…"
Raikkonen: "[Mercedes] were just a bit faster today. And, unfortunately, unlucky situations seem to be following us at the moment"
Vettel (on tyres): "I don't think anyone is to blame – I think it caught us by surprise… A difficult race. A busy afternoon"
Drives' Standing After British GP 2017
With the win at British GP 2017, Lewis Hamilton cut down the championship lead of Vettel to just 1 point. What is more interesting, that with some consistent performance Bottas has put himself in the championship picture. He is third in the table 23 points behind leader Vettel.
Team Standings After British GP 2017
Mercedes is comfortably ahead of Ferrari in the constructor's champions after the end of British GP 2017.