Formula 1 2020 Season Restart Date & Schedule: When & Where Race Will Be Back On The Track And Other Question Answered?
Formula 1 Season 2020 which already saw a jolt with Covid 19 pandemic resulting in missing action for nearly four months, will be back on the track. The return of F1 Season 2020 will be marked with a double header in Austria. The first race of the season will take place in Red Bull Ring Austria between July 3-5. At the moment the comeback is planned as closed events means there will be minimal attendees. If the situation improves then fans will be able to join the race later in the year. F1 will carry out all safety measure to minimize the risk to bare minimum. All attendees including the support staff and participant will undergo testing and take medical clearance.
Update: F1 Season 2020 to Conclude With 17 races
In a recent announcement F1 confirmed that they are bringing back Turkish GP then there will be a double header in Bahrain. The Championship will conclude in Abu Dhabi.
November 13-15 FORMULA 1 DHL TURKISH GRAND PRIX 2020
November 27-29 FORMULA 1 GULF AIR BAHRAIN GRAND PRIX 2020
December 4-6 FORMULA 1 ROLEX SAKHIR GRAND PRIX 2020 (Bahrain)
December 11-13 FORMULA 1 ETIHAD AIRWAYS ABU DHABI GRAND PRIX 2020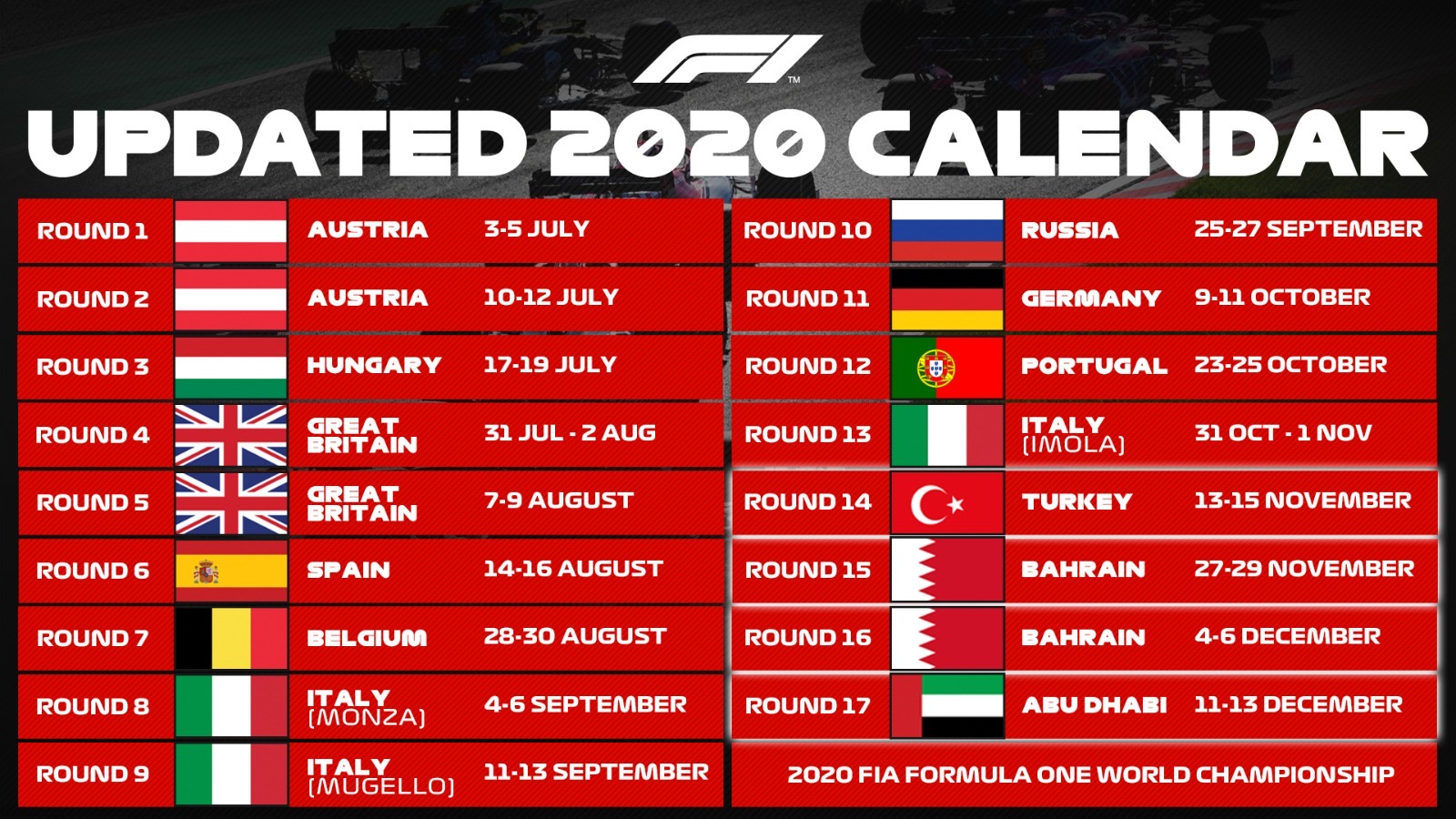 3 New Races Added to F1 Current Calendar
F1 today has announced the addition of 3 new races to their current calendar, with this current tally of confirmed races has gone up to 13. The recently added 3 new race are Eifel GP, Portuguese GP & Imola GP. The F1 is returning to Portugal after a break of 35 years, last time F1 race was held in 1996.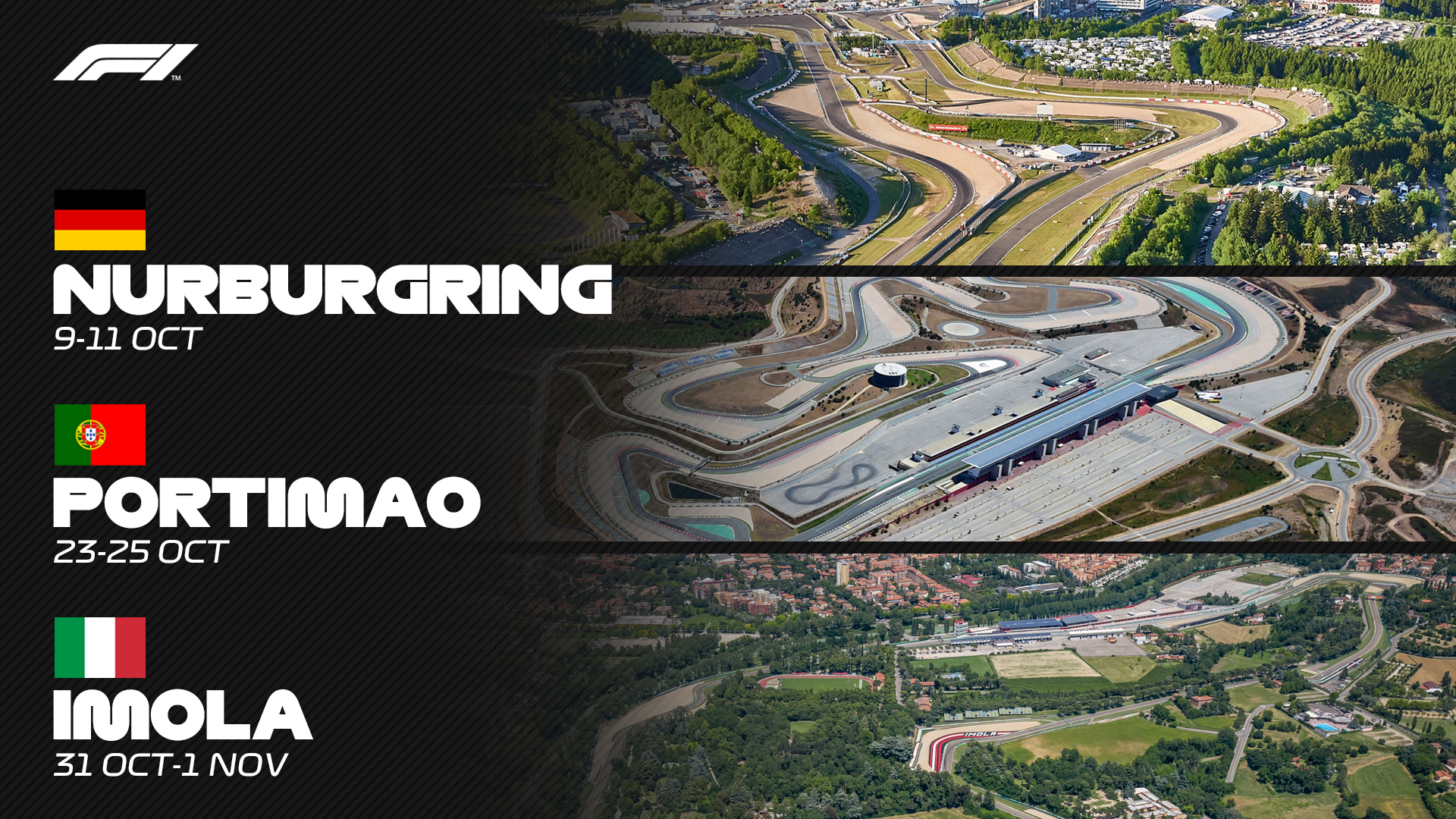 These races will take place between 09 October to 01 November. Eifel GP in Germany will take place between 09-11 October, Portuguese GP will take place between 23-25 October & Imola GP will take place between 31-1 October. Imola GP will bring interesting challenge to drivers and their team as it will be a 2 days affair.
Addition of Mugello of Sochi
"We are delighted to announce Mugello and Sochi will be part of the 2020 calendar and want to thank all our partners for their support in recent weeks," added Chase Carey, Chairman and CEO of Formula 1.
"We had great start to our season in Austria last weekend and we are increasingly confident in our plans to race throughout the remainder of 2020." As quoted on F1.com.
Now there are 10 confirmed races in the current season of F1 2020 calendar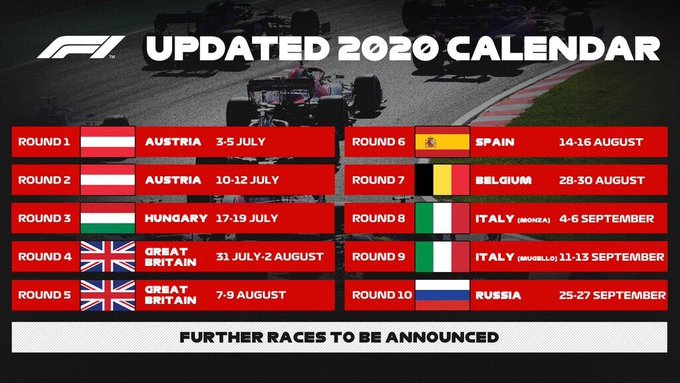 When Formula 2020 Season Will Restart?
Formula 2020 season will restart in the month of July 2020. The first race will take place between July 3rd to July 5 at Red Bull Ring Austria. The second race of the season will also take on the same place on next weekend.
So far confirmation has been given to only 8 races, however, F1 is working closely to include more races in the calendar. Unfortunately the fans will not be able to see prestigious race of Monaco. The organizers and promoters have decided to put off the race for this year.
Can Fans Be Allowed In F1 Race?
Keeping the current situation in mind fans are not allowed. The first 8 races are planned to be as a closed events only essential staff will be present at circuit. Fans can enjoy race directly from circuity if situation improves later in the year.
Safety Measure & Social Distancing
F1 is going to restart the season with strong safety measure. Social distancing to be observed as per the guideline of local authorities. Here is what F1 boss Chase Carey has to say
"Clearly we recognize our sport is one which at times, we can't have two metres between every individual on a team. When a car pulls into a pit and has to change four tyres, there won't be two metres between every individual. We need to make sure we have procedures to manage all those risks as soon as possible." Chase Carey added that they have learnt their lesson from Australia incident.
"An individual having been found with a positive infection will not lead to a cancellation of a race," "We encourage teams to have procedures in place so if an individual has to be put in quarantine, we have the ability to quarantine them at a hotel and to replace that individual" as quoted to F1.
F1 has significantly reduced the number of people from support staff, and the broadcasting team will also operate with minimum staff.
Formula 1 2020 Season Schedule for Restart