FIFA U-17 World Cup: Sports Minister Vijay Goel finalized 15th May as the preparation Date.
FIFA Under-17 World Cup 2017 will be played in six cities, Delhi, Navi Mumbai, Kolkata, Goa, Kochi, and Guwahati, from October 6-28, 2017.
Vijay Goel on seeing the Kochi Stadium where the first FIFA U-17 World Cup match will be held expressed his disappointment. He was disappointed at the pace at which the preparations were going on. Therefore, he had a meeting with all the concerned officers. He directed that no more extension of time for completion of works may be sought. And added all facilities should be ready by May 15, 2017."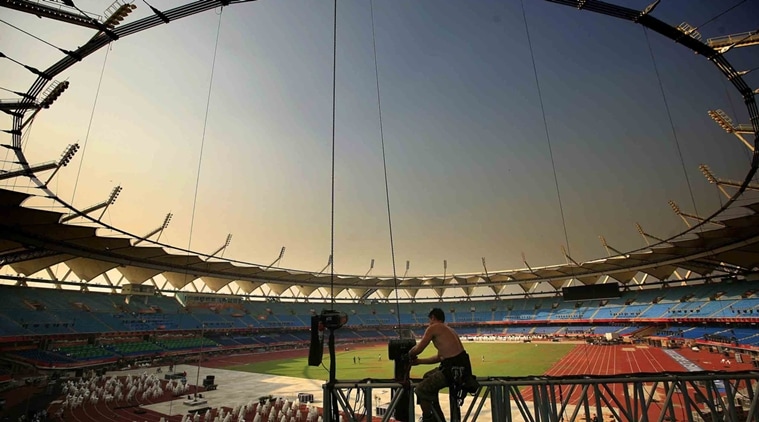 PC: Indian Express
He said all this pointing directly towards the authorities of the Jawahar Stadium in Kochi and was very upset.
Jamie Yarza who is head of competitions set a final date for the completion of all preparation that is 15th May.
Goel will visit the Kolkata stadium as well on 5th May. He wants to visit the competition as well as practice venues there.
Sports Minister On Popularizing The Sport:
Vijay Goel further said, "He (Goel) will also hold meetings with senior football players, Chief Minister of West Bengal, Minister of Youth Affairs & Sports, Government of West Bengal, with a view to seek their cooperation in popularizing football and make FIFA Under-17 World Cup a success,"

The authorities are still not alarmed because of which preparations are getting delayed.This is the first time India is hosting such a big event of Football.
FIFA U-17 will bring good opportunities for India and its youth. The outside countries have great expectation from India as India is a vast and beautiful country.

At present Indian National, U-17 team is currently on the exposure visit to Europe. They are preparing themselves for the upcoming FIFA World Cup which will be organized in India.