F1 Spanish GP 2020 Results & Highlights: Lewis Hamilton Wins Spanish GP But Max Splits The Two Mercedes Earns A Second Spot for Himself.
Lewis Hamilton on Sunday once again put in a dominant performance to win Spanish GP 2020. It was his 4th consecutive & 5th over all win in Spanish GP. With this win Lewis also became the man with most podium finishes in F1 history. Hamilton now has 156 podium finishes, he broke the record of former great Michael Schumacher. However, his teammate Valtteri Bottas didn't get the good start but later on recovered to earn a podium finish for himself. This gave Max Verstappen the chance to split the two Mercedes as he grabbed the second spot. Charles Leclerc was the only driver who could not finish the race. For Ferrari Sebastian Vettel brought some solace he grabbed the 7th spot after starting 11th on the grid. The fourth and fifth spot grabbed by Racing Point.
A masterclass from @LewisHamilton as he takes his fourth win of 2020 to extend his lead at the top of the driver standings!#SpanishGP 🇪🇸 #F1 pic.twitter.com/EpRRBgPE2n

— Formula 1 (@F1) August 16, 2020
Lewis Hamilton performance was so dominant in Spanish GP that he had a gap of 24.177 second to the runner up. After the podium finishers everyone else was lapped by Hamilton. Sebastian Vettel did a wonderful job for his team and executed the 1 stop strategy to perfection and finished 7th. Racing point were impressive as well they took 4th and 5th spot even after Perez getting 5 second penalty for ignoring blue flag.
Spanish GP 2020 Results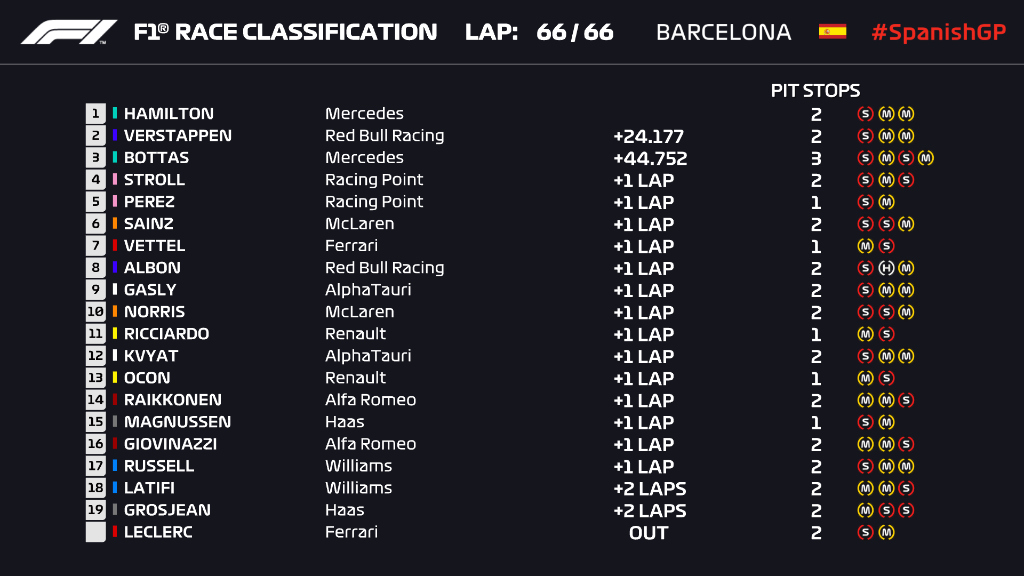 Spanish GP 2020 Highlights
Lewis Hamilton masterful driving brought out 5 Spanish GP win for him
It was Hamilton's 4th consecutive win in Spanish GP
It was his 4th win of the season out of the 6 races held this year
Hamilton broke Michael Schumacher record of most podium finishes
Hamilton now has 156 podium finishes.
A good recovery by Bottas after a slow start
Bottas did not get the correct start and quickly got relegated to P5
But he made impressive recovery for podium finish.
RECORD BREAKER 👏

156 F1 podiums for @LewisHamilton

He is now clear of Michael Schumacher and is number one on the all-time list 🙇‍♂️#SpanishGP 🇪🇸 #F1 pic.twitter.com/LRB8BVUvkA

— Formula 1 (@F1) August 16, 2020
 
He achieved this record while he completed lap 37
LAP 38/66: KIMI BREAKS A RECORD

After completing lap 37, Kimi Raikkonen has now raced 83,846 km in F1

That's further than any other driver F1 in history

That's more than twice the circumference of Earth 🌍

That's incredible 👌#SpanishGP 🇪🇸 #F1 pic.twitter.com/P5zoXOy12R

— Formula 1 (@F1) August 16, 2020
Gasly's impressive form continued as he again finished in the top 10
Renault failed to score a point in Spanish GP
Ricciardo finished 11th & Ocon 13th
Chalers Leclerc race ended due engine issues
He took a spin as he was racing with Lando Norris
There was an interesting battle between Norris & Leclerc
Sadly for Leclerc, he had to retire
Both McLaren made to the top 10
LAP 38/56: YELLOW FLAG

Charles Leclerc spins and then comes to a halt

He eventually restarts his engine but rejoins in P20#SpanishGP 🇪🇸 #F1 pic.twitter.com/vtvTl4o5Ru

— Formula 1 (@F1) August 16, 2020
Drivers Quotes After The Race
HAMILTON: "I'm in a daze. That was amazing out there and we got our strategy spot on. "I want to thank everyone back at the factory and say hello to everyone watching at home in these difficult times. Stay safe – and keep wearing those masks"
VERSTAPPEN: "I think to be able to split the Mercedes today is good for us. I'm very happy with second"
BOTTAS: "For me the key moment was the start – after that it was difficult for me. Everyone knows how difficult it is to overtake on this track. I'm not sure what happened but Lewis got a good start and the guys behind me got a tow"
Drivers Standings After Spanish GP 2020
| POS | DRIVER | NATIONALITY | CAR | PTS |
| --- | --- | --- | --- | --- |
| 1 | | GBR | MERCEDES | 132 |
| 2 | | NED | RED BULL RACING HONDA | 95 |
| 3 | | FIN | MERCEDES | 89 |
| 4 | | MON | FERRARI | 45 |
| 5 | | CAN | RACING POINT BWT MERCEDES | 40 |
| 6 | | THA | RED BULL RACING HONDA | 40 |
| 7 | | GBR | MCLAREN RENAULT | 39 |
| 8 | | MEX | RACING POINT BWT MERCEDES | 32 |
| 9 | | ESP | MCLAREN RENAULT | 23 |
| 10 | | AUS | RENAULT | 20 |
| 11 | | GER | FERRARI | 16 |
| 12 | | FRA | RENAULT | 16 |
| 13 | | FRA | ALPHATAURI HONDA | 14 |
| 14 | | GER | RACING POINT BWT MERCEDES | 6 |
| 15 | | ITA | ALFA ROMEO RACING FERRARI | 2 |
| 16 | | RUS | ALPHATAURI HONDA | 2 |
| 17 | | DEN | HAAS FERRARI | 1 |
| 18 | | FIN | ALFA ROMEO RACING FERRARI | 0 |
| 19 | | CAN | WILLIAMS MERCEDES | 0 |
| 20 | | GBR | WILLIAMS MERCEDES | 0 |
| 21 | | FRA | HAAS FERRARI | 0 |