F1 Italian GP 2020 Results & Highlights: Gasly Scores The First F1 Win As Italian GP Brings Dramatic Results As for The First time In Years Mercedes, Ferrai & Red Bull Misses The Podium
It was crazy action at Monza and Pierre Gasly sprung out the surpise of the season by winning Italian GP 2020. For the first time in many years we saw none of the top three teams at podium. Mercedes, Ferrari & Red Bull none of the teams could score a podium finish at Monza. It was a Red Flag and error of judgment by Lewis Hamilton & Mercedes which turned the who race around. Race leader Lewis Hamilton entered the pit lane while it was closed and receive 10 seconds stop and go penalty same was applied on Giovinazzi. This really changed the course of the race we got entirely new podium where there was no Mercedes, no Ferrari and no Red Bull. Sportsfeista bring you complete details of F1 Italian GP 2020 Results & Highlights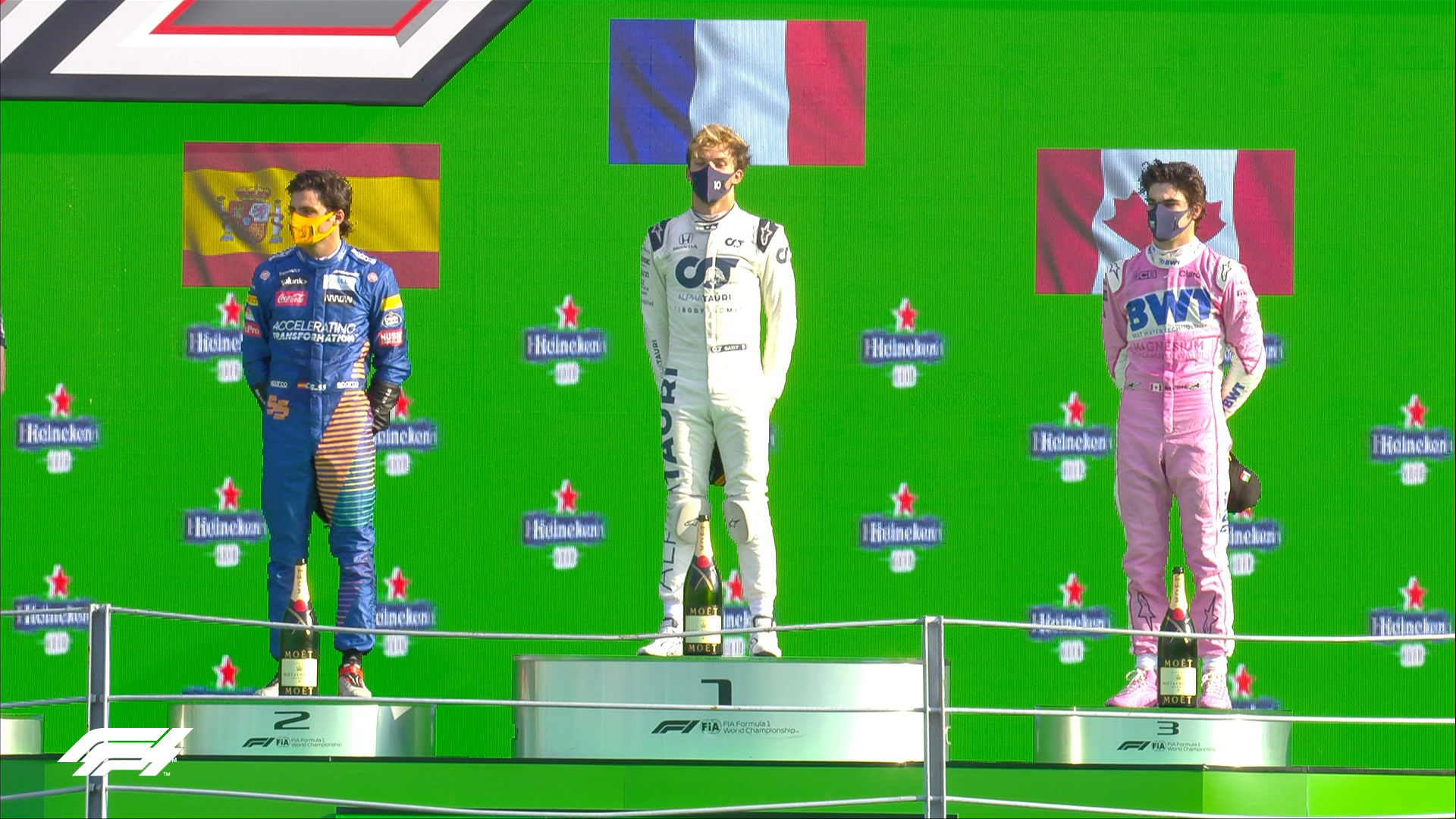 PC: F1 Twitter
We saw one of the astonishing results in at Monza, as the top drives of the season couldn't score a podium which is a rare incident in F1. Mercedes, Red Bull & Ferrari all took a blow. For Mercedes Bottas started race with engine issue and soon got relegated to P6, then Lewis Hamilton and Mercedes made error in judgement as pitted during the safety car while the pit lane was closed and earned himself and 10 seconds stop & go penalty. For Ferrari there was double retirement, Leclerc race ended due accident and a break failure ended Seb's race. For Red Bull Max Verstappen had retire due to engine issue and Albon couldn't score a point. But what a race it was Gasly, he scored maiden F1 win him and his team, Carlos Sainz finished 2nd and Stroll took the third place.
F1 Italian GP 2020 Results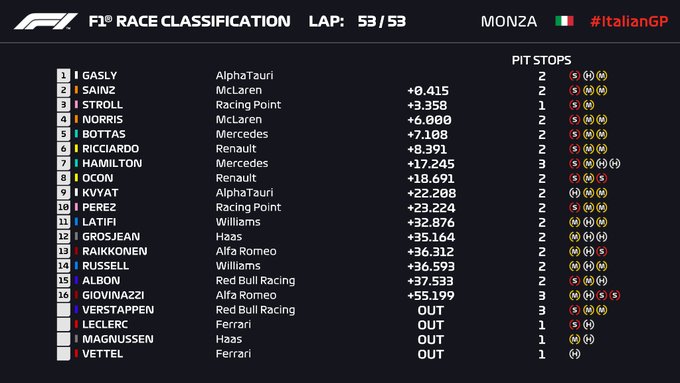 F1 Italian GP 2020 Highligts
Pierre Gasly won the Italian GP
It was his first F1 win of career
It was the first for Alpha Tauri
Gasly Started 10th on the grid and went on to win
Feel the emotion from @AlphaTauriF1 😍#ItalianGP 🇮🇹 #F1 pic.twitter.com/Vqq6ZidhZk

— Formula 1 (@F1) September 6, 2020
Carlos Sainz took the second place
Lance Stroll Finished 3rd
For the first time in many years Mercedes, Red Bull & Ferrari couldn't score podium
Disappointing race for Ferrari as both car retired
Seb experienced a break fail early in the race
LAP 7/53

VET 📻: "No brake pedal… brake line exploded"#ItalianGP 🇮🇹 #F1 pic.twitter.com/eIyp7cZPMR

— Formula 1 (@F1) September 6, 2020
Later on Leclerc met with an accident
The accident of Leclerc stopped the race
We saw first red flag of this season.
Lewis Hamilton & Antonio Giovinazzi were handed 10 seconds stop and go penalty
Both drivers entered pit lane while it was close.
Even after starting from back of the pack he finished 7th
BOT 📻: "I can't race with these engine settings. It's a joke"

The Finn is still in P6 after losing places on the opening lap#ItalianGP 🇮🇹 #F1 pic.twitter.com/927cqReKyD

— Formula 1 (@F1) September 6, 2020
Bottas finished behind Lando Norris.
He was kept on struggling with engine settings
Could not take the advantage of the situation.
Drivers' Quote After Italian GP
PIERRE: "Honestly, it's unbelievable, I'm not sure I'm realising what's happening right now, it was such a crazy race… "I've been through so much in the space of 18 months, my first podium last year and now the win in Monza!"
PIERRE (CONTINUTED): "I have no words. This team have done so much for me, they gave me my first opportunity in F1, they gave me my first podium, and now my first win. I can't thank them enough!"
SAINZ: "I'm halfway disappointed with P2. We couldn't imagine being able to fight for P1. "But really we're happy overall with P2. I have felt all weekend that I could have dominated the midfield"
LANCE: "I am [happy with P3]! It's been a couple of years since I stood on the podium so good to be back! I'm really happy for Pierre, he had such a good start and he kept it consistent. It's kind of a bummer as it was kind of mine to lose starting P2!"
Driver's Standings After Italian GP 2020
After the dramatic Italian GP Lewis Hamilton still holds the lead. Valttteri Bottas regained the second spot as Verstappen could finish the race and slipped to 3rd place.
| POS | DRIVER | NATIONALITY | CAR | PTS |
| --- | --- | --- | --- | --- |
| 1 | | GBR | MERCEDES | 164 |
| 2 | | FIN | MERCEDES | 117 |
| 3 | | NED | RED BULL RACING HONDA | 110 |
| 4 | | CAN | RACING POINT BWT MERCEDES | 57 |
| 5 | | GBR | MCLAREN RENAULT | 57 |
| 6 | | THA | RED BULL RACING HONDA | 48 |
| 7 | | MON | FERRARI | 45 |
| 8 | | FRA | ALPHATAURI HONDA | 43 |
| 9 | | ESP | MCLAREN RENAULT | 41 |
| 10 | | AUS | RENAULT | 41 |
| 11 | | MEX | RACING POINT BWT MERCEDES | 34 |
| 12 | | FRA | RENAULT | 30 |
| 13 | | GER | FERRARI | 16 |
| 14 | | GER | RACING POINT BWT MERCEDES | 6 |
| 15 | | RUS | ALPHATAURI HONDA | 4 |
| 16 | | ITA | ALFA ROMEO RACING FERRARI | 2 |
| 17 | | DEN | HAAS FERRARI | 1 |
| 18 | | CAN | WILLIAMS MERCEDES | 0 |
| 19 | | FIN | ALFA ROMEO RACING FERRARI | 0 |
| 20 | | FRA | HAAS FERRARI | 0 |
| 21 | | GBR | WILLIAMS MERCEDES | 0 |