F1 Hungarian GP 2020 Race Results & Highlights: Lewis Hamilton Wins His 3rd Hungarian GP On Trot and 8th Overall As He Continues To Show His Masterclass
Lewis Hamilton is certainly on the roll his dominant win at Hungarian GP goes to show the kind of form he is in. When it rains you better bet your money on Lewis Hamilton he didn't disappoint this time either. As he produced a delightful performance for his team by winning his third race on the trot 2018, 2019 & 2020 and 8th overall in Hungary. He keeps on setting records after records now he is tied with Micheal Schumacher's record for the most number of wins at a single venue. With the win at Hungarian GP Lewis now has gone on the top of drivers standings. Sportsfeista brings you Hungarian GP 2020 Race Results & Highlights.
'Get in there Lewis' 🎧🗣

An eighth win in Hungary for @LewisHamilton – and he takes top spot in the driver standings after three races of the 2020 season 🏆#HungarianGP 🇭🇺 #F1 pic.twitter.com/yHEPFZY4sO

— Formula 1 (@F1) July 19, 2020
The Hungarian GP which under wet condition due to some early rain but by the time of formation lap rain stopped. This triggered interesting strategies as Haas team quick put bot the drivers on slick tyres while the other started race on intermediate. The gamble really paid off as the earned first point of the season as Magnussen finished 9th. Lance Stroll and Perez failed covert their qualifying performance into a podium. Bottas had a tentative start and slipped to 6th place in the opening lap but later recovered to finish on Podium behind Verstappen.
F1 Hungarian GP 2020 Race Results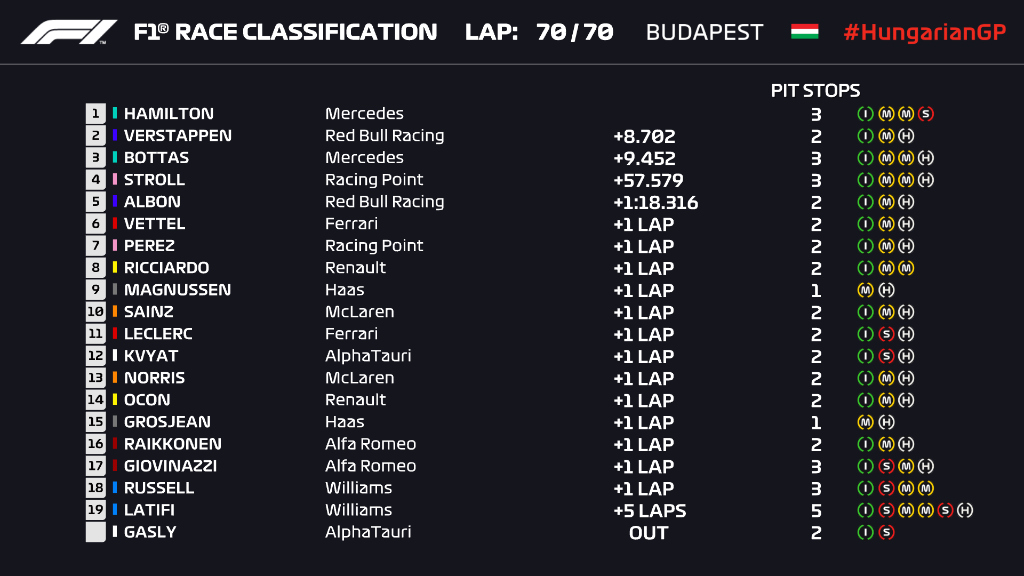 Hungarian GP 2020 Race Highlights
Lewis Hamilton kept on flying as extract the maximum of the Mercedes. His today's win shows complete dominance as killed the competition there was no one to challenge him today. He was in  another zone and produced yet another win for this 2020 season to claim the top spot in drivers standing. He created such a huge gap between him and pursuing driver Verstappen that he was able to afford an extra pit stop towards the end of the race.
The race started under wet condition due to early rain

Drivers started with intermediate tyres

Haas took the gamble and put their drivers on the slick tyres right from the beginning

The Haas gamble paid off as Kevin Magnuessen returned with a point as he finished 9th

The tentative start by Bottas cost him his second place

Bottas initially jumped before lights then put on the breaks which pushed him to 6th place

The Finn later on recovered and finished on the podium with 3rd place

He tried his level best to challenge Max Verstappen towards the end be didn't have enough laps left.

Verstappen ran an incredible race as he finished 2nd after starting from posting 7th

He was fortunate to finish on the podium as his car was badly hit during warm-up
When your race might be over before it's even started 💥

But you eventually finish P2 😮#HungarianGP 🇭🇺 #F1 @Max33Verstappen pic.twitter.com/o9JDpGYUsy

— Formula 1 (@F1) July 19, 2020
He was able to successfully fend off the late charge by Bottas.

It was a good day for Red Bull as Verstappen took podium and Albon finished 5th after starting from 13th position

Lance Stroll of Racing Point wasn't able to convert his P3 start into a podium

Stroll Finished 4th while Perez slipped to 7th position.

Ferrari miseries didn't end in Hungary either

Sebastian Vettel was looking in complete control of his car

He was finding some good pace before a slow pit stop cost him

He finished 6th in the race but could have done better if not for that slow pit stop.

Ferrari not only struggling with the car upgrades they struggling with strategy

They put on Leclerc on the soft compound tyre after intermediate which failed

Leclerc was forced to make another quick pit stop

He had no choice but to be on the hardest compound tyre, he didn't feel better throughout the race

First, he got beaten by Alex Albon, later he found difficulties in getting past Lando Norris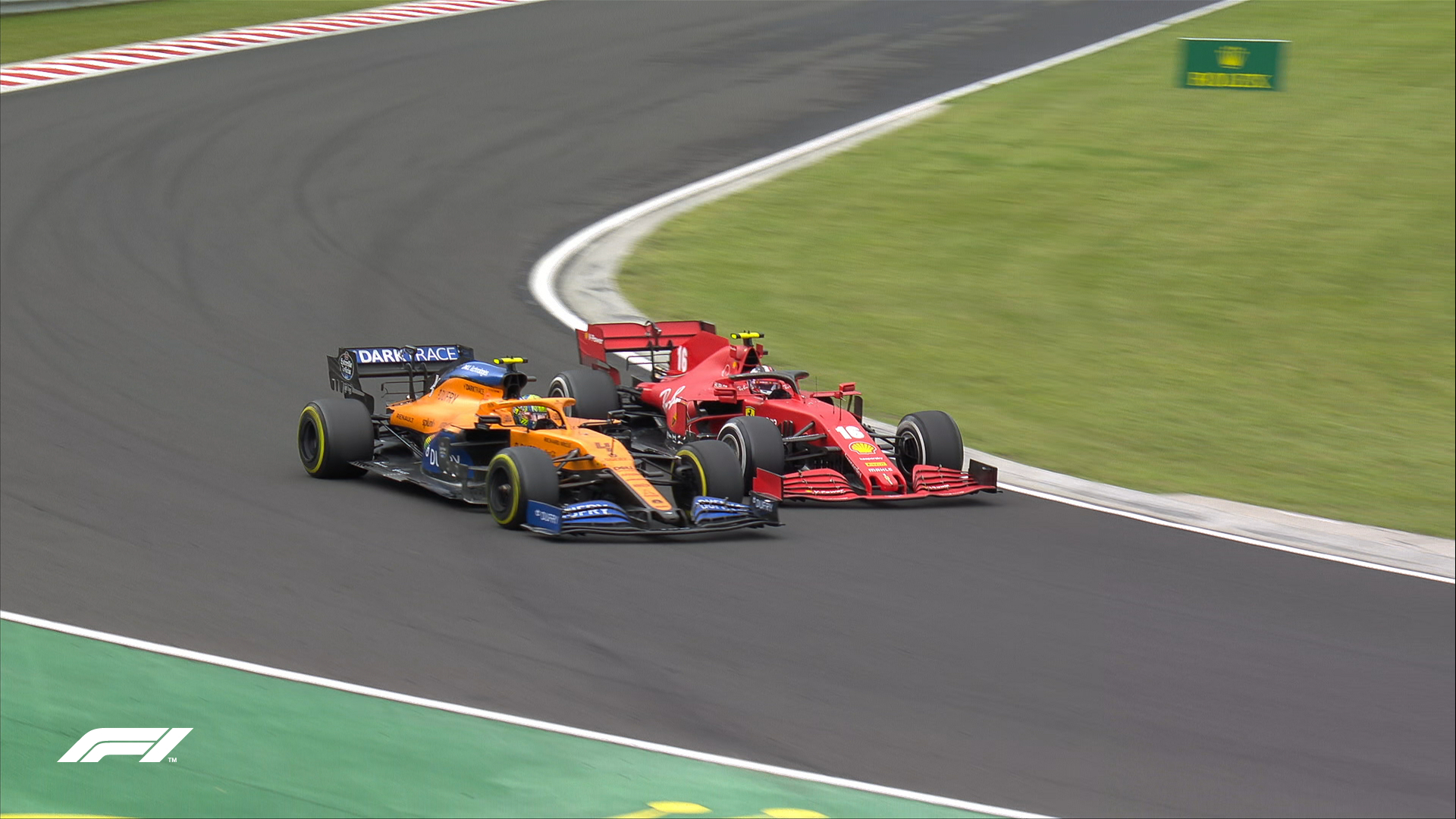 Leclerc had an interesting battle with Bottas as well
With both drivers refusing to give an inch and went back and forth in taking the lead.
Finally, Leclerc has to give up to the imperious pace of Mercedes.
 The highlight of the race was the pace of Lewis Hamilton
Towards the end of the race he was able to manage a gap of 28 seconds over Verstappen
That earned him an opportunity for another pit stop as he put on the soft compound tyre for some fast lap.
He finished the race with 8 seconds ahead of Verstappen.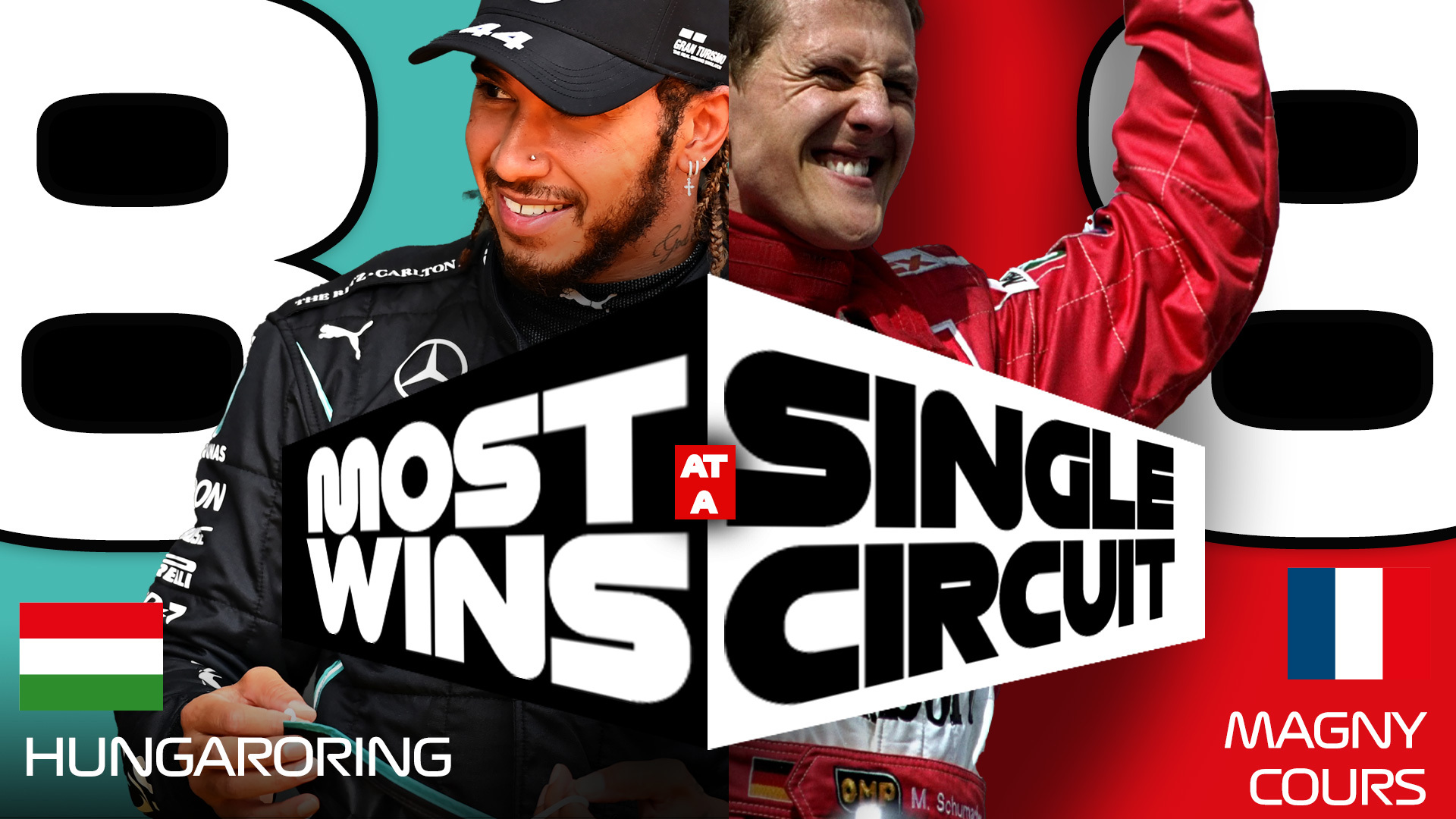 Hungarian GP 2020 Drivers Quote After The Race
HAMILTON: "It was one of my favourite races. I was on my own but we had great pace and a perfect strategy. The last two races have been fantastic for me and we need to keep it up"
VERSTAPPEN: "Not how I wanted it at the beginning. The mechanics did an amazing job to fix the car. To pay them back with second place – I was pleased with that. To be able to split the two Mercedes is good for us"
BOTTAS: "It was a pretty bad race for me to be honest. I lost it at the start – I lost many places and it made the race very difficult. I was fighting with Max to the end but ran out of laps"
Drivers' Standings After Hungarian GP
Lewis Hamilton claimed the first sport and now has a lead of 5 points over Vattteri Bottas. Bottas is currently 15 points ahead of Max Verstappen who is at position 3 with 33 points.
| POS | DRIVER | NATIONALITY | CAR | PTS |
| --- | --- | --- | --- | --- |
| 1 | | GBR | MERCEDES | 63 |
| 2 | | FIN | MERCEDES | 58 |
| 3 | | NED | RED BULL RACING HONDA | 33 |
| 4 | | GBR | MCLAREN RENAULT | 26 |
| 5 | | THA | RED BULL RACING HONDA | 22 |
| 6 | | MEX | RACING POINT BWT MERCEDES | 22 |
| 7 | | MON | FERRARI | 18 |
| 8 | | CAN | RACING POINT BWT MERCEDES | 18 |
| 9 | | ESP | MCLAREN RENAULT | 14 |
| 10 | | GER | FERRARI | 9 |
| 11 | | AUS | RENAULT | 8 |
| 12 | | FRA | ALPHATAURI HONDA | 6 |
| 13 | | FRA | RENAULT | 4 |
| 14 | | DEN | HAAS FERRARI | 2 |
| 15 | | ITA | ALFA ROMEO RACING FERRARI | 2 |
| 16 | | RUS | ALPHATAURI HONDA | 1 |
| 17 | | FIN | ALFA ROMEO RACING FERRARI | 0 |
| 18 | | CAN | WILLIAMS MERCEDES | 0 |
| 19 | | FRA | HAAS FERRARI | 0 |
| 20 | | GBR | WILLIAMS MERCEDES | 0 |