F1 German GP 2018 Results: He Promised & He Delivered: Lewis Hamilton Drove Exceptionally to Win German GP: He Said He Is Going To Drive Like His Life Depend On It.
Not many times you would witness such a performance, it was a difficult task and required the master class of a champion driver, and Lewis Hamilton just did that. Lewis Hamilton was completely broken and dejected on Saturday when he could not participate in Q2, very few gave him a little chance of winning German GP. But Lewis had the other ideas, he came on the grid with sheer determination and boy, he drove like a champion to win the German GP 2018, he is back in Championship lead as well.
Teammate Valtteri Bottas took the second spot and the third spot went to Raikkonen, Vettel who was leading the race had to retire as he crashed out of German GP. Vettel was unable to control his car and crashed into the barricade in slippery conditions due to rain. Hamilton drove 42 laps on the medium compound tyre before switching to the fastest available ultrasoft. Meanwhile, during the rain drivers like Alonso, Verstappen, Leclerc and Gasly opted for intermediate tyres, however, they quickly jumped back to slick tyres again.
Sebastian Vettel's dream of winning the home race remained unfulfilled as he crashed out of the German GP. He started with 8 points lead of defending champion Lewis Hamilton now he is trailing by 17 points to defending champion.
Watch Heartbreak Moment for Sebastian Vettel In German GP
F1 German GP 2018   Results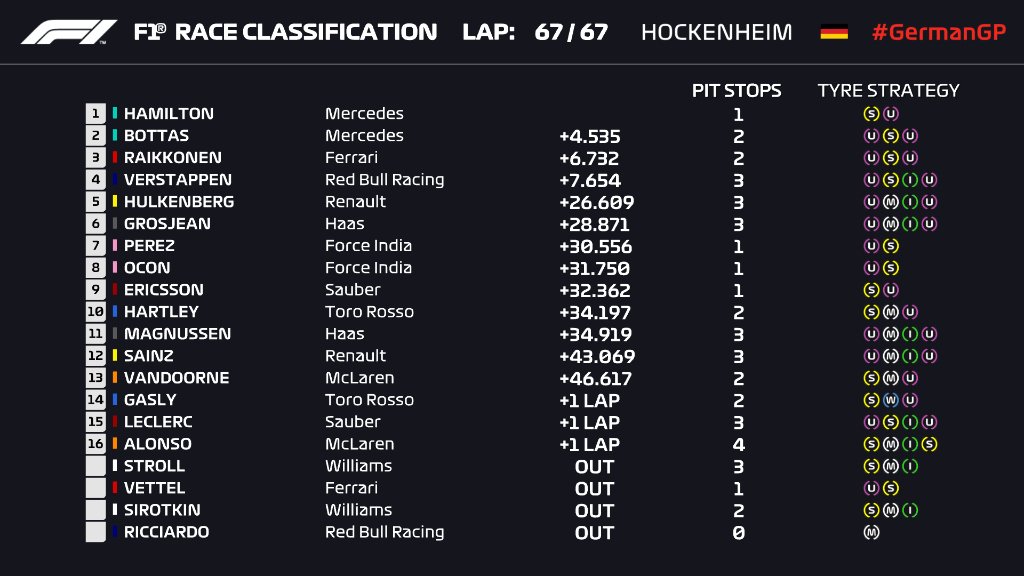 PC: F1
Drivers Reaction After German GP 2018 Results
By continuing to use the site, you agree to the use of cookies. more information
The cookie settings on this website are set to "allow cookies" to give you the best browsing experience possible. If you continue to use this website without changing your cookie settings or you click "Accept" below then you are consenting to this.