F1 German GP 2018 Live Stream, Scheduled, TV Channel & Live Telecast Information: After Back to Back Defeat Can Mercedes Make A Comeback?
German GP will be making a comeback after missing the 2017 calendar, drivers will go all out to win German GP 2018 after this only one F1 race is remaining before the summer break. It will the home race for Sebastian Vettel who is currently leading the world championship. He would definitely like to consolidate his lead with a win in front of the home crowd. Last few races haven't gone down well with Mercedes team, even after winning the pole position they unable to win the race. They would like to turn things around in German GP, specifically, Lewis Hamilton would love to repeat his 2016 performance, he was the winner of the last German GP. He is quite successful in German GP, however, when we talk about the circuit only, Hamilton has won 2 races at Hockenheim Circuit. The legendary German, Michael Schumacher has won the most number of races here 4.
FLASHBACK: GERMANY, 1986 🇩🇪

In P3, @Prost_official runs out of fuel with the finish in sight ⛽️

And brings new meaning to 'pushing for a podium' 😣#GermanGP #F1 pic.twitter.com/H0XvGLscCp

— Formula 1 (@F1) July 18, 2018
Tyres Compound Brought By Pirelli for German GP
This has seen Pirelli nominate the white-marked medium, yellow-marked soft and purple-marked ultrasoft tyre compounds for this returning race. This combination was last used in China, with an exciting strategic battle occurring in Shanghai.
"Germany is a bit of an unknown quantity, with no Grand Prix having taken place there since 2016," says Mario Isola, Pirelli's Head of Car Racing. "In the meantime, a lot has changed on the cars as well as of course the tyre range, while the Hockenheimring itself is substantially unaltered.
The Tyer Choice Made By Drivers for German GP 2018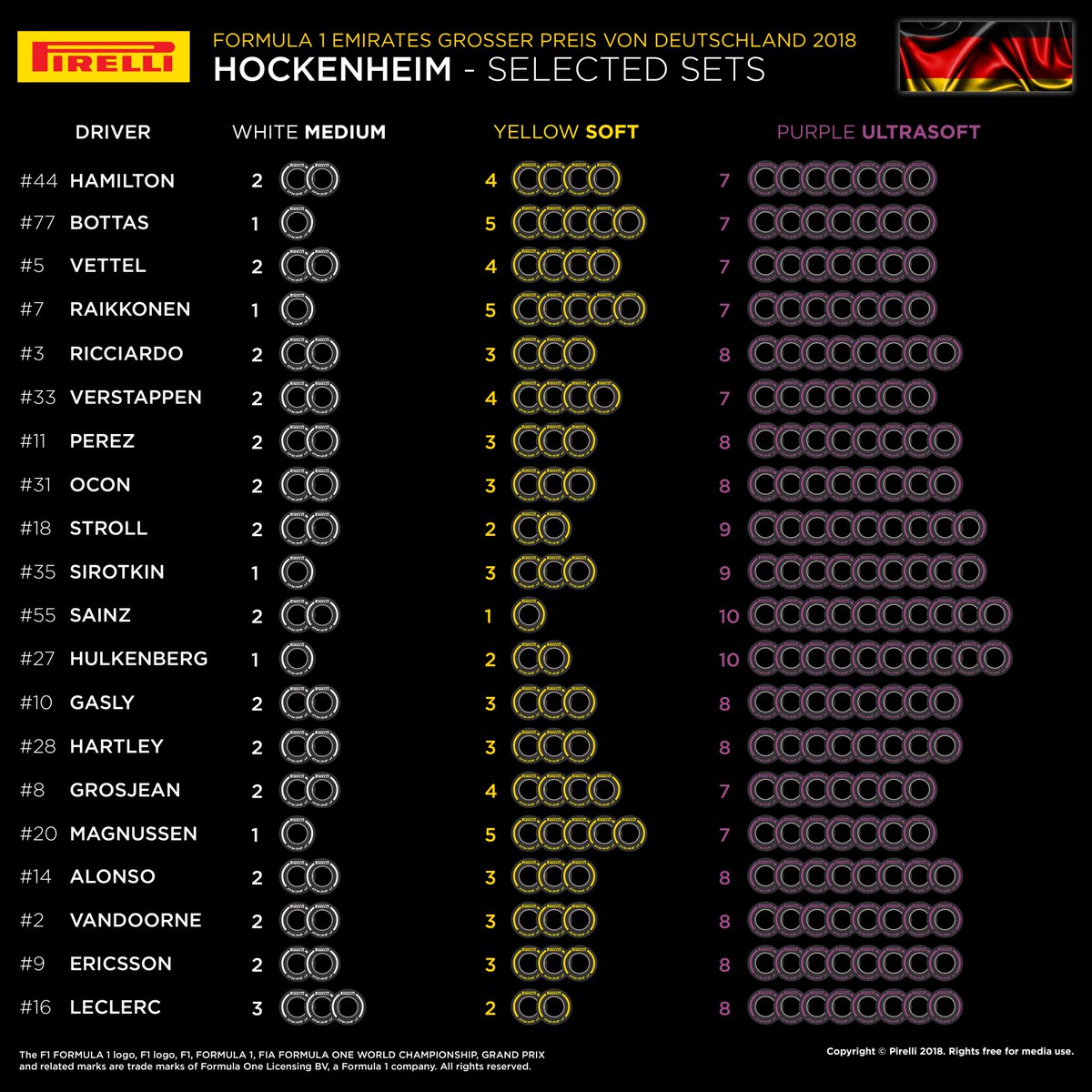 PC: Pirelli
German GP 2018 Timings, German Local Time (GMT+2)
PC: F1
German GP 2018 Schedule July 20, 2018 – July 22, 2018
German GP 2018 Schedule for Friday, July 20, 2018
Practice 1          Fri 11:00 – 12:30
Practice 2        Fri 15:00 – 16:30
German GP 2018 Schedule for Saturday, July 21, 2018
Practice 3 Sat 12:00 – 13:00
Qualifying  Sat 15:00 – 16:00
German GP 2018 Schedule for Sunday, July 22, 2018
German GP 2018 Hockenheim Circuit
First Grand Prix held at this circuit was in 1970
The Circuit length is 4.574 km
Total number of laps 67
Distance covered by drivers 306.458
Lap record 1:13.780 held by 

Kimi Raikkonen in (2004)

The last race was held in 2016
2016 winner was Lewis Hamilton
Daniel Ricciardo and Max Verstappen took 2nd & 3rd position respectively
German GP 2018 Drivers Quoted
"I feel ready for the final two races before the summer break. We have been finding performance as a team with strong results in the last few races and I want to have two good ones before the holidays.- Esteban Ocon as quoted to F1
"After the three races in a row it was good to have a few days off, and I hope all the team members managed to get a bit of a break too. I spent a couple of days mountain biking in the UK and enjoying the weather, but it was soon time to get back to work with a day in the simulator to prepare for the German Grand Prix.- Brendon Hartly, as quoted to F1
Hockenheim is a fun circuit and I've always enjoyed going there. My highlight is probably the battle I had there with Alonso in 2014 which I loved. –Daniel Ricciardo as quoted to F1
"It's very special to have the German Grand Prix back on the calendar. A home race is extremely motivating, as you carry that extra ounce of determination to do well in front of the home fans. We missed it last season, but now it's back at Hockenheim, we'll really enjoy every moment throughout the weekend." – Nico Hulkenberg, as quoted to F1
The German Grand Prix is back on the calendar and I'm looking forward to it. I'm sure quite a few Dutch fans will also come over and visit the track to support me. At the last German Grand Prix we had a double podium, so that is, of course, a good memory. – Max Verstappen as quoted to F1
"I enjoy racing at Hockenheim and have won there three times so it's great to be back after a break last year. The track is viewed as one of the classics, it's fun to drive and there are a couple of overtaking opportunities – and an extra DRS zone this year – so hopefully we can fight with the cars around us.- Alonso as quoted to F1
"We didn't score as many points in the triple-header as we had hoped for. A lot of that was down to our own mistakes. However, there is a silver lining to this – while we didn't maximise on points, we did bring the quickest car to all three races. Toto Wolf- Mercedes, as quoted to F1