F1 Canadian GP 2018 Results & Highlights: Day 3 Sebastian Vettel Won The Canadian GP To Gift Ferrari Win After 14 YearsCanadian GP is scheduled between June 08, 2018 to June 10, 2018. Sportsfeista brings you Canadian GP 2018 Results & Highlights for all 3 days.
Canadian GP 2018 Results & Highlights
There were no surprises in Canadian GP 2018 as the first three drivers kept their position intact. It was Sebastian Vettel superb driving which ended 14 years drought for Ferrari in Montreal. Good news for Mercedes that Valtteri Bottas claimed the second position. Max Verstappen who got it all wrong in Monaco made amends by getting on to the podium.
Here are the to 10 drivers of Canadian GP 2018
Saftey Car was seen as early as in Lap 1, however, another comeback of safety care was barely avoided when Sainz and Perez collide.
Early Collison between local boy Lance Stroll & Bredon Hartley
As usual Max Attack at the Start
Canadian GP 2018 Results & Highlights of Day 2
And just when it mattered Sebastian Vettel was able to pull his car in the front. He drove an exceptional lap and got the pole position in Montreal. Montreal has been the happy hunting ground of his rival and defending champion Lewis Hamilton. On Sunday it will be interesting to see who wins the race as all top 6 drives showed confidence about their pace.
The final race is on Sunday 14:10 EST which means 23:40 IST.
Drivers Standings After Canadian GP 2018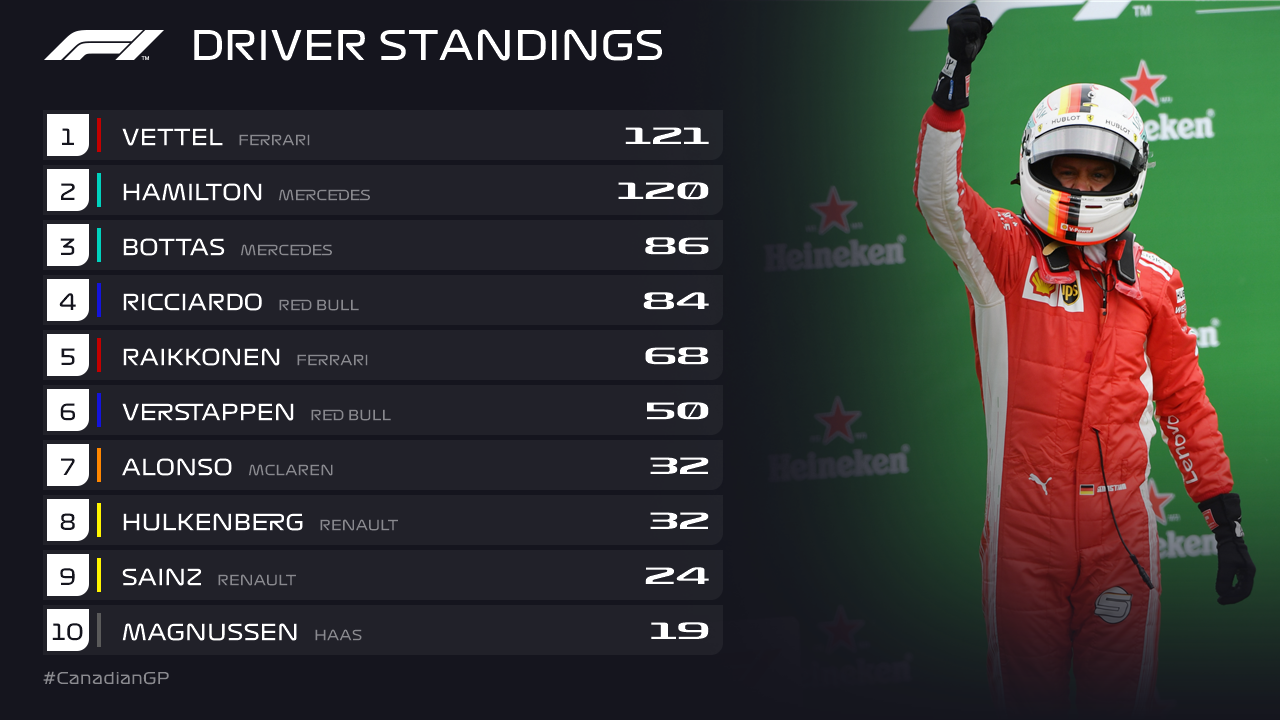 PC: F1
Canadian GP 2018 Qualifying Race Results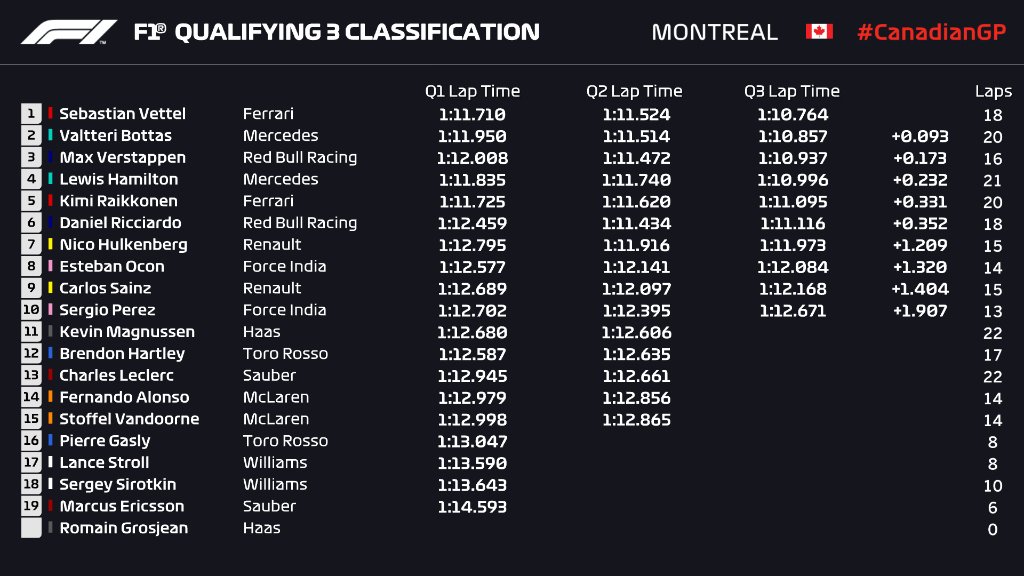 PC: F1
Canadian GP 2018 Highlight Moments:
Super quick relook at qualifying session.
Sebastian Vettel takes pole position, his fourth of this season and 54th of his career.
A smokey end to Qualifying for Romain Grosjean in Canada
A touch of Fire ends Marcus Ericsson Qualifying
Canadian GP 2018 Players Reaction After Qualifying Race
Not much to say about quali, we will push hard tomorrow to come back! Our luck will come, I know it.- Romain Grosjean.
Canadian GP 2018 Results & Highlights of Day 1
Red bull continues their good run as Max Verstappen topped the timesheet in Montreal twice on the day 1 of Canadian GP 2018. Max Verstappen dominated bot FP1 and FP2 on Friday which is clear indication of Red Bull's pace. They definitely got a winning car here. Max performance was so good that even the most successful of current drivers Lewis Hamilton couldn't match his pace in both FP1 & FP2. It remains to be seen if Red Bull can deliver on Saturday where drivers will battle for the pole position.
There is no reason why they shouldn't be feeling confident as they have delivered in Monaco. In Monaco GP not only their driver Ricciardo took pole position but won the race as well. Red Bull has definitely made the Championship interesting otherwise it was looking like Mercedes and Ferrari Battle. In 2017 it was Lewis Hamilton of Mercedes who took the pole position and he also equalled the legendary Ayrton Senna in 2017.
F1 Canadian GP 2018 Saturday, June 09, 2018 Schedule
Time EST                       Time UK                Time IST
Practice 3                  Sat 11:00 – 12:00         16:00 – 17:00         20:30 – 21:30
Qualifying                 Sat 14:00 – 15:00         19:00 – 20:00        23:30   00:30
Candian GP 2018 FP2 Highlights
Canadian GP 2018 FP2 Results
In FP2 Max Verstappen went even faster and topped the timesheets. He clocked 1.12.198, he was followed by Kimi Raikkonen of Ferrari who clocked 1:12.328. Verstappen's teammate Ricciardo clocked 1:12.603 whereas Lewis Hamilton clocked 1:12.777. McLaren which showed good pace in FP1 couldn't keep up in FP2.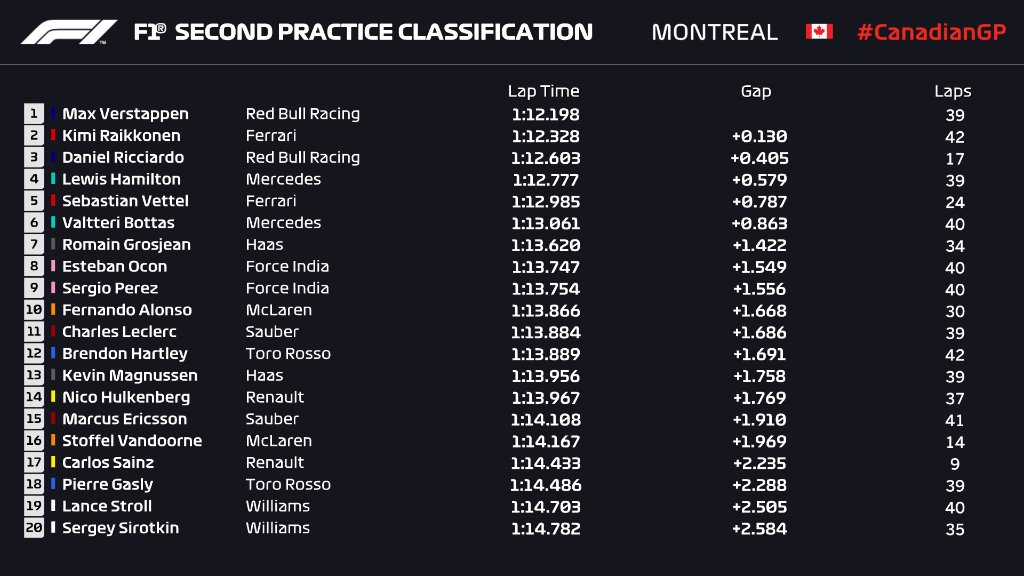 PC: F1
F1 Canadian GP 2018 FP1 Highlights
F1 Canadian GP 2018 FP1 Results
Max Verstappen made the perfect start of the practice session in FP1 when he out paced Lewis Hamilton in FP1. Verstappen clocked 1:13.302 while Hamilton clocked 1.13.390.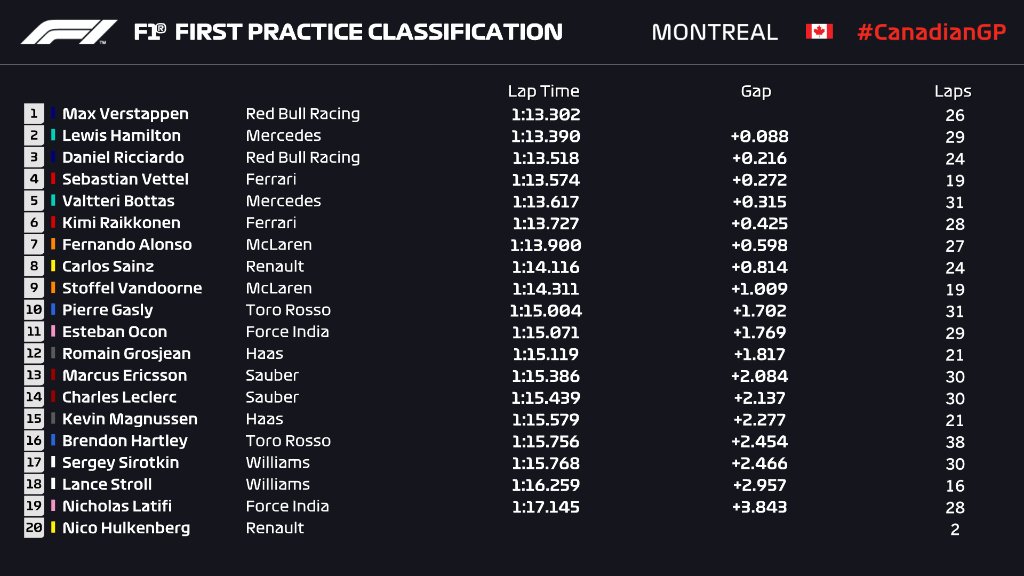 PC: F1