F1 British GP 2017 Final Race Live Stream, Sunday, July 16, 2017, And Qualifying Race Results & Highlights. Hamilton Continues Strong Show At Silverstone, Shattered Fastest Lap Record to Grab Yet Another Pole.
Lewis Hamilton once again proved that Sliveston is his territory as he claimed yet another pole at British GP 2017. He shattered his own lap time by registering a lap time 1:26.600. Kimi Raikkonen of Ferrari was the second fastest he registered a lap time of 1:27.147, Vettel was on third and Bottas was in the fourth position. The final race of British GP 2017 will take place on Sunday, July 23, 2017. We bring you British GP 2017 Live Stream information.
F1 British GP 2017 Final Race Live Stream Information:
Live streaming of  British GP 2017 is available at Hotstar, Tenplay, Skysports, Foxsports, NBCsports. The live telecast rights of British Grand Prix in Canada are with TSN and RDS sports In India with Stars Sports Network, in UK Skysports EU Skysports & Channel4 for USA NBC Sports, in Australia Foxsports, In Azerbaijan, Idman TV and Setanta Sports will broadcast the race and In Austria Sky Sports and ORF eins.
Also Read: British GP 2017 Tyre Choices
Sunday, July 16, 2017
Race                    SUN            13:00 – 15:00
All timings are given in Local Silverstone BST  time which is GMT+1.
British GP 2017 Main Race Time Across the Globe.
For Indian Fans, British GP 2017 Final Race Will Telecast At 17:30 to 19:30
The United States & Canada Fans, British GP 2017 Final Race Will Telecast At 8:00 to 10:00 EDT
For the Fans In UK, British GP 2017 Final Race Will Telecast At 13:00 to 15:00
Malaysian Fans Will Get to See Final Race At 20:00 to 22:00
In Germany Race Will Telecast At 14:00 to 16:00
British GP 2017 Qualifying Race Highlights
F1 British GP 2017 Qualifying Race Results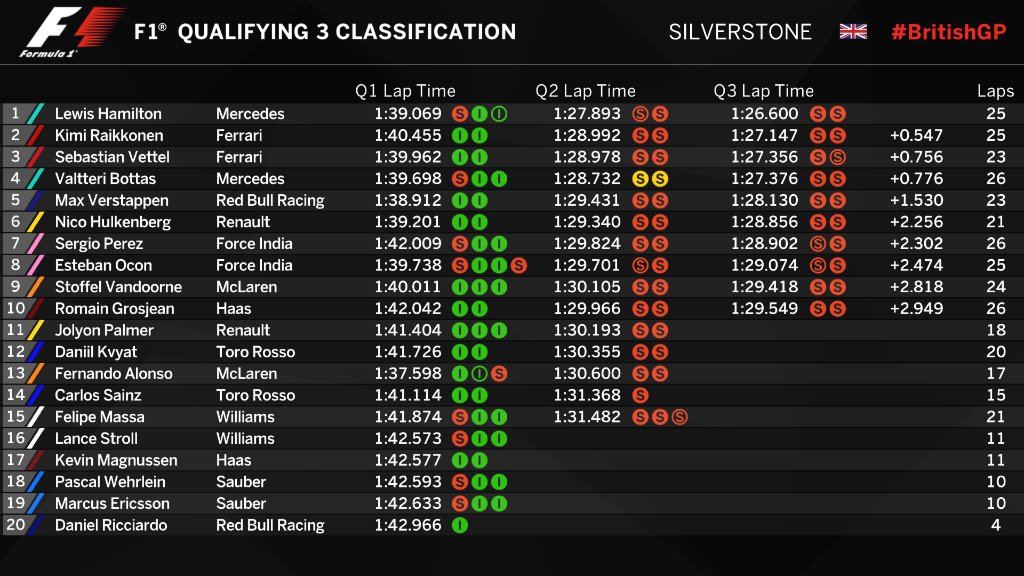 PC: F1
 Lewis Hamilton with his 5th pole win in British GP now has equaled the great Jim Clark. It was also his fourth consecutive pole of season 2017.
Hamilton is now just 1 pole behind from Michael Schumacher for all time pole position. Hamilton now has 67 pole wins and Schumacher has 68 pole wins. After an impressive show in third practice race, Vettel couldn't improve on the performance. However, his team mate Kimi Raikkonen did exceptionally well to finish in 2nd position.
One of the highlight moments of qualifying race was then when Fernando Alonso did the unthinkable. Alonso pipped everyone to gain the top position at the end of qualifying race 1.