F1 Belgian GP 2018 Live Stream Final Race & Qualifying Race Results: It's Hamilton On Pole Under Wet Conditions & Now Holds The Most Number of Poles At Spa.
When it rains put your money on Hamilton the Briton once again proved his master class under wet conditions. He took his fifth pole at Spa and this the most number of poles by any driver so far. It was the king Spa Kimi Raikkonen who dominated the qualifying until it rained. Kimi seemed like untouchable in dry conditions, he got tricked in the last qualifying race as weather eased out a bit and there were some dry patches. Hamilton and Vettel had a go in last flying laps where Hamilton stayed ahead of his championship rival. Sportsfeista brings you complete details of F1 Belgian GP 2018 Live Stream Final Race & Qualifying Race Results.
Belgian GP 2018 Qualifying Race Results
Lewis Hamilton took pole at Spa and made history to become the driver with most poles at SPA. It was dream qualifying session for Force India as the Estaben Ocon made to the top 3 and Sergio Perez stayed at 4th position. Sebastian Vettel was able to grab the 2nd position.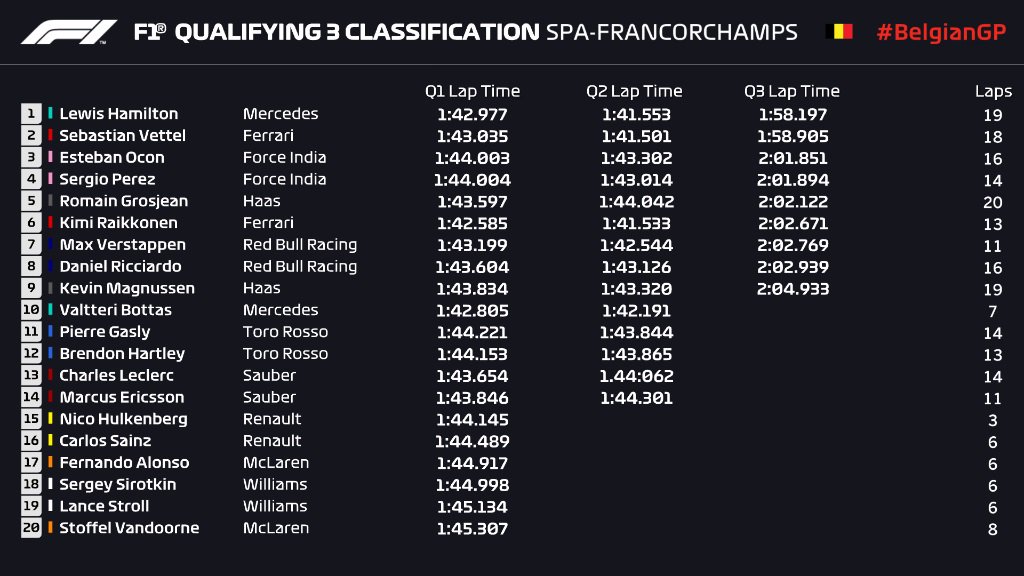 PC: F1
Drivers Quote Post Qualifying
VETTEL: "We didn't time it great, but in these conditions, anything can happen. Tomorrow we have a good pace for the race so I'm looking forward to that"
OCON: "It's fantastic! It's awesome to be in P3… The guys did a fantastic job changing tyres really quickly"
By continuing to use the site, you agree to the use of cookies. more information
The cookie settings on this website are set to "allow cookies" to give you the best browsing experience possible. If you continue to use this website without changing your cookie settings or you click "Accept" below then you are consenting to this.