F1 Bahrain GP 2020 Qualifying Race Results & Live Stream Info of Bahrain Grand Prix: No Complacency Shown By Hamilton & Mercedes As Mercedes Takes Another Front Row Lockout.
Mercedes didn't show any sign of complacency as they performed yet another front row lockout. The champion Lewis Hamilton continued his masterclass of driving and took his 98th pole position. However, his pole position was very hard fought there was thin margin between the top three contenders. The tiny margin between Max Verstappen and Mercedes Hamilton & Bottas suggests that there can be a tough fight on Sunday. Sergio Perez continued to impress as he finished 5th after Alex Albon he was able to outpace Daniel Ricciardo who is also competing for the fourth position. Sportsfeista brings you complete information of F1 Bahrain GP 2020 Qualifying Race Results & Live Stream Info of Bahrain Grand Prix.
After P1 in qualifying in Bahrain, @LewisHamilton is now just two short of a CENTURY of pole positions in F1 😮🤩

Here he is after clinching number 98 on Saturday 🚀#BahrainGP 🇧🇭 #F1 pic.twitter.com/2Q7Lcoay4i

— Formula 1 (@F1) November 28, 2020
F1 Bahrain GP 2020 Qualifying Race Results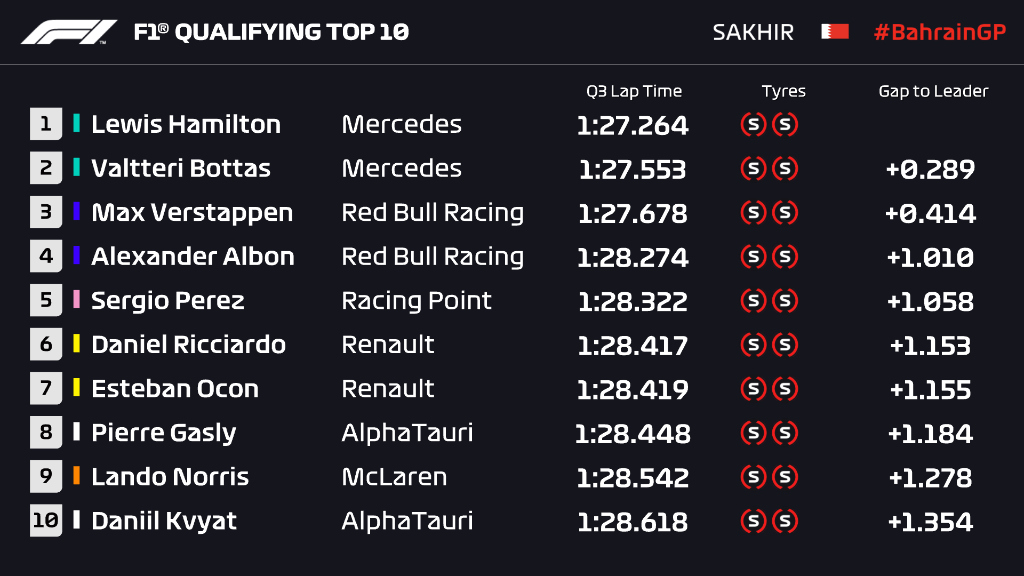 Formula 1 Bahrain GP 2020 Live Stream Information:
F1 Bahrain GP 2020 will live stream at F1 TV worldwide, Hotstar in India, In Asia it will be Fox+. In UK the live streaming will be available at All 4 & Sky Sports. In United Stated the live streaming will be available at Watch ESPN & Univision Now. For fans in Middle East the live stream will be on be IN Sports Connect. Australian fans will watch live stream on Fox Sports Australia and Tenplay. Germany TV Now, China Tencent Sports, Canada TSN App, RDS App, Japan & DAZN.
Formula 1 Bahrain GP 2020 Live Telecast Information:
F1 Bahrain GP 2020 Live telecast information is here. F1 fans in India will get see thrilling action live at Star Sports Network, in Asia it will be at Fox Sports Asia, Australian fans will get to see the race live at Fox Sports Australia and Network Ten. For Canadian fans F1 action will be brought live by RDS & TSN, US fans will get to see it ABC, ESPN & Univision. For the fans in the UKSky Sports, Channel 4 and will bring the live coverage. In Middle East & North Africa the telecast will be on beIN sports. Live telecast will be available on Fuji TV & DAZN, in Russia Match TV & Match Arena, Sky Sports in New Zealand, Netherlands Ziggo Sport Totaal, Ziggo Sport Go, Ziggo Sport, in Poland Eleven Sports. In Italy Sky Sport F1, TV 18 & RAI, Spain Movistar F1, In France Canal+, Canal+ Sport, TF1, TMC, fans in Germany will enjoy live telecast of F1 on n-tv& RTL
F1 Bahrain GP Final Race Schedule
Race               Sun    17:10 – 19:10 Local Time
Indian Fans can enjoy the action at 19:30
Fans in Australia can watch live action at 22:00
Indonesian Fans can enjoy action at 21:00
Fans in UK can enjoy the race at 14:00
Russian fans can enjoy the race at 17:00
Fans in USA can watch the live action 09:00
Central European Fans can watch the race 15:00
F1 Bahrain GP Driver's Quotes
LEWIS: "The continuation of what we do as a team amazes me. These guys are going to be away from their families now for three weeks and I'm so grateful to them. The lap started off well and was a good one overall, so I was happy with it in the end"
VALTTERI: "Another front row lockout for us which is good. The long runs were good, I am looking forward to tomorrow now"
MAX: "Overall it was a decent qualifying. We'll see how we go tomorrow on a track that can be tricky for tyres. I hope it's an exciting race, that's the most important thing – I'll be trying to stay as close to Mercedes as I can off the start line"
As quoted at F1 Twitter
Bahrain International Shakir Circuit
This year Shakir International Circuit will host two back to back races under lights before the season finale in Abu Dhabi.
The Shakir Circuit construction began in 2002.
In year 2004 Bahrain International Circuit hosted its first Grand Prix.
Shakir Circuit length is 5.412 kilometers
Drivers will go through 57 laps of this circuit.
They will cover a total distance of 308.238 KM.
The lap record is 1:31.447 by PEDRO DE LA ROSA in 2005.
2019 race winner was Lewis Hamilton.
Charles Leclerc was able to secure the pole position last year..
Drivers' Standing Before Bahrain GP 2020
| POS | DRIVER | NATIONALITY | CAR | PTS |
| --- | --- | --- | --- | --- |
| 1 | | GBR | MERCEDES | 307 |
| 2 | | FIN | MERCEDES | 197 |
| 3 | | NED | RED BULL RACING HONDA | 170 |
| 4 | | MEX | RACING POINT BWT MERCEDES | 100 |
| 5 | | MON | FERRARI | 97 |
| 6 | | AUS | RENAULT | 96 |
| 7 | | ESP | MCLAREN RENAULT | 75 |
| 8 | | GBR | MCLAREN RENAULT | 74 |
| 9 | | THA | RED BULL RACING HONDA | 70 |
| 10 | | FRA | ALPHATAURI HONDA | 63 |
| 11 | | CAN | RACING POINT BWT MERCEDES | 59 |
| 12 | | FRA | RENAULT | 40 |
| 13 | | GER | FERRARI | 33 |
| 14 | | RUS | ALPHATAURI HONDA | 26 |
| 15 | | GER | RACING POINT BWT MERCEDES | 10 |
| 16 | | FIN | ALFA ROMEO RACING FERRARI | 4 |
| 17 | | ITA | ALFA ROMEO RACING FERRARI | 4 |
| 18 | | FRA | HAAS FERRARI | 2 |
| 19 | | DEN | HAAS FERRARI | 1 |
| 20 | | CAN | WILLIAMS MERCEDES | 0 |
| 21 | | GBR | WILLIAMS MERCEDES | 0 |