F1 Bahrain GP 2020 Live Stream, Schedule & Live Telecast Information of Bahrain Grand Prix 2020: With Driver Championship & Constructor Championship Decided, Battle Is To Grab The Other Top Spots
The Turkish Grand Prix saw 7th crowning of Lewis Hamilton as a F1 champion. His masterful drive in tricky condition allowed him to not only win the championship but also win the Turkish Grand prix as well. An average performance would have seal the championship for Hamilton but you don't settle for average when you're a heart of champion. Lewis Hamilton responded with a brilliant performance and came out victorious, however, his nearest challenger Bottas finished 14th. Now F1 has entered into the final phase where we will see three back to back race in white light. Now remaining three races will be nigh affair and will be held at Bahrain & Abu Dhabi. Sportfeista brings you complete information of F1 Bahrain GP 2020 Live Stream, Schedule & Live Telecast Information of Bahrain Grand Prix 2020
Valtteri Bottas couldn't stop a marching Lewis Hamilton from securing his 7th championship. Now with only three races left fight for other spots will become tough. Bottas has lead of 27 points over Max Verstappen, this mean Vestappen has to drive exceptionally well to topple Bottas from second spot. The real close fight will be for the fourth spot as Perez, Leclerc & Ricciardo has only 4 points dividing them. Perez is at 100 points, Leclerc has 97 while Ricciardo is sitting on 96. In constructor championship Mercedes has already claimed the title and Red Bull is set for a runner up place. However, the third spot is still open, Racing Point, Renault, McLaren & Ferrari they all have chance.
Constructors Standings Before Bahrain GP 2020
| POS | TEAM | PTS |
| --- | --- | --- |
| 1 | MERCEDES | 504 |
| 2 | RED BULL RACING HONDA | 240 |
| 3 | RACING POINT BWT MERCEDES | 154 |
| 4 | MCLAREN RENAULT | 149 |
| 5 | RENAULT | 136 |
| 6 | FERRARI | 130 |
| 7 | ALPHATAURI HONDA | 89 |
| 8 | ALFA ROMEO RACING FERRARI | 8 |
| 9 | HAAS FERRARI | 3 |
| 10 | WILLIAMS MERCEDES | 0 |
Formula 1 Bahrain GP 2020 Live Stream Information:
F1 Bahrain GP 2020 will live stream at F1 TV worldwide, Hotstar in India, In Asia it will be Fox+. In UK the live streaming will be available at All 4 & Sky Sports. In United Stated the live streaming will be available at Watch ESPN & Univision Now. For fans in Middle East the live stream will be on be IN Sports Connect. Australian fans will watch live stream on Fox Sports Australia and Tenplay. Germany TV Now, China Tencent Sports, Canada TSN App, RDS App, Japan & DAZN.
Formula 1 Bahrain GP 2020 Live Telecast Information:
F1 Bahrain GP 2020 Live telecast information is here. F1 fans in India will get see thrilling action live at Star Sports Network, in Asia it will be at Fox Sports Asia, Australian fans will get to see the race live at Fox Sports Australia and Network Ten. For Canadian fans F1 action will be brought live by RDS & TSN, US fans will get to see it ABC, ESPN & Univision. For the fans in the UKSky Sports, Channel 4 and will bring the live coverage. In Middle East & North Africa the telecast will be on beIN sports. Live telecast will be available on Fuji TV & DAZN, in Russia Match TV & Match Arena, Sky Sports in New Zealand, Netherlands Ziggo Sport Totaal, Ziggo Sport Go, Ziggo Sport, in Poland Eleven Sports. In Italy Sky Sport F1, TV 18 & RAI, Spain Movistar F1, In France Canal+, Canal+ Sport, TF1, TMC, fans in Germany will enjoy live telecast of F1 on n-tv& RTL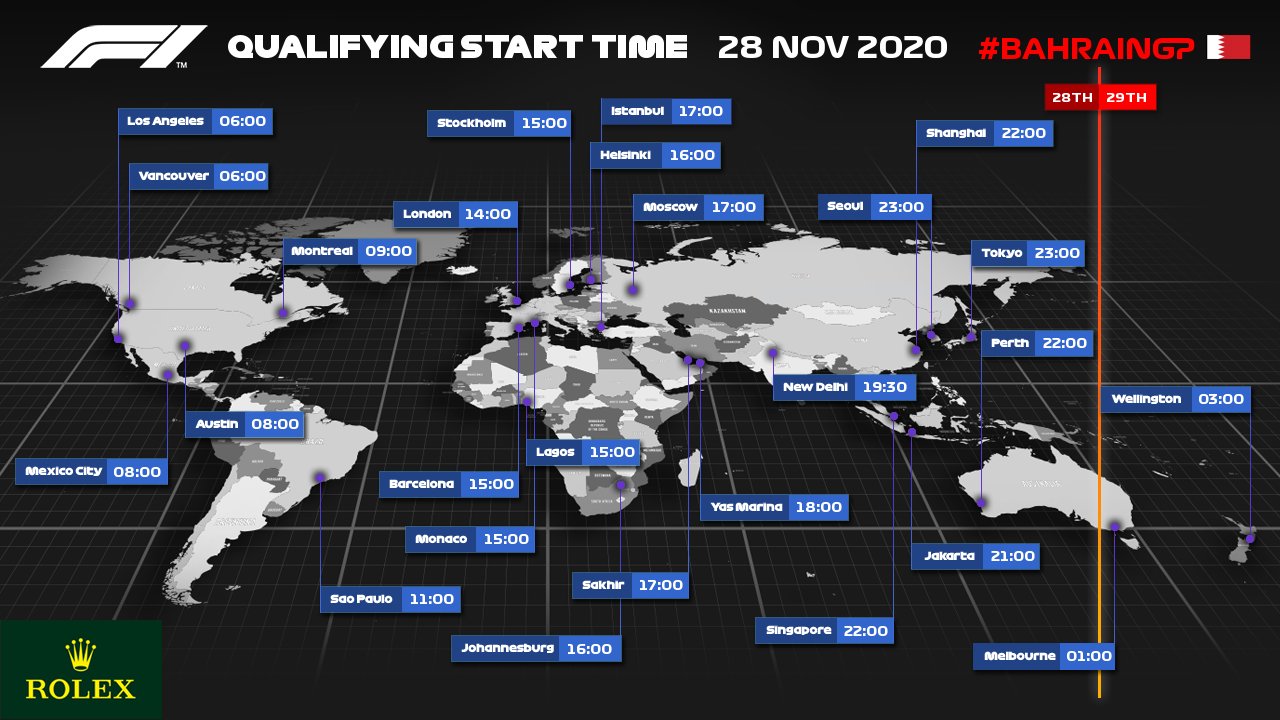 The complete schedule of  F1 Bahrain GP 2020 Race
Fri 27 November – Sun 29 March November
Practice 1       Fri     14:00 – 15:30
Practice 2      Fri     18:00 – 19:30
F1 Bahrain GP Qualifying Race Schedule
Practice 3      Sat     15:00 – 16:00
Qualifying     Sat    18:00 – 19:00
F1 Bahrain GP Final Race Schedule
Race               Sun    17:10 – 19:10
Bahrain International Shakir Circuit
This year Shakir International Circuit will host two back to back races under lights before the season finale in Abu Dhabi.
The Shakir Circuit construction began in 2002.
In year 2004 Bahrain International Circuit hosted its first Grand Prix.
Shakir Circuit length is 5.412 kilometers
Drivers will go through 57 laps of this circuit.
They will cover a total distance of 308.238 KM.
The lap record is 1:31.447 by PEDRO DE LA ROSA in 2005.
2019 race winner was Lewis Hamilton.
Charles Leclerc was able to secure the pole position last year.
Drivers' Standing Before Bahrain GP 2020
| POS | DRIVER | NATIONALITY | CAR | PTS |
| --- | --- | --- | --- | --- |
| 1 | | GBR | MERCEDES | 307 |
| 2 | | FIN | MERCEDES | 197 |
| 3 | | NED | RED BULL RACING HONDA | 170 |
| 4 | | MEX | RACING POINT BWT MERCEDES | 100 |
| 5 | | MON | FERRARI | 97 |
| 6 | | AUS | RENAULT | 96 |
| 7 | | ESP | MCLAREN RENAULT | 75 |
| 8 | | GBR | MCLAREN RENAULT | 74 |
| 9 | | THA | RED BULL RACING HONDA | 70 |
| 10 | | FRA | ALPHATAURI HONDA | 63 |
| 11 | | CAN | RACING POINT BWT MERCEDES | 59 |
| 12 | | FRA | RENAULT | 40 |
| 13 | | GER | FERRARI | 33 |
| 14 | | RUS | ALPHATAURI HONDA | 26 |
| 15 | | GER | RACING POINT BWT MERCEDES | 10 |
| 16 | | FIN | ALFA ROMEO RACING FERRARI | 4 |
| 17 | | ITA | ALFA ROMEO RACING FERRARI | 4 |
| 18 | | FRA | HAAS FERRARI | 2 |
| 19 | | DEN | HAAS FERRARI | 1 |
| 20 | | CAN | WILLIAMS MERCEDES | 0 |
| 21 | | GBR | WILLIAMS MERCEDES | 0 |