F1 Austrian GP 2020 Results: Some Late Drama Brought Pleasant Surprise for Ferrari While Valtteri Bottas Repeats 2019 Feat, As He Took The Opening Race of The Season Despite Car Issues
F1 Austrian GP 2020 results are out and  there are lot of surprises. The first formula race amid Covid-19 pandemic was touted as a battle between Red Bull & Mercedes. Mercedes started as hot favorite, however, they ran into trouble as the car reported gear box issues. Valtteri Bottas drove exceptionally well to win the first race of the season, Bottas won the first race in the last season as well. He managed his car well and kept him in front of his teammate Lewis Hamilton. A 5 second penalty during the late drama pulled Hamilton to 4th place. Charles Leclerc brough the joy to Ferrari as he took the second place. Lando Norris put is sensational last lap to give himself a podium standing.
Valtteri Bottas takes the first win of the season for the second consecutive year! 💪#AustrianGP 🇦🇹 #F1 @ValtteriBottas @MercedesAMGF1 pic.twitter.com/5teSfAYGms

— Formula 1 (@F1) July 5, 2020
F1 Austrian GP 2020 Results:
Austrian GP 2020 there were lots of twisted added towards the end of Austrian Grand Prix. As expected the two Mercedes remained in front with Valtteri Bottas showing exceptional skills to hold on his no.1 position despite car issue. Lewis Hamilton manged to do the same, however, a late +5 second penalty demoted him to position 4. Charles Leclerc made most of the opportunity presented as he drove himself to 2nd place and won podium much to the joy of Ferrari. Red Bull had a forgetful day at office they could even score a point.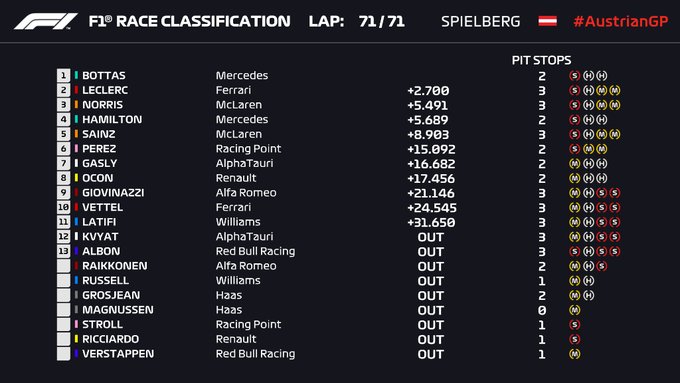 The Late Drama Affecting Austrian GP 2020 Results
There was a late drama which completely changed the results of of Austrian GP 2020. The drama started in the lap 51 when Russel car stopped by the circuit side complain the power issue. This brought in safety car and the moment safety car deployed drivers rushed in to pit lane. Red Bull who lost Max Verstappen early in the 14th lap decided to pit Albon and put him on the soft compound tyres. The strategy was to attack both the Mercedes on the softest compound tyre available.
Third place = 15 points
Fastest lap = one point
Champagne trickshot… what do we think? 😜🍾#AustrianGP 🇦🇹 #F1 @LandoNorris pic.twitter.com/4LeVxOydMr

— Formula 1 (@F1) July 5, 2020
Red Bull knew both Mercedes cars struggling with "gearbox sensor issues" and wont risk pitting. So, they went ahead with the idea of attacking Mercedes, however, the moment race started Kimi lost his front wheel and safety car came back in. The fresh fresh restart was made in lap 60 and Albon showed his intention. He tried to attack Lewis Hamilton and impressive battle started. But Albon became too ambitious in attacking Hamilton and took a spin when he tried to over take from outside. Hamilton tried to defend his position which resulted in small collision. The Red Bull car took a spin which ended their hope on ending on podium.
LAP 61/71:

Contact between Albon and Hamilton at the restart!

Albon spins and drops to P13 #AustrianGP 🇦🇹 #F1 pic.twitter.com/5iImqmGcVR

— Formula 1 (@F1) July 5, 2020
Charles Leclerc made the most of the opportunity presented he took on the midfielders Lando Norris and Sergio Perez to move himself to the third place. Then the 5 second penalty to Hamilton helped him to get the second place on the podium. Hamilton tried his best to keep himself on podium by putting in some fast laps. But a sensational last lap from Lando Norris ensured him a podium and Lewis's hope of keeping the podium.
The Austrian GP 2020 saw 9 drivers unable to complete race. Red Bull, Hass, Alpha Tauri none of their drivers were able to finish the race.
Drivers Quote on Austrian GP 2020 Results
BOTTAS: "Lewis was really quick today but I managed to keep it together. No better way to start the season"
LECLERC: "It's a huge surprise, but a good one. I think we did everything perfect today – we had a bit of luck, but it's part of the race too. That was the goal, to take every opportunity"
NORRIS: "I'm speechless. There were a few points where I thought I'd fudged it up a bit… but I managed to get past Perez and end up on the podium! I'm so happy and so proud of the team"
When is the Next Race
The round of Austrian GP 2020 is scheduled to take place between 10-12 July 2012.
F1 Steiermark GP 2020 Schedule
Friday July 10th, 2020, Practice Race
Practice Race 1        11:00 – 12:30
Practice Race 2        15:00 – 16:30
Saturday July 11th, 2020, Qualifying Race
Practice Race 3        12:00 – 13:00
Qualifying Race      15:00 – 16:00
Sunday July 12th, 2020, Main Race
Austrian GP:            15:10 – 17:10
All timings are given in local Austrian Time GMT+2
Indian fans will get to see the race at 18:40 on Sunday July 12th.
Fans in UK will get to see the race at 14:10 on Sunday July 12th.
US Fans will get to see the race at 09:10 on Sunday July 12th