Dutch MotoGP 2018 Final Race Live Stream, Schedule, Sunday, July 01, 2018 & Qualifying Race Results: Marc Marquez is Back At Pole Position, Cal Crutchlow & Rossi To Start from The Front Row.
On Saturday it was the reigning champion Marc Marquez who came on top to grab the pole position at TT Circuit. The other two who made to the front row was Cal Crutchlow and V. Rossi. Rossi has been dominant on this circuit, it will remain to be seen if the legendary Doctor who won 2017 Dutch MotoGP here can challenge Marquez. If this happens we can hope for another Rossi, Marquez classic in Dutch GP. However, Cal Crutchlow, The Briton whose late charge secured him the second place ahead of the Doctor has made his intentions clear. The final race is on Sunday and sportsfeista brings Dutch MotoGP 2018 Final Race Live Stream, Schedule, Sunday, July 01, 2018 & Qualifying Race Results.
#MotoGP Qualifying 🏁

WHAT A FINISH! @marcmarquez93 bags his second pole of the season on his final lap!@calcrutchlow's late charge is good enough for second and @ValeYellow46 sneaks onto the front row!#DutchGP pic.twitter.com/u58ElB9DWb

— MotoGP™🏁 (@MotoGP) June 30, 2018
Here is a Motul TT Assen classic from 2015 between Rossi & Marquez
One of the most debated final corners in #MotoGP we've EVER seen!@ValeYellow46 vs @marcmarquez93 at the 2015 #DutchGP – the rest is history 🏁 pic.twitter.com/SPMv7eCpcY

— MotoGP™🏁 (@MotoGP) June 30, 2018
Dutch  MotoGP 2018 Final Race Live Stream Information
The live feed of Dutch MotoGP 2018 will be available on MotoGP.com, Tenplay, Sony Liv and BTsport.
Dutch MotoGP 2018 Final Race Live Telecast Information:
Sportsfeista brings you Dutch MotoGP 2018 live telecast information. In India, it will be Sony Ten, In Australia Fox Sports, Network Ten, One, New Zealand Sky Sports. In the UK the broadcast will be on BT Sport and Channel 5 for fans in the USA it will beIN sports. For Indonesia telecast will take place on Trans 7. The Middle East and North Africa OSN sports. In Spain Movistar MotoGP, in Italy TV8 & Sky Sports. For European fans, the action will be relayed on Eurosport. For Japanese fans, the MotoGP live telecast will be on Nippon Tv and G+
Dutch MotoGP 2018, Motul TT Assen Circuit:
The historic circuit of Assen hasn't missed a single race ever since its inception in 1949. This circuit was built in 1955, the previous events took place on the public road. The Assen Circuit for Dutch TT was modified in 1999, it got new grandstand, control tower, press centre and renovated boxes. In 2005/06 the length of the circuit is reduced to 4.555km form 6km.
Lenght Circuit: 4.5 Kilometre
Corner: 18, Left 6 and Right 12
Width: 14 metre
Longest Straight: 487 metre
No Of Laps: 26
Total Distance: 118.1 Kilometre
Circuit Record: 1'33.617 Marck Marquez (2015)

Fastest Lap: 1'32.627 Valentino Rossi (2015)

2017 Winner: Valentino Rossi
Dutch MotoGP 2018, Sunday, 1 July 2018
Moto3                                      Warm Up                                     08:40-09:00
MotoGP                                   Warm Up                                     09:10-09:30
Moto2                                      Warm Up                                      09:40-10:00
Moto3                                      Race                                               11:00
Moto2                                      Race                                               12:20
MotoGP                                   Race                                               14:00
RookiesCup                            Race 2                                             15:30
All timings are in local Dutch time which is GMT+2. For Indian Time add 3:30 hrs to local time eg final race time on Sunday 17:30. In the UK the final race will relay on Sunday 13:00 BST. For Malaysian Fans, final race will telecast on 20:00 hrs on Sunday. In The USA & Canada 08:00 Am on Sunday.
Dutch GP 2018 Qualifying Race Results
The defending champion is back at pole position, Marc Marquez with his skilful ride at Motul TT went on to win the pole position. He was followed by the Briton Cal Crutchlow and The Doctor, Valentino Rossi. On his favourite hunting ground, Rossi grabbed the third position, last year he won the Dutch GP.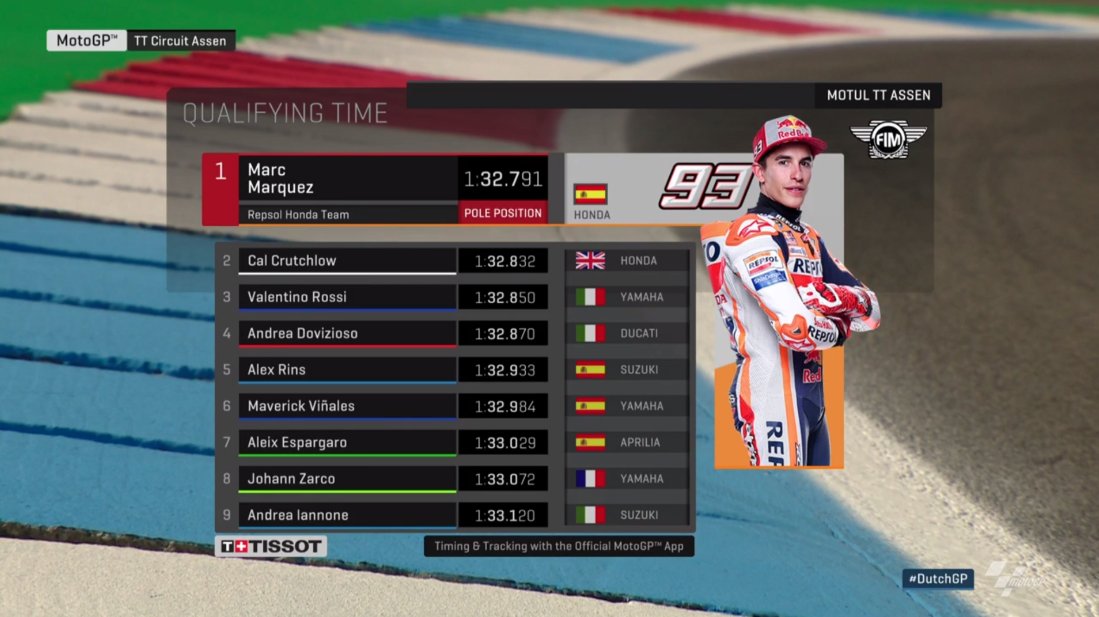 MotoGP
Dovi grabbed the 4th spot, Alex Rins was at 5 and Maverick Vinales was on 6th position. Surprisingly the winner of the last two races Jorge Lorenzo was at 10 the position, he was unable to put a good show at Motul TT Assen.
This is what a front row start means to @ValeYellow46 👍

The Doctor loves Assen!#DutchGP pic.twitter.com/XXyL4voPYy

— MotoGP™🏁 (@MotoGP) June 30, 2018
Here is what the Riders Have to Say Post Qualifying
"I think tomorrow will be a group race" – @marcmarquez93
"I didn't want to lead these bunch of animals around" – @calcrutchlow
"The front row is perfect" – @ValeYellow46 Rossi