Chinese GP 2018 Tyre Choice & Preview Quotes: Mercedes Will be Under Pressure to Deliver In China Where They Haven't Lost Since 2013
The Chinese GP 2018 is scheduled for 13 April 2018 to 15th April 2018. As the drivers get ready for practice race, let's take look at the Chinese GP 2018 tyre choice by teams.
Tyres play an important role in the team's strategy for the race. Since Chinese GP 2018 is just a few hours away, so let's take a look at the choice made by different teams.
Click Here for Chinese GP 2018 Practice Race Highlights
Chinese GP 2018 Tyre Choice
The official tyre supplier for Formula 1 race has announced the tyre options available for Chinese GP. Drives will have the option of choosing Medium, Soft & Ultrasoft tyres for the race. The supersoft tyre compound choice will not be available for drivers in Chinese GP.
Click Here: Chinese GP 2018 Live Stream info
"There's quite a big gap from medium to the softer compounds, which are quite close together (with the exception of the hypersoft). So, by missing out the supersoft in China, we end up with three choices that are quite evenly spaced out, which in turn opens up several different possibilities for strategy." -Mario Isola as quoted to F1
 Chines GP 2018 Tyre Choice By Mercedes:
    Driver                        Medium                           Soft                Ultra Soft
Lewis Hamilton                 1                                           6                              6
Valtteri Bottas                   2                                           5                              6
Sebastian Vettel                2                                           3                              8
Kimi Raikkonen                2                                           3                              8
Daniel Ricciardo               2                                           4                               7
Max Verstappen                2                                           4                               7
Sergio Perez                       3                                           4                               6
Esteban Ocon                    3                                           4                               6
Lance Stroll                        2                                           3                               8
Sergey Sirotkin                  1                                           4                                8
Nico Hulkenberg              2                                           4                                7
Carlos Sainz Jr                  2                                           4                                7
Pierre Gasly                       2                                            4                               7
Brendon Hartley              1                                             5                                7
Romain Grosjean             1                                             4                                8
Kevin Magnussen            2                                             3                                8
Fernando Alonso              1                                            4                                 8
Stoffel Vandoorne            1                                            4                                 8
Marcus Ericsson              2                                             4                                 7
Charles Leclerc                3                                              3                                  7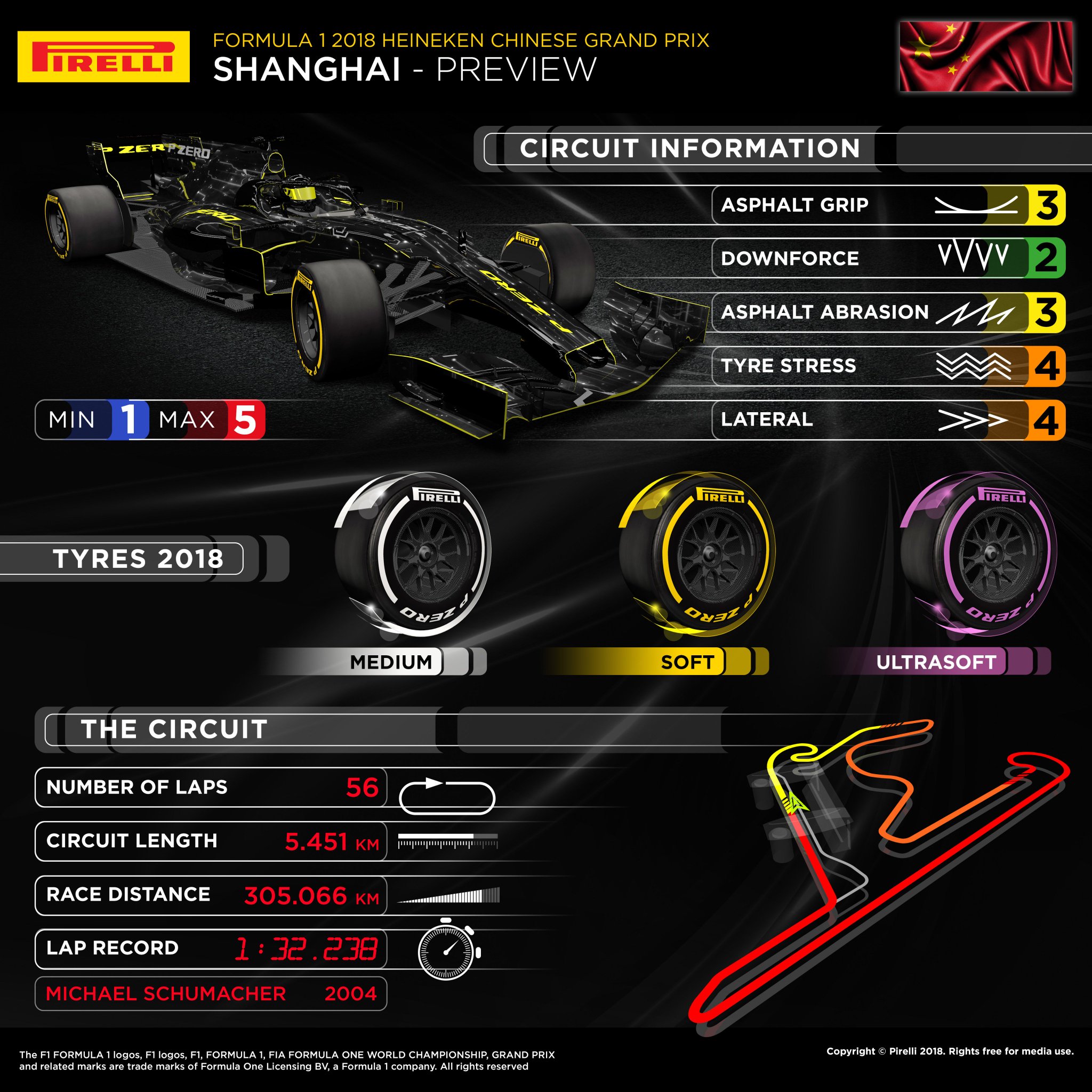 PC: Pirelli Motorsport
Chinese GP 2018 Preview Quotes:
Team Toro Rosso
"I have only been to the Shanghai International Circuit in my role as reserve driver with Red Bull Racing, so this week will be the first time I actually get to drive on the track. It's always exciting to discover a new place and a new circuit and this one looks like being a pretty cool one." -Pierre Gasly as Quoted to F1
Also Read: Chinese GP Quick Facts & Stats
Red Bull
"Shanghai is a track that for some reason I didn't initially get to grips with but over the years it's become a track I enjoy more and more. It's a super technical track, turns 1 and 2 are pretty crazy and hard on the front tyres but if you can manage that you're normally in for a good race. I'm still yet to get a podium there but it's always a track I've had good speed on so hopefully we will have a good chance with the RB14. Daniel Ricciardo as Quoted to F1
China was good for me last year with a podium. As the track is so wide it is good for overtaking, this usually leads to an exciting and action-packed race. It is quite heavy on tyres, the fronts especially. The Chinese fans are really passionate so I look forward to seeing them out in force again and us all having a great race weekend." Max Verstappen- as Quoted to F1
Mercedes
I think our team showed the right reaction after the chequered flag in Bahrain: instead of being satisfied with the double podium finish, everyone realized that P2 and P3 was the minimum result we should expect with both Red Bulls and Kimi out of the race. So we started to analyse what went wrong in Bahrain in order to improve for China and come back stronger. Toto Wolff – as Quoted to F1