Catalan MotoGP 2018 Results & Highlights: Day 3 Also Went In Favor of Italian MotoGP Winner Lorenzo. As He Scored Second Consecutive Win of The Season.
Catalan MotoGP 2018 Results & Highlights are out. The Mugello winner Jorge Lorenzo who was showing some raw pace on the first day of Catalan GP continued his good form and took the pole position on Saturday and come Sunday he stormed to the win in Barcelona.
Jorge Lorenzo did it in front of his home crowd as he took the Catalan GP. He was followed by fellow countrymen Marc Marquez and sharing the podium with them is The Doctor.
Catalan MotoGP 2018 Day 3
Jorge Lorenzo was the hot favourite to win the race on Sunday and he didn't disappoint his fat at all. He raced ahead everyone to register his second consecutive win 2018 season.
Catalan MotoGP Results
It was a perfect day for Spanish fans as two home heroes took the podium. Both Lorenzo and Marquez finished at 1-2 respectively. The Rossi fans get to cheer as well, The Doctor took yet another podium of the season 2018 and kept himself alive in the championship race. Marquez also earned some important point for the championship.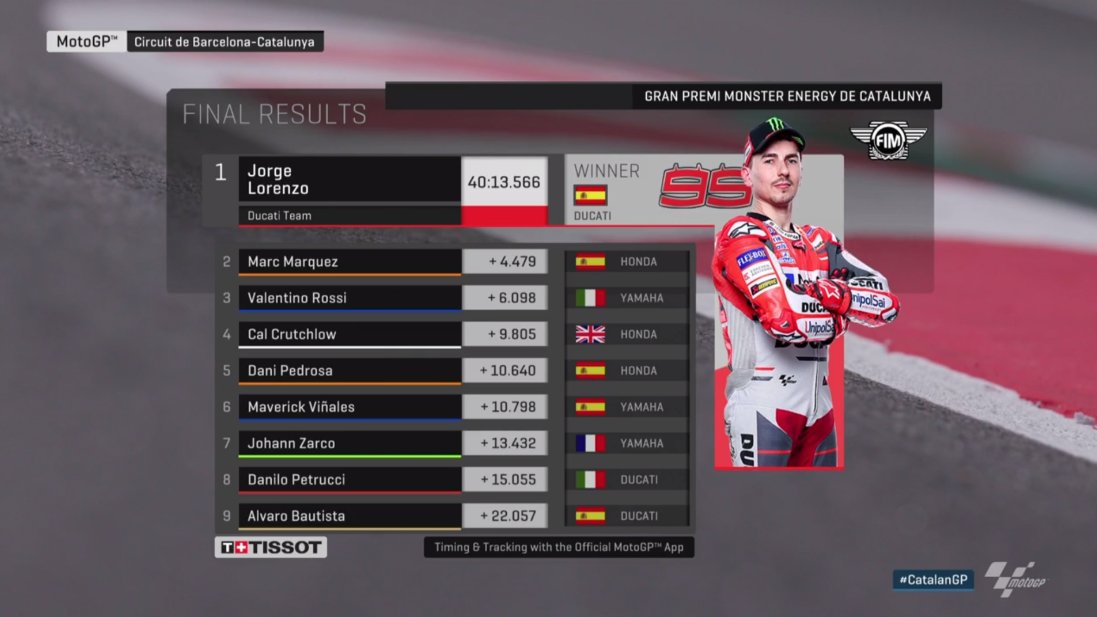 PC: MotoGP
Catalan MotoGP 2018 Day 2
The day two belonged to the hero of the day 1, Jorge Lorenzo, as he took pole position nearly after 2 years gap. Last time Lorenzo won pole was in Valencia in 2016. The Ducati rider showed great pace to claim the pole position. He was followed by Marc Marquez and Dovizioso.
Catalan MotoGP 2018 Qualifying Race Results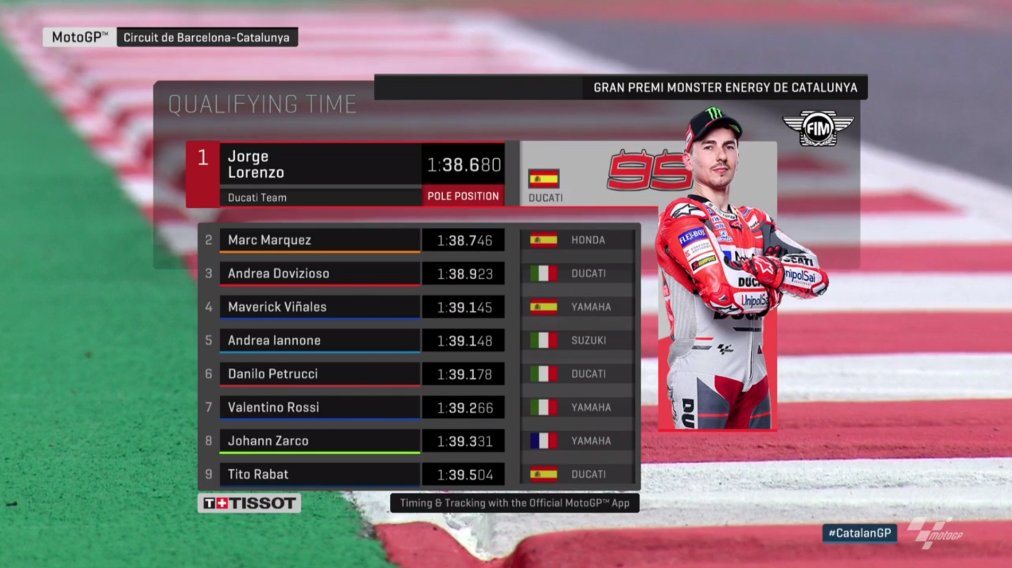 PC: MotoGP
Reigning champion Marc Marquez put his best of efforts on Saturday on his home ground, however, even his best of effort wasn't enough for stopping fellow countrymen Jorge Lorenzo from Taking pole. Lorenzo in front of the home crowd showed some excellent pace to grab the pole with the timings of 1:38.680. Marc Marquez and Andrea Dovizioso took second and third spot respectively. Mugello pole winner Rossi finished 7th here.
Marquez Was In Trouble at One Point of Time
Catalan MotoGP 2018 Sunday, June 17, 2018, Schedule:
| | | |
| --- | --- | --- |
| Moto3 | Warm Up | 08:40–09:00 |
| Moto2 | Warm Up | 09:10–09:30 |
| MotoGP | Warm Up | 09:40-10:00 |
| Moto3 | Race | 11:00 |
| Moto2 | Race | 12:20 |
| MotoGP | Race | 14:00 |
All timings are given in local Spanish timings which is GMT+2. In India race will start at 17:30 IST and in Malaysia, it will start at  20:00 Malaysian time.
Catalan MotoGP 2018 Day 1
The day 1 started with the Doctor, Rossi setting up the pace at Catalunya, Barcelona. He topped FP 1 ahead of Dovizioso and Jorge Lorenzo. However, it was Lorenzo who ended the day on top ahead of Andrea Iannone & Maverick Vinales.
The Batlle for pole position will begin on Saturday, it will be interesting to see who will take the pole. Will it be The Doctor, Lorenzo, Marquez, Dovizioso or anyone else?
Catalan MotoGP 2018 Saturday, June 16, 2018, Schedule:
| | | |
| --- | --- | --- |
| Moto3 | Free Practice Nr. 3 | 9:00–09:40 |
| MotoGP | Free Practice Nr. 3 | 09:55–10:40 |
| Moto2 | Free Practice Nr. 3 | 10:55-11:40 |
| Moto3 | Qualifying | 12:35-13:15 |
| MotoGP | Free Practice Nr. 4 | 13:30-14:00 |
| MotoGP | Qualifying Nr. 1 | 14:10-14:25 |
| MotoGP | Qualifying Nr. 2 | 14:35-14:50 |
| Moto2 | Qualifying | 15:05-15:50 |
Quick Highlights of Day 1 At Catalan MotoGP 2018
Catalan MotoGP 2018 Results: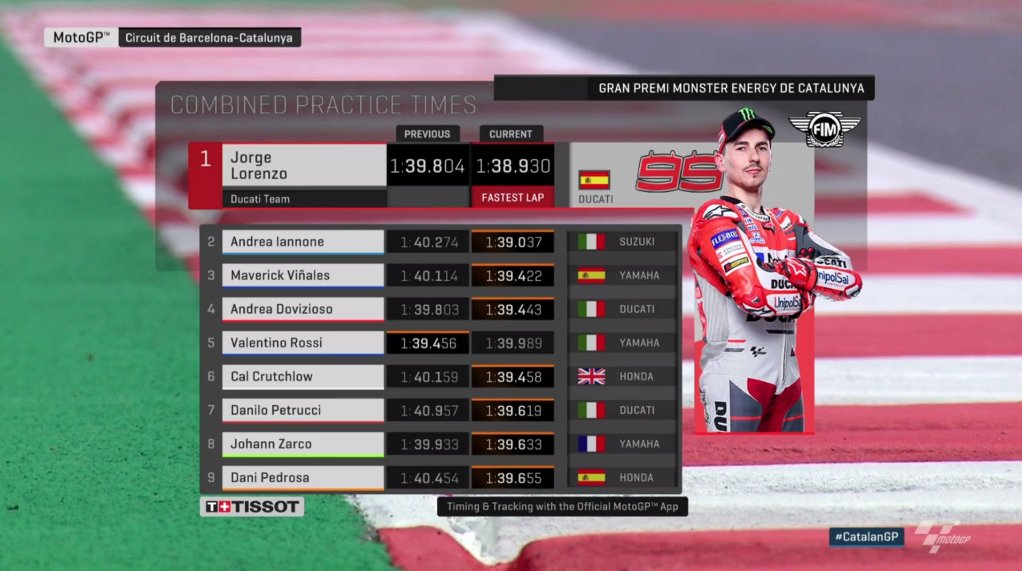 PC: MotoGP
Catalan MotoGP 2018 FP1 Results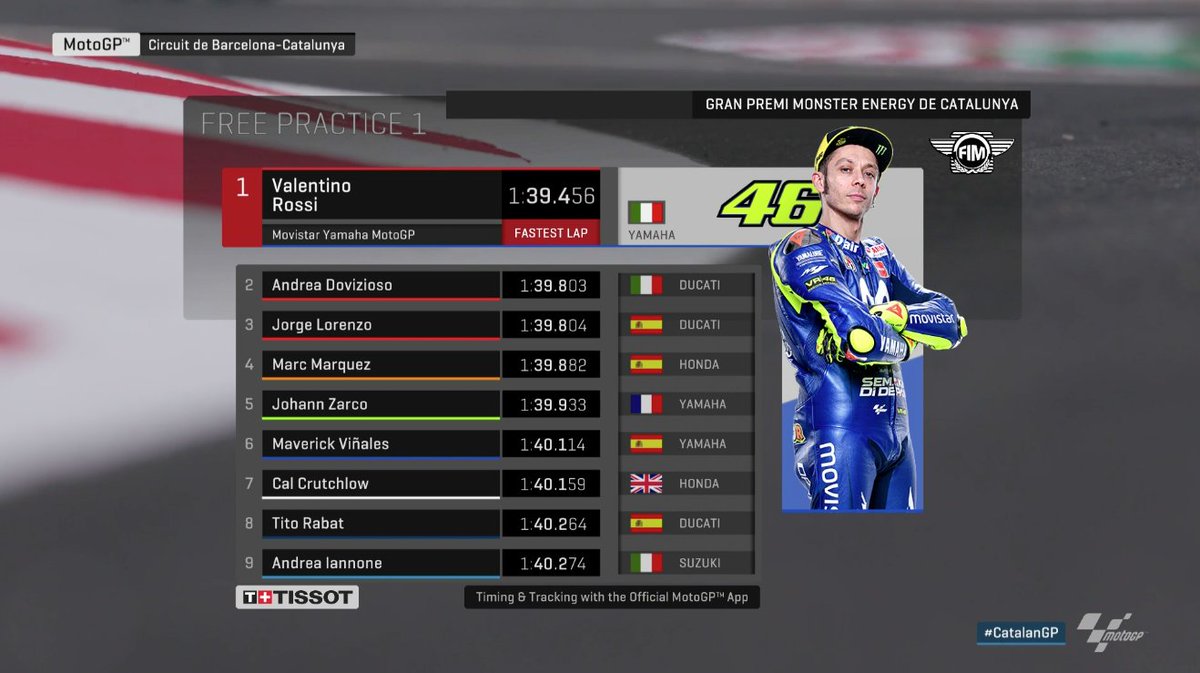 PC: MotoGP
Players Quote After Practice Race on Day 1
Lorenzo: "We want a race here like in Mugello"
Viñales: "We can make quite a good step forward tomorrow."
Syahrin: "I'll push straightaway to get a place in Q2"