British GP 2020 Race Result & Highlights: In A Dramatic Race Finish Lewis Hamilton Saw Chequered Flag With Flat Tyre And Max Chasing In The Background.
There was a dramatic end to British GP 2020 on Sunday. As fans get to see some rare things on the circuit. The defending champion Lewis Hamilton was able to bring home his 7th win on Silverstone but something he won't like to see the recap of. He crossed the line with flat tyres and nearly survived a charging Max Verstappen who was on a fresher set of tyres. Even Max realized that he had a chance, he was heard saying on the radio He (Lewis) is a luck boy. While Lewis was able to cross the line even with the punctured tyre, Bottas fate completely turned around he not only lost his second position but finished without scoring a point. Bottas was forced to pit after tyres gave 2 laps before the finish, he tried hard to score point but Vettel fended off the charge. Sportsfeista brings you British GP 2020 Race Result & Highlights.
Lewis Hamilton who started the race from pole led every lap throughout the race. He is the most successful driver and with today's win his tally of wins at Silverstone gone up to 7. He also strengthen his position in driver's standings as he has lead of 30 points over Valtteri Bottas. Even after today's disastrous race Bottas still holds the second position, however, now the lead has been reduced to 6 points only.
A dramatic final minute at Silverstone, as @LewisHamilton and his Mercedes hold on for a famous victory! 😮 🏆#BritishGP 🇬🇧 #F1 pic.twitter.com/CmD8hrz2Fw

— Formula 1 (@F1) August 2, 2020
British GP 2020 Race Results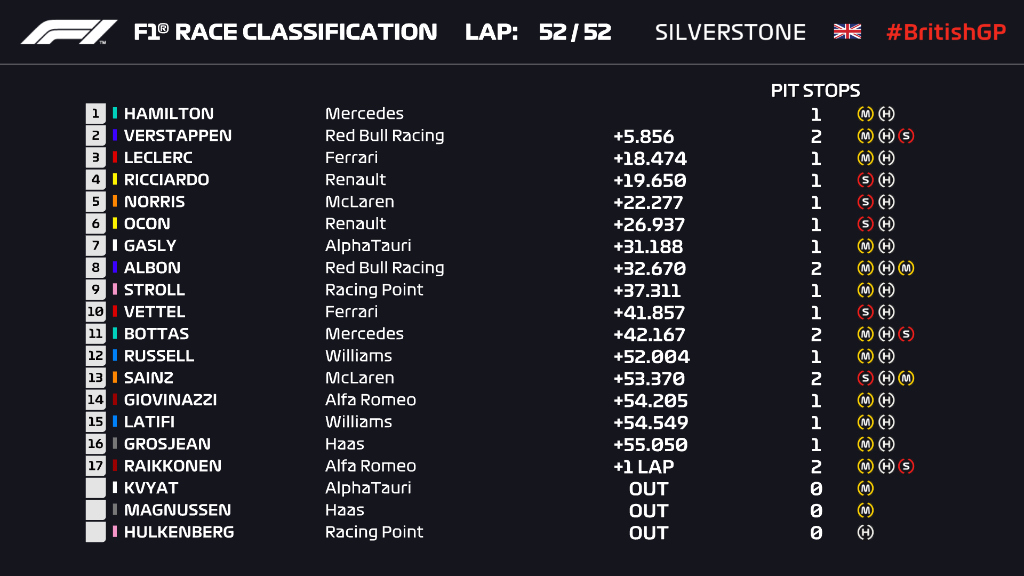 British GP 2020 Race Highlights
What dramatic last few laps we witnessed in British GP, here are some of the British GP 2020 Race Highlights.
British GP proved to be heart break for Hulkenberg
Hulkenberg had mixed fate over the weekend.
He did reasonably well after being called on a very short notice
He was not able to race due technical issues minutes before the race
Hulkenberg is not confirmed for the second race at Silverstone
BREAKING: Nico Hulkenberg is out of the British Grand Prix and will not start Sunday's race following an issue with his car#BritishGP 🇬🇧 #F1 pic.twitter.com/vIYEgHXmiL

— Formula 1 (@F1) August 2, 2020
Safety car was called in early in the race
There was collision between
  and Alex Albon
The collision ended the race for
 
And it handed Alex Albon 5 second time penalty
Kevin Magnussen, Daniil Kvyat & Hulkenberg could not finish the race
Daniel Ricardo was very impressive on the circuit today
He was very aggressive and skillful and ended the race 4th
He went to wheel to wheel with two McLaren as well
LAP 20/52

Epic stuff between Ricciardo and the McLaren drivers as they go wheel-to-wheel ⚔️

Ricciardo defends stoutly but ultimately has to give way 🍿

P6 SAI
P7 NOR
P8 RIC#BritishGP 🇬🇧 #F1 pic.twitter.com/DwvxHtwiCo

— Formula 1 (@F1) August 2, 2020
Charles Leclerc played the waiting game to perfection
And he was able to score another podium for Ferrari
He pounced onto the opportunity presented by tyre issues of Bottas
Leclecr was impressive throughout the race
He even tried to make his move Max early in the race, however, Max defended
Seb was able to defend his point position from a late charging Bottas
The race ended in disaster for Valtteri Bottas
He was forced to pit just 2 laps before the finish
He was holding a second position before it punctured
LAP 50/52

Disaster for Bottas as he's forced to limp back to the pits from P2 with damage to his wheel

He emerges all the way down in P12!#BritishGP 🇬🇧 #F1 pic.twitter.com/PwgYFUfVxR

— Formula 1 (@F1) August 2, 2020
Max Verstappen who himself was struggling with tyres took full advantage
Not only he moved to the second position but got himself a fresh rubber by pitting ahead of Bottas
For`a moment Max though it is going to be his day
As soon as he put himself on fresh rubber, Hamilton was found struggling on the last lap
The left front tyre gave up for the champ and Max was ready to pounce on the opportunity.
It is the tyre which gave up, not Hamilton, as he saw the chequered flag limping in his Mercedes
So close, @Max33Verstappen 👀 😲#BritishGP 🇬🇧 #F1 pic.twitter.com/Qthn6bK9ME

— Formula 1 (@F1) August 2, 2020
Drivers Quotes After British GP
HAM: "Down the straight the tyre deflated and that was a heart in the mouth moment… I was just praying to get it round. I was really chilled at the end. Bono was giving me the info (about Max). I've definitely never experienced something like that on the last lap"
VER: "The tyres didn't look great with ten laps to go. I pitted to go for the fastest lap but then Lewis got his puncture! But P2 is a good result for us and I'm happy with that"
LEC: "It was a very tricky race – we got the best result that we possibly could have today. The car is not running to its potential but we are happy with this podium"
Drivers Standing After British GP 2020
| POS | DRIVER | NATIONALITY | CAR | PTS |
| --- | --- | --- | --- | --- |
| 1 | | GBR | MERCEDES | 88 |
| 2 | | FIN | MERCEDES | 58 |
| 3 | | NED | RED BULL RACING HONDA | 52 |
| 4 | | GBR | MCLAREN RENAULT | 36 |
| 5 | | MON | FERRARI | 33 |
| 6 | | THA | RED BULL RACING HONDA | 26 |
| 7 | | MEX | RACING POINT BWT MERCEDES | 22 |
| 8 | | CAN | RACING POINT BWT MERCEDES | 20 |
| 9 | | AUS | RENAULT | 20 |
| 10 | | ESP | MCLAREN RENAULT | 15 |
| 11 | | FRA | RENAULT | 12 |
| 12 | | FRA | ALPHATAURI HONDA | 12 |
| 13 | | GER | FERRARI | 10 |
| 14 | | ITA | ALFA ROMEO RACING FERRARI | 2 |
| 15 | | RUS | ALPHATAURI HONDA | 1 |
| 16 | | DEN | HAAS FERRARI | 1 |
| 17 | | CAN | WILLIAMS MERCEDES | 0 |
| 18 | | FIN | ALFA ROMEO RACING FERRARI | 0 |
| 19 | | GBR | WILLIAMS MERCEDES | 0 |
| 20 | | FRA | HAAS FERRARI | 0 |