What an exciting race we've witnessed as we get to see the epic battle between Max Verstappen & Lewis Hamilton. And Sir Lewis Hamilton defeated Max Verstappen on tyres which are 10 laps older and under immense pressure from Red Bull. It was a race fans were waiting for, and it finally happened, Max Verstappen in car good enough to challenge Mercedes and Lewis Hamilton. The race went to last lap and Lewis came victorious, but looking at the pace Red Bull is showing we can have more competition like this. Sportsfeista brings you complete details of Bahrain GP 2021 Race results.
Podium Finisher of Bahrain GP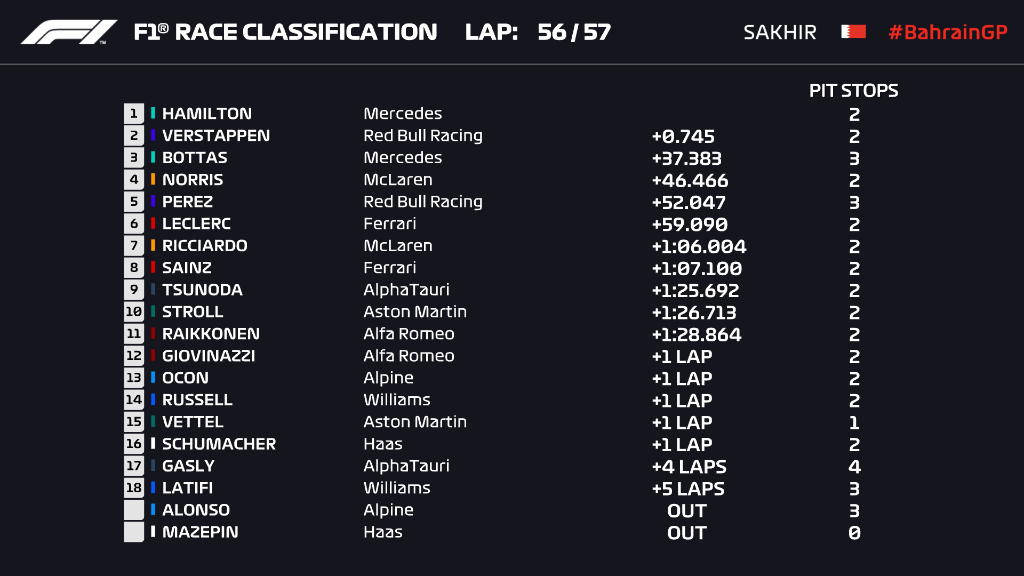 Drivers Quote After The Race
LEWIS: "Max was all over me right at the end, it was one of the hardest races I've had for a while, so I'm really grateful for it!"
MAX: "It's disappointing not to win, but we have really taken the fight to Mercedes and we have to be happy overall. "It was close in the end but we've scored some valuable early points here."
VALTTERI: "I'm disappointed with how it went. Lewis and I had different strategies today – from my side things could have been better"
Last lap and Lewis is still leading the race we are in to a very exciting finale.
Bahrain GP 50/56
Max Verstappen is now just 1.445 seconds away from Hamilton, he is going to hunt down the Hamilton
Hamilton
Verstappen
Bottas
Norris
Leclerc
Bahrain GP 45/56
Max is gaining of the champ, he has reduced the gap to +4.451 seconds with 11 laps to go its going to be a very interesting battle towards the end. Top 5 so far
Hamilton
Verstappen
Bottas
Norris
Leclerc
Bahrain GP 40/56
Max Verstappen pits after Sergio Perez, now Lewis Hamilton is the race Leader, race is on now. The gap between Lewis and Max is around 7 seconds
Hamilton
Verstappen
Bottas
Norris
Leclerc
Bahrain GP 35/56
The top 5 after the 35 laps are
Verstappen
Hamilton
Bottas
Perez
Sainz
Fernando Alonso race on his comeback ended in a retirement, he is the second retirement for the race after Mazepin
Bottas made a pit stop behind Hamilton, however, its a terrible, terrible Pit Stop, got stuck in the pit for eternity. Bottas now emerges out in 5th position here, seems like his luck just doesn't work Bahrain.
Lewis Hamilton made a pit stop in the 29th lap and Max Verstappen is now the race leader, Hamilton emerges third now.
The much awaited contest between Max and Lewis is underway. Hamilton is leading the race but Max is closing in fast.
Bahrain GP Results after 25/56
Here are the top 10 drivers
Hamilton
Verstappen
Bottas
Norris
Leclerc
Ricciardo
Stroll
Sainz
Perez
Raikkonen