The battle for the first pole of the new season as expected was very interesting. It was a very tough battle between the two Mercedes and Max Verstappen. Lewis and Max went back and forth in the final qualifying to grab the first pole of the season. In the end both the drivers are separated by 0.388 seconds. Sportsfeista brings you complete details of the Bahrain GP 2021 Qualifying Race Results. Now we're all set for a facinating battle between Max and Lewis.
Fernando Alonso on his return to Formula 1 did exceptionally well to enter in Q3 and finish 9th. Daniel Ricciardo out paced his teammate Lando Norris as he grabbed 6 spot. It is Max and the two Mercedes in top 3 and good to see the Ferrari back in top 5.
Drivers Quote Before Race
MAX: "We had a great testing week but there are no guarantees it translates to race weekends. The car has been working really well and of course I'm happy with pole. "I'm looking forward to tomorrow. We need to get a clean start and take it from there"
LEWIS: "Congratulations to Max, so fast on that last lap! "I absolutely gave it everything I had, but unfortunately it wasn't good enough. There's always more, but it was the best I could do, I got everything I could from the car."
VALTTERI: "The session this morning wasn't easy and we had a couple of issues. This evening was a bit better, but we're not quite where we want to be – hopefully we can improve a little for tomorrow"
Bahrain GP 2021 Final Qualifying Race Results
Max Verstappen has sealed the first pole of the new 2021 season. He outpaced both the Mercedes, he went ahead of Hamilton with a margin of 0.388 seconds.
Top 5 are
Verstappen
Hamilton
Bottas
Leclerc
Gasly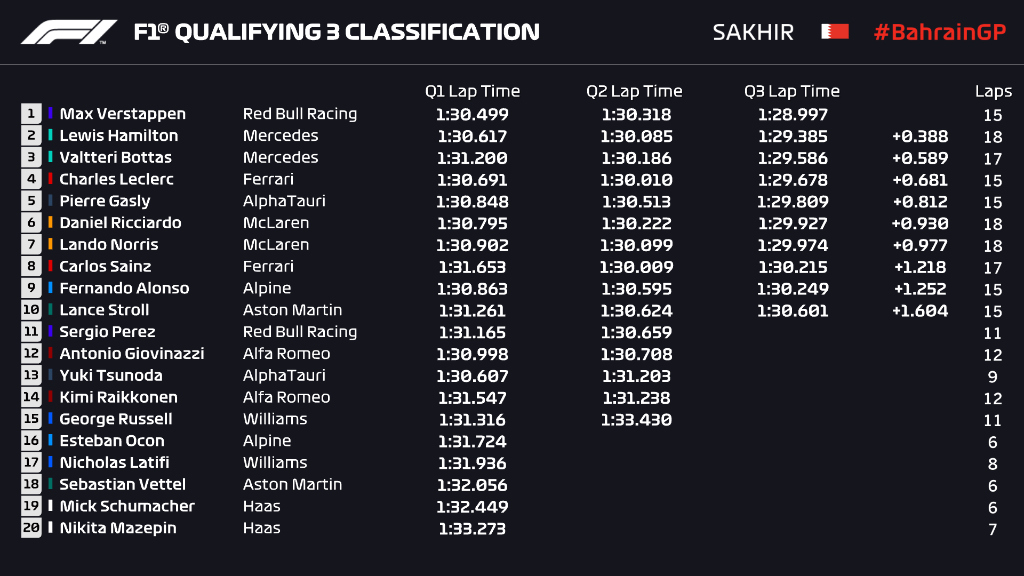 Top 5 before the last 3 minutes.
Verstappen
Hamilton
Gasly
Bottas
Sainz
Its looking like a tough and close battle ahead, Gasly has inserted himself into top 3 so far, he is ahead of Bottas.
Lewis Hamilton took the provisional pole, but Verstappen responds quickly to take the provisional pole as the separated by 0.023 seconds. Can the champ respond back.
Cars are out for the final action of 2021 pole fight.
The real battle is about to begin, get ready to see who will get the first pole of the year will it be Hamilton, Verstappen or Someone else
Bahrain GP 2021 Second Qualifying Race Results
The two Ferrari pulled up a shocker and topped the second qualifying as Carlos Sainz & Leclerc taking to the top two postion.
Out in second qualifying race
Perez
Giovinazzi
Tsunoda
Raikkonen
Russel
In the danger zone currently Giovinazzi, Raikkonen, Ricciardo, Perez & Russel.
The champ has started second qualifying by setting a faster time than Verstappen. Hamilton clocked 1:30:085 while Verstpapen clocked 0.233 seconds slower, Bottas is third.
The second qualifying is about to start lets see who will make to the last qualifying tyres. The cars are out for the action in qualifying race for second time.
Bahrain GP 2021 First Qualifying Race Results
Out in the first qualifying race
Ocon
Latifi
Vettel
Schumacher
Mazepin
Max Verstappen reported issue with his car floor as he took on the kerbs, Both the Aston Martin out in first qualifying race a disappointing start to the new season.
Last 3 minutes remaining and its Verstappen, Yuki, Hamilton, Gasly & Perez are on top.
Verstappen responded quickly by registering a 1:30:499 Yuki the rookie is second behind Verstappen with a small gap 0.108.
Hamilton started to lighten up the timesheet as he clocks 1:30:617 ahead of Sergio Perez.
The cars are out on the circuit is for the first qualifying session.
F1 Bahrain GP Final Race Schedule
Race Sun 18:00 – 20:00
All timings are given in local Bahrain time which GMT+3
Bahrain GP 2021 Global Timings
Indian Fans can watch the opening round of F1 season 2021 at 20:30
Fans in UK will enjoy Bahrain GP at 15:00
European fans can watch the race live at 16:00 CET
USA fans can enjoy the live action at 11:00 ET
Fans in Canada will get to see the race at 11:00 ET
Malaysian fans will get to see the race at 23:00 Malaysian time
Formula 1 Bahrain GP 2021 Live Stream Information:
F1 Bahrain GP 2021 ill live stream at F1 TV worldwide, Hotstar in India, In Asia it will be Fox+. In the UK the live streaming will be available at All 4 & Sky Sports. In United Stated the live streaming will be available at Watch ESPN & Univision Now. For fans in the Middle East, the live stream will be on beIN Sports Connect. Australian fans will watch the live stream on Fox Sports Australia and Tenplay. Germany TV Now, China Tencent Sports, Canada TSN App, RDS App, Japan & DAZN.
Formula 1 2021 Live Telecast Information:
F1 Bahrain GP 2021 Live telecast information is here. F1 fans in India will get see thrilling action live at Star Sports Network, in Asia, it will be at Fox Sports Asia, Australian fans will get to see the race live at Fox Sports Australia and Network Ten. For Canadian fans F1 action will be brought live by RDS & TSN, US fans will get to see it on ABC, ESPN & Univision. For the fans in the UKSky Sports, Channel 4 and will bring the live coverage. In the Middle East & North Africa, the telecast will be on beIN sports. Live telecast will be available on Fuji TV & DAZN, in Russia Match TV & Match Arena, Sky Sports in New Zealand, Netherlands Ziggo Sport Totaal, Ziggo Sport Go, Ziggo Sport, in Poland Eleven Sports. In Italy Sky Sports F1, TV 18 & RAI, Spain Movistar F1, In France Canal+, Canal+ Sport, TF1, TMC, fans in Germany will enjoy the live telecast of F1 on n-tv& RTL
| SN | Country | Broadcaster | Broadcaster |
| --- | --- | --- | --- |
| 1 | India | Star Sports | |
| 2 | Australia | Fox Sports | Channel One |
| 3 | UK | Sky Sports | |
| 4 | USA | ESPN | |
| 5 | Malaysia | Fox Sports | |
| 6 | Indonesia | Fox Sports | |
| 7 | Singapore | Fox Sports | |
| 8 | Philippines | Fox Sports | |
| 9 | Netherlands | Ziggo | |
| 10 | Belgium | RTBF | |
| 11 | Austria | ORF | |
| 12 | Italy | Sky Italia | TV 8 |
| 13 | Spain | DAZN | |
| 14 | Germany | Sky Deutschland | RTL Germany |
| 15 | Turkey | S Sport | |
| 16 | France | Canal+ | TF1 |
| 17 | Brazil | TV Globo | SporTV |
| 18 | Russia | Match Tv | |
| 19 | Canada | RDS | TSN |
| 20 | New Zealand | Spark TV | |
| 21 | Finland | MTV | |